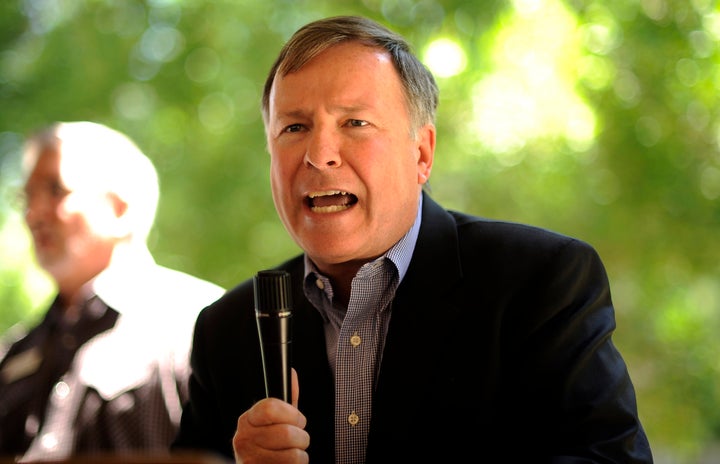 COLORADO SPRINGS ― This city has long been a bastion of conservatism in a solidly purple state: Visitors drive into town on the Ronald Reagan Highway and pass Focus on the Family. So it was a bit of a surprise that liberals so clearly controlled the room at a town hall Rep. Doug Lamborn (R-Colo.) hosted on Wednesday.
Health care dominated the discussion ― which at times devolved into a loud, chaotic affair ― while environmental issues, foreign policy and President Donald Trump's tax returns all earned notable mentions.
After a brief introduction, wherein Lamborn gave an overview on what he's been up to in Congress and earned boos for saying "I believe that Obamacare is failing," the congressman turned the floor over to the audience.
"I look forward to your questions and comments," he said, prompting laughter across the room.
One of the first people to speak was Dr. Kristine Hembre, who held up a homemade graphic detailing the country's growing health care costs and how the middle class bears an unfair share of the burden.
"I appreciate a lot of the work you've done for veterans, and I'm glad you're here listening to us," she told Lamborn, but said the working middle class can't thrive in an unfair system.
"We're allowing a system that allows extraordinary corporate profits," she added. "What we're experiencing is pretty close to extortion."
Later, Hembre told The Huffington Post that she supports Medicare for all. "Everyone else is [already] getting government assistance," she said.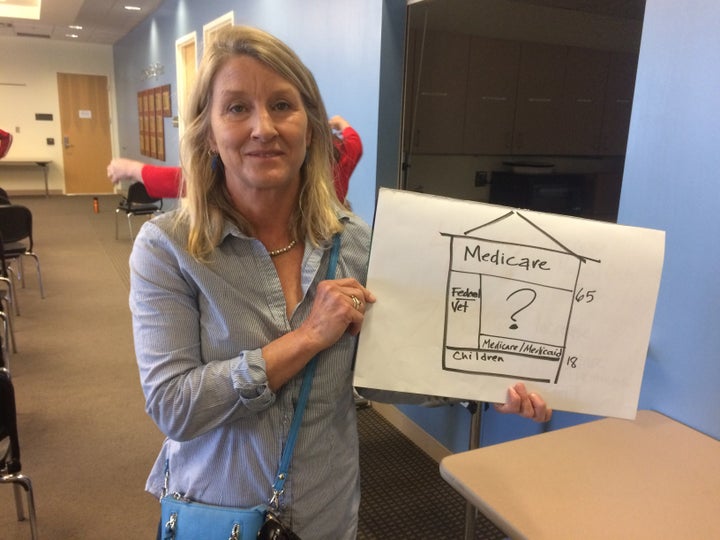 Another woman, who identified herself only as Christine, told Lamborn she has a son with a "complex, significant, rare disability," and that she's concerned the health care changes the lawmaker champions "would have a devastating effect on my son."
Christine said she'd previously discussed the issue with the congressman in private and felt dismissed.
"You and I have different ideas," she said, noting that she still hadn't been expecting how he responded to her.
"I was surprised by your indifference," Christine said. "You didn't care. You walked away while I was speaking. ... I have to choose between paying my mortgage and paying my son's medical care."
Lamborn responded by saying it was "simply not true" that he doesn't care about the issue. He went on to advocate for state-managed health care programs and so-called high-risk pools, prompting someone in the crowd to yell incredulously, "Are you in a high-risk pool?"
The congressman's dismissal of Christine's characterization of him prompted a response from another woman.
"I'm really getting tired of you guys treating us like we don't have eyes, and ears, and that we can't think for ourselves," she said. "For you to stand here and treat her like she didn't see is a real insult."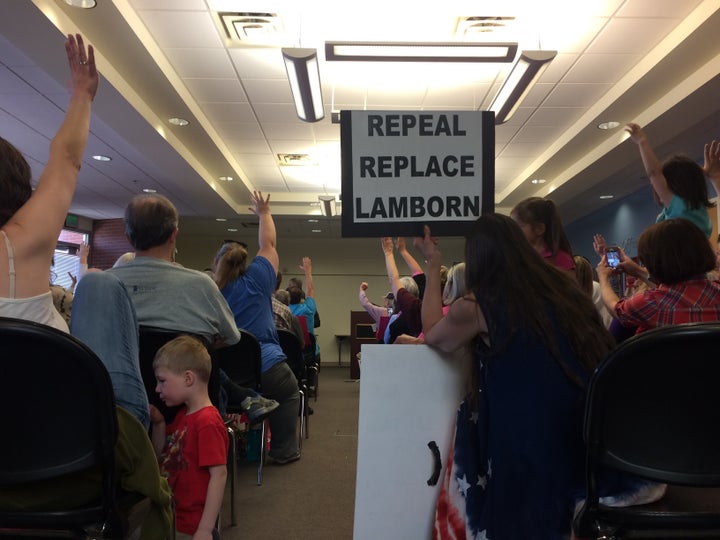 Even some conservative members of the at-capacity crowd came with sharpened questions.
One man, who self-identified as a Republican who had voted for Lamborn, pressed the representative on his logic regarding tax cuts for millionaires.
"Tax cuts should go to whoever pays taxes," the congressman replied. "If you're not paying taxes … a tax cut may not help you."
The man continued to press Lamborn.
"Are you wiling to stand on the floor of the House of Representatives and call on the president to release his taxes?" he added, as the crowd cheered.
"I'm not happy telling the IRS to go after people," Lamborn said.
A crowd of about 50 people gathered outside the venue as well, expressing displeasure that they weren't permitted into the full meeting and also that it had been held in such a small space at such an inconvenient time.
Betty Field stood outside with a list of names of people who couldn't make the town hall because it was held in the middle of a workday. She wrote a zip code next to each name to demonstrate that these people are some of Lamborn's real constituents.
She told HuffPost she thought it was absurd to hold a town hall in the second largest city in Colorado in a venue with a maximum capacity of 100 people.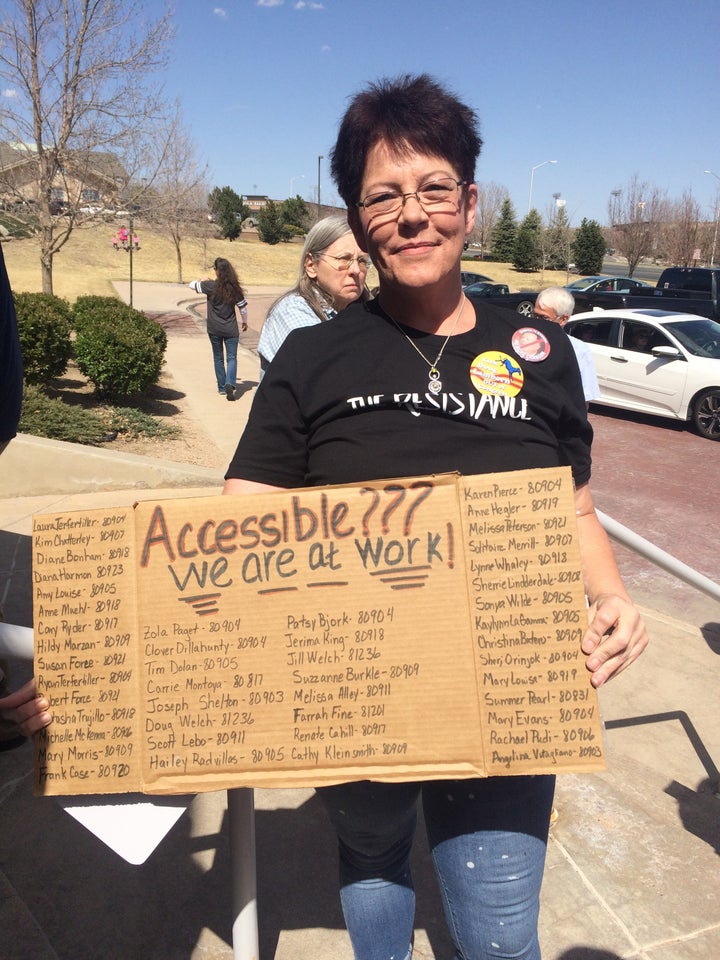 Back inside, Sally Vitamvas, who recently moved to the state from Iowa, told HuffPost she attended the town hall because she's been "really upset watching the deconstruction of parts of government by Trump's nominees."
"I'm here because I don't agree with any of Lamborn's positions, regardless of how benignly they're stated" on his website, she said.
Vitamvas had fashioned a protest sign with Velcro, so she could add any other grievances that crop up in the future. "I left 25 other signs in the car," she said with a laugh.
Even if she alone can't make much of a difference, she said, "I felt I needed to come."
Popular in the Community