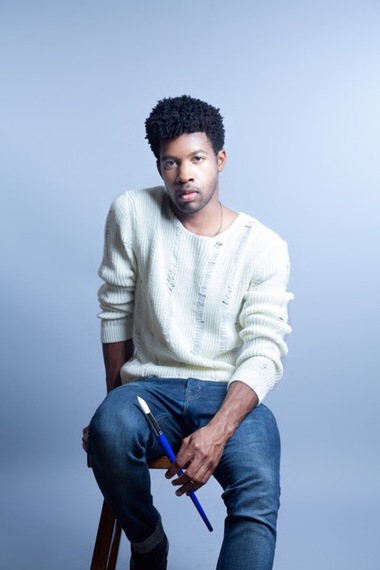 For many facing adolescence, the road to developing a true sense of self-identity is paved with an unfavorable amount of pain, pressure, and uncertainty.
From digesting the messages expressed within media, to processing new emotions and establishing relationships - kids learn early on that growth is an ever-evolving process. But, once you tread through the tides and experience the joy of enlightenment - true power is discovered. That power is what pushes people to impact the world through inspiring others enduring similar obstacles.
For Houston-bred singer/songwriter Doug Locke, liberation was found through listening to his inner truth, proving to be the key that unlocked an empowering feeling of purpose that always lived within.
Premiering in partnership with Idolator, Locke recently released the uplifting video for 'King', the second single featured on his Blue Heart EP. The vibrant visual takes a stand against bullying, depicting his personal journey and the triumphant spirit of acceptance that derived from embracing his sexuality.
I spoke with Doug about the video, why the message is important, and the imprint he hopes to have on young people who follow his music.
You spoke to how this song and video mirror your personal journey - can you expand on that?

Of the songs I have written, "KING" is one of my favorites. It resonates with me because it is all about stepping into your power and fully embracing who you are. In a world where racism, homophobia, sexism and injustice occur, it is important to shift the power dynamic and no longer let others dictate what you think about yourself. I'm no one's stereotype. I'm not trying to fit an archetype. I'm doing me. Playing by my own rules has never felt so good.

With your father being a civil rights activist, prominent lawyer, and Mayoral candidate of Houston - how difficult was it to come out and step into the person you are today?

While my work and my family can at times make me visible, I still value my privacy. When you are in the public eye it creates a heightened awareness of others' perception of you. This can be dangerous because ultimately others' perception of you is really none of your concern. I was so busy trying to be who I thought others wanted me to be that I lost sight of myself. For me, coming out of the closet was a rebirth that allowed me to fully embrace all of my identity. Once the cat was out of the bag, I became fearless and unstoppable. It allowed me to step fully into my manhood and find my voice. The things that caused me the greatest difficulty in my past have ultimately become my greatest strengths.

What was a memorable turning point or defining moment for you?

In 2013, I took a trip to Ethiopia and Tanzania with my family. This was my first visit to Africa. I began writing the song "KING" after returning from this trip. I was deeply inspired by the people I encountered, and felt a strong sense of pride upon learning more about Ethiopian history and nobility. I was both amazed by what I learned, and disheartened by how much of this was not broadly taught in the West. I came back feeling like a King, and that is a feeling I will never lose.

You teamed up with a few friends from college to shoot the video - who did you pick and how was the process of creating this concept?

I had the pleasure of working with Julien Lasseur (Director) and Jamie Thalman (Producer) of Rustic Media. Julien, Jamie and I met during Undergrad at Occidental College. We have been fans of each other's work for years, so it was incredible to be able to work together. I came to Julien with a concept and we developed it together. From our first meeting on, we were in sync. Shooting this video was an amazing journey that involved Jamie, Julien and I taking a week and traveling to my hometown in Texas. During production of the video we were in another universe where nothing else existed. The three of us produced this thing from scratch. We gave it our all, and I am eternally grateful to Jamie and Julien for their stellar work.

What message do you want people to take away, younger and older, from this video?

I hope that people are inspired to look within for validation and to celebrate their inner divinity. When you empower yourself, you define your self worth and no one can ever take that away from you. Your value as a human being - your beauty, your intelligence, and your integrity - are not for someone else to define.

The video was released through Idolator in support of Anti-Bullying, how important is it to use your platform to be a voice for kids fighting through their own identity challenges?

I wanted to create something that would speak to anyone who has ever felt ostracized or misunderstood. When you are younger with a smaller frame of reference, it is easy to feel alone. It is easy to feel that you are the only one experiencing what you are going through. With this project I wanted to use my art to comfort and inspire all the "Young Dougs" out there.

Though it's clear the road was tough at times, the song and visual both give a very positive and inspiring energy - has the growth allowed you to reach a place of self-assurance and strength through knowing yourself better?

Absolutely. As Carl Jung says, "The privilege of a lifetime is to become who you truly are."
This song is from your Blue Heart EP - what is the story behind the project? What impact do you hope it has on listeners?

Creating "Blue Heart" was a beautiful experience for me. I've spent the last year and a half working on this project to get it just right. Like a first-born child, this EP is dear to my heart. I've grown in many ways. You only have one chance to make a first impression. Therefore, it was important for me to take my time with this project. "Blue Heart" came from the heart and I hope that it inspires the listeners to embrace the beauty of their own journey.
You've considered yourself an entertainer, but are now coming into your own as a confident artist - what's the next evolution of Doug Locke?

That is a great question. The next evolution involves continued exploration and reflection of experiences. I've begun performing live shows and I'm excited to be doing more. I'm grateful for my journey thus far while having the time of my life. Keep your eyes peeled because the best is yet to come.
Popular in the Community