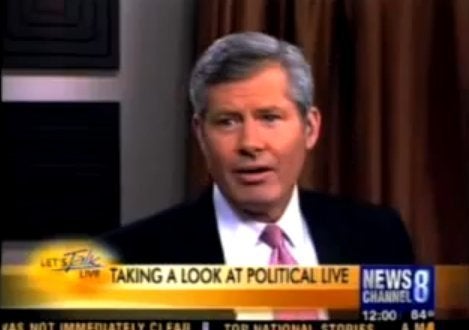 A Washington, D.C. news anchor who notoriously threatened to punch a gay blogger in the face because he supported outing closeted politicans has been suspended indefinitely from his on-air role.
McKelway got into hot water with the WJLA management after they felt he had made improperly opinionated comments about Democratic ties to the oil industry during a live broadcast:
The episode led to a meeting between McKelway and Bill Lord, WJLA's station manager and news director, that featured sharp exchanges between them..."the issue wasn't what he said in the live shot. It was what he said when he was questioned about it by Bill," said one of McKelway's colleagues. "The issue is insubordination."
The station did not indicate whether McKelway will return to his job any time soon.
But the recent incident was only the first example of his opinionated commentary. In 2009, the anchor got into a very heated argument with blogger Mike Rogers, who has helped to out many closeted gay politicians. McKelway vehemently objected to the practice, so much so that he threatened to punch Rogers in the face at one point in the conversation.
Watch McKelway's fight with Mike Rogers:
Popular in the Community