If one of the major pursuits of 20th- and 21st-century art has been to break down the barrier between artists and viewer, between viewer and created object, then Doug Wheeler's installation on view at David Zwirner until Feb. 25 is a gorgeous example of dissolving this borderline. Stepping across the threshold of Wheeler's Infinity Environment one is immediately swallowed up by luminous space. Inside the rounded room, the light changes slowly from brilliant white to a murky lavender darkness. And one wonders, where does the artist's space end and the viewer's begin?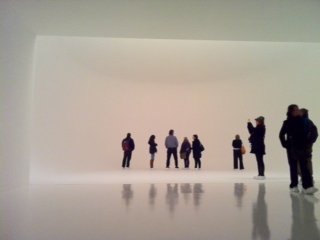 Wheeler, along with James Turrell and Robert Irwin, was one of the founders of the West Coast Light and Space movement in the 1960s and '70s. I remember the '70s as being the era that completely broke down the physical boundary separating art from viewer. For a while, every gallery I visited had some large piece of art that invited tactile exploration. Art was theatrical, big, off the wall, out of the box, and leaping into the world. And the light and space artists pushed this fluidness between shape and container through their investigation of the act of perception. Often they depicted voids, open space, spaces that looked empty, but were in fact filled with atmospheric light. Art was no longer a thing, but an essence. And the west, with its vast vistas, its dramatic lighting, and its utopian ideas of a flexible society was the perfect environment for this type of art to flourish.
I happen to be a great proponent of art that encourages active participation. Where the permeable boundary is pierced and we are encouraged to climb inside the artwork. It's the same feeling I get from falling into a novel, the sense that I am walking around in someone else's imagination. In Wheeler's art case it is purely the medium of light that we explore, touch, see, and sense. His simplified use of material heightens and distills the experience. Being inside his space is at once ethereal and dense. It's like being consumed by a bank of fog, or like confining infinity in a room.
REAL LIFE. REAL NEWS. REAL VOICES.
Help us tell more of the stories that matter from voices that too often remain unheard.