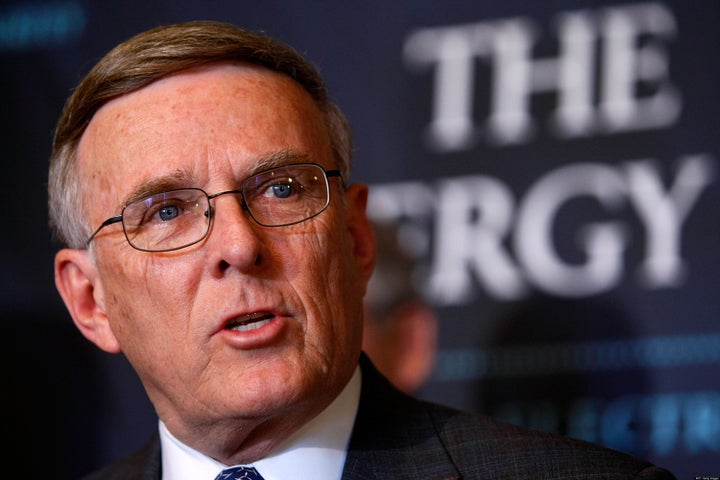 President Obama and the Senate leadership can't whip up the votes necessary to pass a public option or even a Medicare buy-in compromise, but they didn't have any trouble persuading 30 Democrats to vote against prescription drug reimportation Tuesday night -- thus preserving the deal cut between the Senate Finance Committee, the White House and Big Pharma.
The amendment's sponsor, Sen. Byron Dorgan (D-N.D.), was asked after the vote if Democratic leadership opposed his amendment in order to preserve the deal.
"Well, and they apparently did," said Dorgan. "The last seven days, we've seen a lot of votes stripped away. What did we get, 51 votes tonight for my amendment? I believe seven days ago we had sufficient votes to pass it, but I think what is happening in the intervening period is other things developed. It's a great disappointment because it seems to me very hard to do health care reform without doing something about the escalating prices for prescription drugs."
The amendment had been scheduled to come up for a vote last week, but was held up amid much speculation that Dorgan had the votes. The vote Tuesday was 51-48, or nine shy of the 60 needed to overcome a filibuster. A total of 30 Democrats and independent Joe Lieberman of Connecticut voted against it.
One of those things that developed in the intervening period: a deal to kill the Dorgan amendment in exchange for closing the so-called doughnut hole -- the period of time when Medicare recipients must pay the full cost of drugs.
HuffPost asked Sen. Sheldon Whitehouse (D-R.I.), who is generally supportive of reimportation but voted against, why he did so.
"The colloquy yesterday, between Leader [Harry] Reid and Chairman [Max] Baucus and Chairman [Chris] Dodd, did not happen in a vacuum," said Whitehouse, carefully choosing his words. A colloquy is a public conversation on the Senate floor that often is used to ratify a deal struck in private.
What was the subject of the colloquy?
"Closing the doughnut hole," said Whitehouse. A senate Democratic aide confirmed that the doughnut-hole move was largely made in exchange for votes to kill Dorgan's amendment. "That was more or less the arrangement," he said. (The White House did not immediately respond to a request for comment.)
Dorgan was asked if he was aware of the deal. "You'll have to ask others that," he said.
HuffPost asked Sen. Kent Conrad (D-Neb.), a longtime supporter of reimportation, if he was aware of the deal. "I don't know that firsthand, but I've heard that," he said. Conrad, regardless, voted for Dorgan's amendment.
The commitment to close the doughnut hole was quickly applauded by AARP. "Thank you for your commitment -- and that of Chairmen Baucus and Dodd -- to closing the Medicare Part D coverage gap or 'doughnut hole' by 2019 during the upcoming House-Senate conference committee on health reform legislation. We understand, given Senate constraints, that this action must wait until conference," AARP CEO A. Barry Rand said in a letter to Reid Tuesday.
Dodd's vote on Dorgan's amendment only makes sense in the context of the doughnut-hole deal. Dodd is facing an increasingly difficult reelection race and a vote against reimportation is a political loser in Connecticut, where he has no room for error.
When the roll was called and Dodd's name was announced in the nay column, Sen. Bernie Sanders (I-Vt.), betrayed his surprise loudly enough to be heard in the press gallery. "Dodd?!" said Sanders, in a rising stage-whisper that indicated disbelief.
Ken Johnson, senior vice president for the Pharmaceutical Research and Manufacturers of America (PhRMA), said that if Congress or the White House wants to close the doughnut hole, they haven't talked to him about it. He did, however, leave the door open for further negotiations.
"We have had absolutely no discussions with anyone in the Senate or the White House about how they plan to pay for closing the doughnut hole. It's a laudable goal, but we are already committed to providing a huge amount of money to help seniors who hit the coverage gap, and no one has asked us to date to provide any additional funding," he said in an e-mail to HuffPost.
"Will that change moving forward? Who knows? Who could have predicted that the so-called Medicare buy-in would be in and out of the mix in a blink of an eye? We made an $80 billion iron-clad commitment to help make health care reform a reality back in June, and we have never, at any time, retrenched from that position. That said, we will continue to keep an open mind as the Senate moves toward a final vote."
The defenders of the PhRMA deal were forced to round up so many Democratic votes because the GOP decided to make mischief on the Senate floor. Twenty-three Republicans -- more than half their total -- broke with their traditional opposition to reimportation and voted with Dorgan, many of them smiling as they watched nervous Democratic leaders huddled around the table in front of the Senate president's desk. When it was clear it would fail, two of them -= Sens. Jim Bunning (R-Ky.) and John Ensign (R-Nev.) =- switched their votes back to no. Ensign was rewarded for his flip-flop by a sharp Senate-floor tongue-lashing from Sen. John McCain (R-Ariz.), a longtime and serious supporter of reimportation.
Sen. John Cornyn (R-Texas), acknowledged to reporters that his yes vote had something to do with causing trouble for the overall bill. "It did occur to me that this could be for the greater good," he said.
Here's the full roll call:
Alexander (R-TN)
Begich (D-AK)
Bennet (D-CO)
Bingaman (D-NM)
Bond (R-MO)
Boxer (D-CA)
Brown (D-OH)
Coburn (R-OK)
Collins (R-ME)
Conrad (D-ND)
Corker (R-TN)
Cornyn (R-TX)
Crapo (R-ID)
DeMint (R-SC)
Dorgan (D-ND)
Feingold (D-WI)
Feinstein (D-CA)
Franken (D-MN)
Graham (R-SC)
Grassley (R-IA)
Harkin (D-IA)
Hutchison (R-TX)
Johanns (R-NE)
Johnson (D-SD)
Klobuchar (D-MN)
Kohl (D-WI)
LeMieux (R-FL)
Leahy (D-VT)
Lincoln (D-AR)
McCain (R-AZ)
McCaskill (D-MO)
McConnell (R-KY)
Merkley (D-OR)
Murkowski (R-AK)
Nelson (D-FL)
Nelson (D-NE)
Pryor (D-AR)
Risch (R-ID)
Sanders (I-VT)
Sessions (R-AL)
Shaheen (D-NH)
Shelby (R-AL)
Snowe (R-ME)
Specter (D-PA)
Stabenow (D-MI)
Thune (R-SD)
Udall (D-NM)
Vitter (R-LA)
Webb (D-VA)
Wicker (R-MS)
Wyden (D-OR)
Akaka (D-HI)
Barrasso (R-WY)
Baucus (D-MT)
Bayh (D-IN)
Bennett (R-UT)
Brownback (R-KS)
Bunning (R-KY)
Burr (R-NC)
Burris (D-IL)
Cantwell (D-WA)
Cardin (D-MD)
Carper (D-DE)
Casey (D-PA)
Chambliss (R-GA)
Cochran (R-MS)
Dodd (D-CT)
Durbin (D-IL)
Ensign (R-NV)
Enzi (R-WY)
Gillibrand (D-NY)
Gregg (R-NH)
Hagan (D-NC)
Hatch (R-UT)
Inhofe (R-OK)
Inouye (D-HI)
Isakson (R-GA)
Kaufman (D-DE)
Kerry (D-MA)
Kirk (D-MA)
Kyl (R-AZ)
Landrieu (D-LA)
Lautenberg (D-NJ)
Levin (D-MI)
Lieberman (ID-CT)
Lugar (R-IN)
Menendez (D-NJ)
Mikulski (D-MD)
Murray (D-WA)
Reed (D-RI)
Reid (D-NV)
Roberts (R-KS)
Rockefeller (D-WV)
Schumer (D-NY)
Tester (D-MT)
Udall (D-CO)
Voinovich (R-OH)
Warner (D-VA)
Whitehouse (D-RI)
NOT VOTING -- 1
Byrd (D-WV)
With reporting by Jeff Muskus