Note: This post contains artistic depictions of nudity.
Douglas Hyland is the Director of the New Britain Museum of American Art, Connecticut. For the past 15 years he has expanded not only the Collection of America's first museum solely dedicated to American art, but he has expanded the museum itself several times. The latest expansion will generate 16,000 feet of additional exhibition space and give Post Contemporary Painting its first permanent gallery. Before we get into that I want to share with you a bit about Douglas Hyland and what Hyland shared with me about the this Museums history.
The New Britain Museum of American Art dates back to 1856 and began to purchase work in 1904 through a trust that was set up by John Butler Talcott, who was an industrialist and former Mayor of New Britain. The NBMAA opened in its current location when a philanthropist left a stone mansion for the purpose of housing the institution in 1937. Using the same construction company that originally renovated the building, there have been extensive expansion projects to the Museum during Hyland's tenure. The 43,000-square-foot Chase Family Building, designed by Ann Beha Architects of Boston, who has won several awards recently for her work at the University of Chicago, opened in 2006. She has also designed the current expansion, set to open to the public in the fall of 2015.
Before coming to the NBMAA, Douglas Hyland began his career as a Director at the Memphis Brooks Museum of Art in 1982, and went on to the Birmingham of Art and the San Antonio Museum of Art before accepting his current position at the NBMAA. Originally from Salem, Mass., he welcomed the chance to come home to New England.
"My parents always took me to the Peabody Essex Museum and they had a mummy, stuffed antelope and Fritz Henry Lane paintings! I always wanted to be a museum director." Although he has recently announced plans to retire next fall, he has in no way scaled back on his ambition to better the New Britain Museum.
"There is a real wealth of private collector's in Connecticut as well as many wonderful smaller museums that we borrow work from to curate our shows." Mr. Hyland Explained to me. "Our budget is actually quite small for a museum of our prosperous activity, but we manage to do a lot with it." That in itself is a solid practice the NBMAA has always followed.
"In 1904, when the museum first received a fund to purchase artworks, the trustees went to the Metropolitan Museum of Art in New York and asked Bryson Burroughs for advice on how to build the best collection possible with the funding available. At that time the big museums were all buying Rembrandts and Manets, Ashernasirpal and Chinese Ming Dynasty vases and things like this. The recommendation was to focus on American art, which was available at prices the museum could afford and which there was, at that time, no museum dedicated to."
"So, the Museum began to purchase Hudson River paintings for hundreds that are now worth thousands." Hyland added with a smile. "You could say the Museum's collection was born of Yankee thrift."
"The NBMAA hosts around 2,000 events a year. School tours, trips to New York or to other institutions like the Rhode Island School of Design, we sponsor movies and summer camps and presentations for children and adults alike. The Graydon Parrish's talk that he has been kind enough to do for us every year on 9/11 is one such event we offer."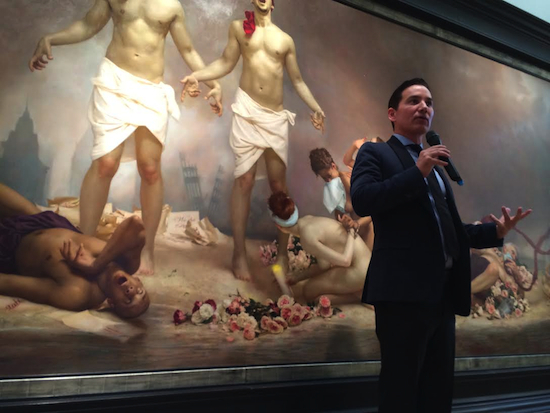 Graydon Parrish lecturing at the New Britain in front of his painting, The Cycle of Terror and Tragedy
In 2004 Hyland approached Parrish and commissioned a large painting about the tragedy of 9/11 for the museum's collection. It is now one of the New Britain's most popular paintings and is iconic in the world of 21st Century Post Contemporary painting.
"People drive for hours to be here for that every year. To hear him explain his intention behind the work, the symbolism as well as the testimonies of what it means to the people who come to see it is truly moving. That is one thing, but then we offer so much more in the way of lectures, educational opportunities and Internships."
With a mission of building a collection of American art, the collection is wide and varied and really does aim at offering something for everyone. Along with Post Contemporary work like that of Graydon Parrish, one can see modernist and Post Modern work as well. They have, for instance, work by the Ashcan School, the Precisionists and works by the American Abstract Artist's group with paintings by Stuart Davis, Milton Avery and others. Here can be found some of the most popular of 20th century artists such as Robert Motherwell, Lee Krasner, Andy Warhol, Robert Indiana, Christo and Sol LeWitt among many others. Hyland explained to me that in the new wing, there will be a place for a variety of new media and instillation work to be displayed in addition to the Post Contemporary gallery. "A wide variety is our objective," explains Hyland. "For instance we have a quilt exhibition, by both men and women, an illustration exhibition, and currently we offer Revolutionary Vision, which showcases photography by Ansel Adams, Imogen Cunningham, Willard Van Dyke, Brett Weston and Edward Weston." That exhibition can be seen until Jan 18, 2015.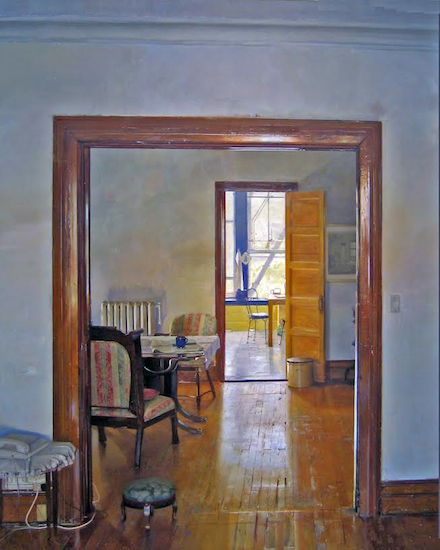 Interior With Three Rooms by Christopher Gallego
I asked Hyland about the term Post Contemporary. "There is much discrepancies about the term, in the media to some degree and certainly on numerous threads I have been reading on Facebook and other forums. You like the term Post Contemporary don't you?"
" I do. To me it makes sense. The school needs an identity, a cohesive justification and away to talk about it and for me the term just fits."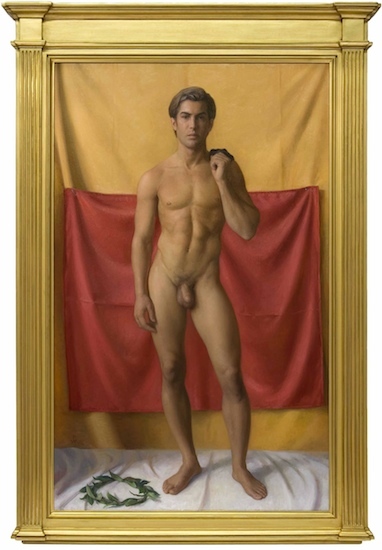 American Nude by Patricia Watwood
"It is in my mind not about creating something, it is not a movement but a way of talking about something that already exists," I said, having spent some time thinking about this kind of labeling.
"Exactly," he exclaimed. "It already exists. Just as Robert Henri put together the Eight, we want to establish it to give people an understanding of what we are doing, what these artists are doing. One thing about Post Contemporary work is that you would not confuse a Patricia Watwood with a Graydon Parrish, or with a Richard T. Scott or an Adam Miller. You can have shows of Post Contemporary work but to create a permanent collection as we are doing states a clear position in society, for Post Contemporary aesthetics and that is really what it is."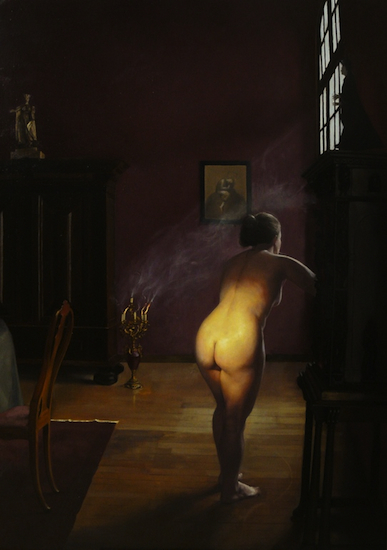 What Remains by Richard T. Scott
It is important to continue to appreciate figurative without regard to the fads and changing tastes. A good example is that of Thomas Hart Benton, whose large scale work, The Arts of Life in America (1932) is in our collection. Benton's assistant at that time, who primed his canvases for him, went on errands and helped him with those sorts of things, and not many people know this, was Jackson Pollock. This five-panel mural is regarded as one of Benton's best. Benton taught Pollock everything. The murals were originally commissioned by Eleanor Whitney and became part of the Whitney Museum of American Art's collection. The NBMAA bought those murals in 1952 for $500. Now they wish that they had them back of course but it goes to show that collections need to be built on long-term values that are not so affected by temporal ideas. Everybody talks about Pollock but few know of how important Benton was to his success. To leave Benton out of Pollock's story is absurd.
"The concerns that Benton had are exactly what we have today. There is a lot of the same anxiety in the air. He believed that if you played poker well, or played the harmonica well, that it would make you a richer, happier person even if you had no money or no job. So his inspiration was, with his painting to lift us all up through the arts. That is what we do here at the NBMAA, we aim to uplift, improve and use the arts as a catalyst for discussion.
We are a not for profit institution. Most of our acquisitions come by way of donation and from our small budget but we have managed to chip away at the task of building a comprehensive collection of American Art and I am happy to have been a part of it. In fact, this afternoon, I am taking a drive to the coast to pick up an Andy Warhol print that has been donated to the Museum, Birth of Venus. Our collection is growing and changing all the time."
For those of you who live in the area, either New England or New York, or those of you who travel to the area, the New Britain Museum of American Art in New Britain, is a great place to spend the afternoon and enjoy the cultural heritage that is ours, both past and forward.
Support HuffPost
The Stakes Have Never Been Higher
Related
Popular in the Community