Have you ever felt pressured to straighten your curly hair to nail a job interview? Have you dyed your gray hair in order to appear more youthful? Or have you been ostracized at home or work for having bleach blonde or turquoise hair? You are not alone -- and a new Dove campaign wants to encourage women to wear their hair however they want.
In a new film for the "Love Your Hair" campaign, six women get real about the external pressures they've encountered to style their hair a certain way. There have been several self-esteem projects and social media initiatives to challenge the traditional American standard of beauty that long, straight blonde or brunette hair is ideal, but there is still a lot of work to be done to repair the psychological effects it has on most individuals.
"We have a lifelong relationship with our hair, and it's almost as complicated as the connections we have with people we're close to," Elizabeth Benedict, a New York Times bestselling author and the editor of "Me, My Hair and I," told The Huffington Post. "Hair is a demanding partner, always needing attention and often not behaving the way we want it to. As with all complicated relationships, things go better when we find ways to get along, ask for what we need, and set boundaries of what we're willing to do and what we aren't."
According to a December 2015 study commissioned by Dove, 81 percent of American women believe the hairstyles we see in the media and advertisements "make women in general feel bad about the hair they have." A shockingly low 11 percent of women love everything about their hair and wouldn't change anything about it.
This is why empowerment projects led by major beauty brands like Dove are vital to push the conversation forward and inspire women to define their own beauty. "Instead of talking about new hairstyles and trends, let's open up dialogues about why we're so willing to follow trends and subject ourselves to impossible standards," said Benedict. "And let's commit to take a hair risk one of these days and see what it's like."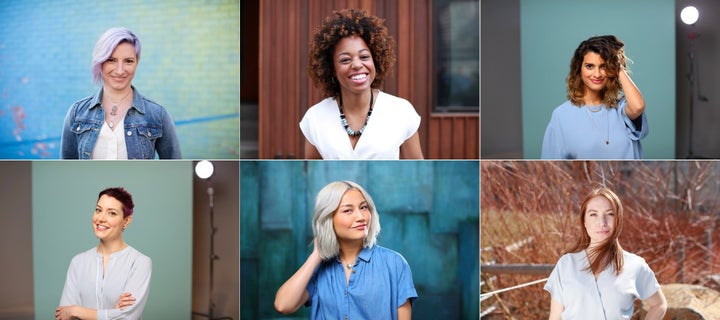 Sable Yong, a freelance beauty editor and one of the women featured in the Dove "Love Your Hair" film, knows all about taking risks. She grew up in a conservative Asian-American household and wasn't allowed to wear makeup or color her hair. When Yong first discussed the idea of going blonde with friends, she received mixed reactions and passive aggressive responses such as, "But it looks so pretty long! You might have to cut it off if it doesn't just break off itself."
She explained, "A lot of that stems from cultural ideals of appearing as a literal picture of health and vitality, and that type of homogenous aspiration is more prized than self expression." Yet, this didn't discourage her from taking the plunge.
"Going from black to platinum blonde is a pretty bold move and a total swap, so to me it's a daily reminder of how cool and rewarding it is to take risks with my looks and control my own appearance," said Yong. "Maybe my hair isn't totally office-appropriate, depending on the office, but in all honesty I don't think I'd ever want to work at place that would value a woman's skills less for wearing her hair in an 'unconventional' way."
Brides Who Rocked Short Hair