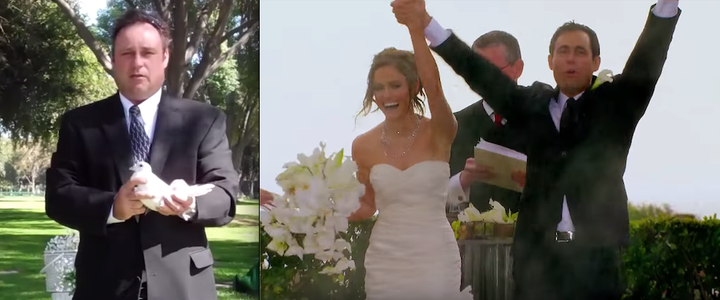 A man arrested in California with an "arsenal" of guns and Nazi memorabilia owns a renowned dove releasing business that may have a connection to the "Bachelor" reality TV series.
The bizarre story begins with Mitchell Todd, 51, who was arrested Tuesday at his home in Huntington Beach. There, police found a cache of weapons that included 57 firearms, as well as Nazi memorabilia, Fox 11 first reported.
Laguna Beach Police Sgt. Jim Cota said that the seizure of the gun stash ― which included long rifles, handguns and ammo ― may have thwarted something more sinister.
"My gut feeling tells me we did potentially stop something that could've been, I can't even put into words what could've been forthcoming," he told Fox 11.
"Definitely an arsenal, we're trying to figure out why one person would have in excess of 50 guns, at least in my career [it] stands up there with the top 5 in terms of firepower."
Police began investigating Todd's background earlier this month after receiving a complaint from a client of Newport Coast White Dove Release, Todd's business that releases doves at weddings and funerals. Todd allegedly threatened the client, who had hired the company for his son's funeral. The pair had an argument, after which Todd allegedly bombarded the customer with threatening voicemails ― one of which included Todd "releasing a handgun slide," Cota said. 
Officers arrested Todd on Tuesday morning after raiding his home and finding the stash of weapons and Nazi memorabilia, which included swastikas, a German Nazi war flag, a picture of Hitler and Confederate flags.
Police are investigating whether Todd had ties hate groups, Cota told HuffPost. Neighbors reportedly said he sometimes displayed the memorabilia in his windows.
"There's something strange there," Cota told HuffPost. "I can't put my finger on it. Maybe he's cuckoo. Who knows."
In a comment full of typos, Todd says he was the dove releasing agent for several Hollywood entities.
"Those birds all flew back to [Huntington Beach], California. I own them & have had them sense the early 70′s in HB," wrote "OCDoves," the YouTube account tied to Todd's company. "Years ago I imported these type of birds mostly from Europe at $1k a piece. These are the offspring you see in the video & many movies & other television shows today!"
Representatives from Warner Bros., ABC and a third-party wedding planner who has worked on the "Bachelor" series couldn't immediately confirm that Todd's dove company was hired for the wedding. Regardless, it would have been tough for show reps to know about Todd's alleged predilection for weapons and Nazi regalia; a public records search didn't reveal any criminal background or connections to neo-Nazis prior to Tuesday, and this particular "Bachelor" wedding happened eight years ago.
Todd has owned Newport Coast White Dove Release since 2008, according to public records. Its website, OCDoves.com, claims to have contracts with Disneyland, the Ritz Carlton, Trump Resorts and others, though none could be independently verified by press time. The site also claims to have the whitest birds available.
"Our birds are all white," the site reads. "Other guys use mix colored birds."

Cota said there wouldn't be further investigation into the dove business, and said the birds would be taken care of by Todd's wife.
Todd was jailed on charges of criminal threats, and additional weapons charges are pending.
Calling all HuffPost superfans!
Sign up for membership to become a founding member and help shape HuffPost's next chapter