Does it feel unusually hot to you today? That is because all of your money is on fire, thanks to the Federal Reserve.
And it didn't have to be this way! Blame Fed economic forecasts that will probably be useless, along with chronic miscommunication between the markets and the Fed.
The Dow Jones Industrial Average tumbled on Thursday by 353.87, or more than 2 percent, to 14,758.32, the index's worst single-day selloff since November 2011. All 30 of the Dow's components were in the red. Thursday's pummeling followed a 200-point drop on Wednesday, adding up to the worst two-day selloff since November 2011. The broader S&P 500-stock index and the tech-heavy Nasdaq both fell 2 percent, as well.
More worrisome for the Fed, bond markets were also taking a beating, driving interest rates, which move in the opposite direction of prices, to their highest levels in nearly two years. The Fed has been buying up $85 billion worth of bonds per month in an effort to keep interest rates low. It cannot be happy watching the yield on the 10-year Treasury note surge to 2.44 percent -- the highest since 2011, according to data tracker Tradeweb.
And the pain wasn't limited to stocks and bonds. Gold was just getting flat-out massacred, down nearly 7 percent. Foreign markets were also a sea of red, with Europe's top stock index down nearly 4 percent and Japan's Nikkei index down nearly 2 percent. Investors are also fleeing emerging markets like Brazil and China, with its juggernaut of an economy lately showing troubling signs of a slowdown.
All of this follows Fed Chairman Ben Bernanke's announcement on Wednesday that the Fed thinks the U.S. economy is enough on the mend that it can start slowing down its bond-buying program known as "quantitative easing," or "QE," later this year. Bernanke warned that the Fed might yet be wrong in its relatively rosy outlook, which could mean more QE, not less. Markets are choosing to go stark-raving bananas first and wait for the economic numbers later.
Markets probably need not worry. The Fed is in fact chronically awful at predicting the economy, notes the Washington Post's Dylan Matthews. And since the end of the Great Recession, it has mostly been too optimistic about growth.
At first glance, the bond market seems to agree with the Fed: Higher interest rates can be seen as a sign of optimism about the economy. The yield on the 10-year Treasury note has jumped all the way to 2.44 percent from 1.63 percent back in early May. That would seem to be an awful lot of optimism indeed.
But there's something funny going on in the bond market: Namely, inflation expectations are disappearing. One reason bond traders like to drive up interest rates is if they think inflation is going higher. They want to get paid more money in the future, to keep up with rising prices.
Instead, market expectations of future inflation, as measured by the spread between 10-year Treasury yields and the yield on Treasury Inflation Protected Securities (TIPS), have tumbled from more than 2.5 percent inflation growth per year in early May to about 2 percent recently, as you can see in the chart below. (Story continues below chart.)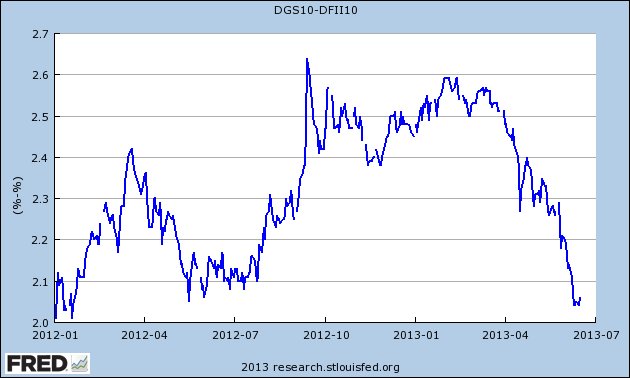 "If bond markets believed the Fed's new policy reflected stronger growth prospects, they would have raised inflation expectations," Charles Dumas, chairman of the London consulting firm Lombard Street Research, wrote in a note. "These have in fact dropped sharply."
The Fed may of course turn out to be right, and economic growth and inflation might pick up. But financial markets aren't buying it, obviously. And if they throw enough of a tantrum about the Fed, driving interest rates higher and hammering asset prices, then their pessimism might turn out to be a self-fulfilling prophecy.
This isn't the first time the market has thrown a hissy fit after Fed warnings about possibly choking back on stimulus. In the past, Bernanke & Co. have taken to speeches and the media to clarify their previous clarifications. You'd think they might have figured this communication thing out by now.
Related
Before You Go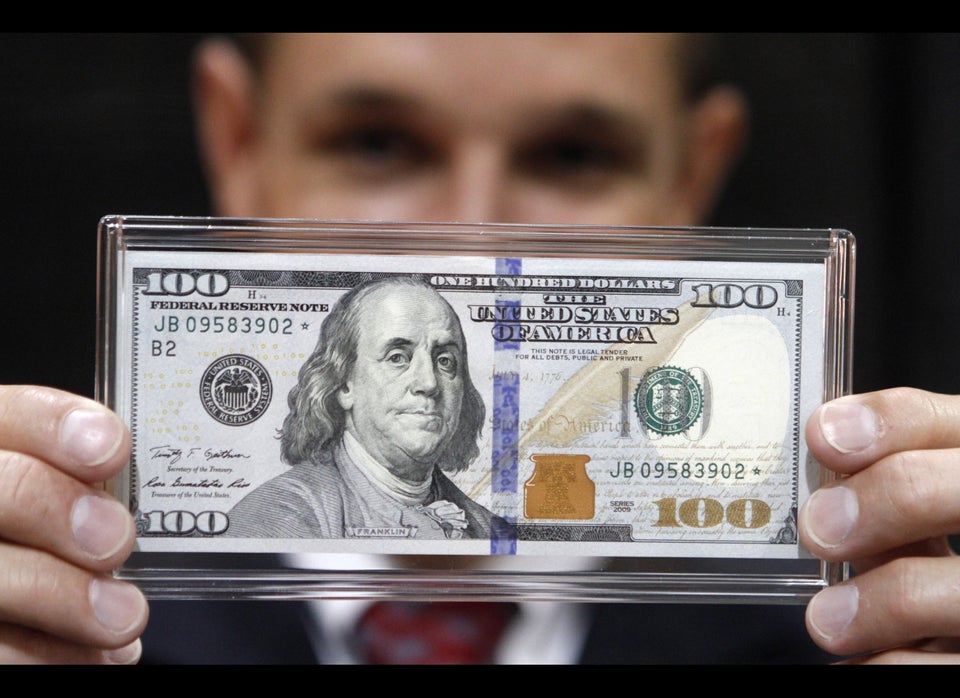 11 Lies About The Fed
Popular in the Community