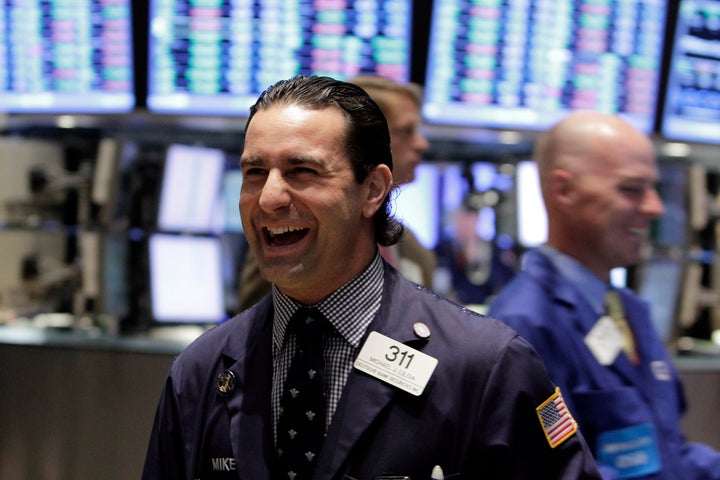 * Investors readying for Fed, German court decision
* IBM rises after chosen by Knight Capital to probe trading glitch
* Energy, industrial, financial sectors lead gains
* Dow ends up 0.6 pct, S&P up 0.3 pct, Nasdaq flat
NEW YORK, Sept 11 (Reuters) - The Dow industrials closed at the highest level in nearly five years on Tuesday in a lightly traded session before key decisions in Germany and the United States that could give markets a further boost.
Energy, industrial and financial firms led the advance. Contributing to gains by the Dow industrials, shares of International Business Machines Corp rose 1.15 percent to $203.27. Heavy equipment manufacturer Caterpillar added 1.72 percent to $88.60.
Equities have rallied in recent weeks on hopes for monetary stimulus by central banks. The Federal Reserve could announce Thursday additional steps to support low interest rates. On Wednesday, Germany's highest court will decide on the legality of the euro zone's new bailout fund.
The Nasdaq erased most of its gains in the afternoon as shares of Apple dropped in heavy volume. The stock slipped 0.32 percent to $660.59.
Economists forecast a 60 percent chance the U.S. central bank will announce another round of quantitative easing at the end of its two-day meeting. Disappointing U.S. August jobs data released last Friday bolstered that view.
"I do expect the Fed to (announce) an additional quantitative easing program. I don't think it's a good idea. I don't think it's warranted," said Jamie Cox, managing partner of Harris Financial Group in Richmond, Virginia.
Some investors have concerns that a lot of the good news has already been priced in, exposing markets to a decline should the Fed disappoint. They also argue that the Fed's actions have already distorted market prices.
"We're in a technically overbought situation, so those traders are going to take their profits going into the Fed meeting," Cox said. "The Nasdaq has run up so much over the last couple of days, any disappointment by the Fed could cause a reversal."
The Dow Jones industrial average ended up 69.07 points, or 0.52 percent, to 13,323.36. The Standard & Poor's 500 Index closed up 4.48 points, or 0.31 percent, to 1,433.56. The Nasdaq Composite Index gained 0.50 point, or 0.02 percent, to 3,104.53.
Expectations Germany's Constitutional Court would approve the European Stability Mechanism -- the euro zone's new bailout fund -- also boosted sentiment. But legal experts believe it will impose tough conditions limiting Berlin's flexibility on future rescues, which could be seen as a negative by markets.
Another event which could cause turbulence in markets is a Dutch general election on Wednesday, with voters divided between bailouts for troubled euro zone economies and austerity measures.
Investors are keeping an eye on big-cap bellwether technology names because of their role in global business spending. Techs fell on Monday following Intel's warning last week that reduced demand will hurt its third-quarter results. Shares were up 0.34 percent to $23.34 Tuesday.
Shares of Bank of America rallied 5.24 percent to $9.03, leading bank stocks higher.
Knight Capital Group Inc said it has hired IBM to look into the Aug. 1 trading glitch that cost the trading firm $440. The stock rose 1.12 percent.
Zynga Inc's chief marketing officer resigned on Monday, becoming the latest senior executive to depart the struggling social games company behind popular Facebook Inc games such as Farmville. Zynga shares dropped 1.06 percent to $2.79.
On the New York Stock Exchange, two stocks rose for every one that fell. On the Nasdaq, three stocks rose for every one that fell.
Volume was light, with about 5.91 billion shares traded on the New York Stock Exchange, the American Stock Exchange and Nasdaq, below last year's daily average of 7.84 billion.
Calling all HuffPost superfans!
Sign up for membership to become a founding member and help shape HuffPost's next chapter
BEFORE YOU GO
PHOTO GALLERY
The Strangest NYSE Bell Ringers