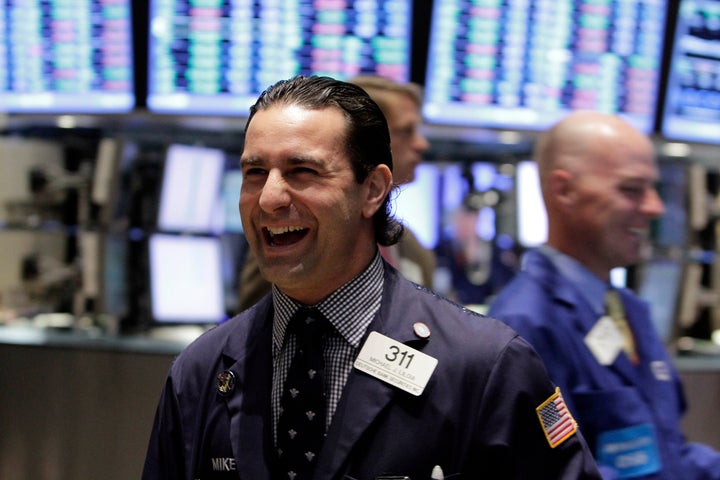 * Herbalife shares tank on Einhorn remarks
* ISM manufacturing growth tops expectations
* Chesapeake to replace McClendon as chairman
* Dow up 0.8 pct, S&P up 1.1 pct, Nasdaq up 0.8 pct
NEW YORK, May 1 (Reuters) - U.S. stocks rallied on Tuesday and the Dow hit its highest level since December 2007, after data showed the U.S. manufacturing sector expanded at a faster pace than expected in April, easing jitters about a slowdown in the economic recovery.
With most markets in Europe and several major Asian markets closed for the May Day holiday, investors shifted their attention to U.S. economic data.
Data from the Institute for Supply Management showed growth in U.S. manufacturing improved, coming in at its strongest rate in 10 months in April. That reading suggested the economy remains resilient after indications it had lost momentum at the start of the second quarter.
"Good numbers came out today on the manufacturing side that took some people by surprise," said Amy Wu, equity derivatives strategist at RBC.
But she noted that some European markets are closed for May Day while many Asian markets are closed during Golden week so the entire market hasn't had the time to react to today's numbers. She added "that's why, while some indexes have reached new highs, the market is quiet somewhat."
The Dow Jones industrial average was up 108.23 points, or 0.81 percent, at 13,321.86. The Standard & Poor's 500 Index was up 14.94 points, or 1.07 percent, at 1,412.85. The Nasdaq Composite Index was up 25.71 points, or 0.84 percent, at 3,072.07.
The Dow earlier rose as high as 13,338.66 points.
In April, the S&P 500 posted its first monthly decline since November as economic data pointed to a slowing domestic economy and continued flare-ups in the euro zone highlighted the risks of the region's debt crisis.
Of the 321 S&P 500 companies that have reported quarterly results so far, 71.3 percent have topped analysts' estimates, according to Thomson Reuters data through Tuesday morning,
Earnings are expected from 32 S&P 500 companies on Tuesday, including these three after the closing bell: Broadcom Corp , Chesapeake Energy Corp and Fiserv Inc .
Chesapeake, the nation's No. 2 natural gas producer, climbed 7.7 percent to $19.86 after it said it will name an independent, non-executive chairman to replace Aubrey McClendon. The company will also end a controversial program that has granted McClendon minority stakes in Chesapeake's wells.
Shares of nutrition and weight loss company Herbalife Ltd fell 20.9 percent to $55.64 after influential short-seller David Einhorn questioned why the company had stopped disclosing distributor names in its annual filings. Greenlight Capital's Einhorn raised the issue during the company's earnings call on Tuesday.
BP Plc's profit dropped on a fall in production prompted by the sale of oil fields to pay for the Gulf of Mexico disaster. U.S.-listed shares of BP fell 1 percent to $42.96.
Huntsman Corp jumped 9.9 percent to $15.56 after profit nearly tripled on higher prices for its chemicals.
Health-care stocks rose, boosted by Molina Healthcare Inc , which advanced 4.8 percent to $26.88 after the company's earnings topped estimates.
The Morgan Stanley healthcare payor index gained 1.9 percent.
PF Chang's China Bistro Inc surged nearly 30 percent to $51.48 after the restaurant chain agreed to be bought by a private equity firm.
BEFORE YOU GO