Surrealism is eternal. The quaintly comical provocations of the original Surrealist gang of the 1920s have been so absorbed into high and low culture -- particularly film and fashion -- that we revisit its roots with a reverence both mock and real. Paris-based photographer Bettina Rheims, whom some have called "the French Annie Liebovitz," actually grew up around such figures as André Breton and Man Ray. After many years of shooting the famous and beautiful in twisted poses (which those mania'd maestros would gleefully have embraced), she and her sometime collaborator, writer Serge Bramly, decided to do a project that would tell a story in photographs, while paying homage to the Surrealists and to their beloved City of Light. Rheims shot the photos while Bramly shot what was to be his first film ever, nicely scored by Martin Meissonnier. And just about all of it is in sumptuous 1920s-invoking black-and-white.
..........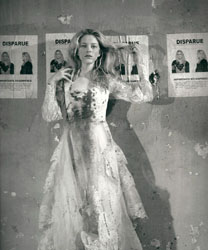 The duo chose as the starting point of ROSE C'EST PARIS the pulp feuilleton (a "grand sérial mystérieux" of the early 1900s), Fântomas, about a nefarious masked phantom who was a suave anti-hero with Houdini-like powers of escape. The character became a touchstone for the Surrealists when they learned that it was created by two Montmartre writers who issued alternate chapters in isolation from each other -- a formalized version of the classic Surrealist game of non sequiturs, Le Cadavre Exquis (The Exquisite Corpse). Rheims and Bramly devised a dark tale about twin sisters, one who disappears, the other on a quest to find her. But rather than a straight plotline, they conjure 36 hypothèses (theories) about what actually happened to the missing girl -- a strategy that allowed for a multitude of dream images, Surrealist joie de jeux, ambiguously erotic tableaux, and a fearless unveiling of both artists' psyches.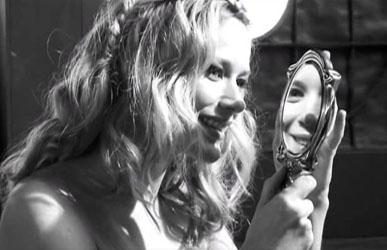 ....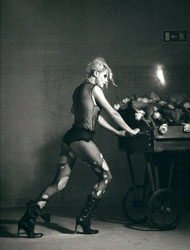 The first page of ROSE C'EST PARIS, just released by Taschen, belongs to a quote from Raymond Roussel, an avant-garde writer who influenced the Surrealists and poets like John Ashbery. "The work must contain nothing of reality, no observations of the world or of minds, nothing but wholly imaginary combinations." With that exhortation, Rheims and Bramly set off on a journey around Paris, and in every kind of setting possible -- from the posh to the squalid to the downright creepy -- arranged their compliant cast in an always edgy sequence of poses and actions, often bizarrely attired. Scenarios show Rose being drugged and kidnapped, becoming a stripper, a prostitute, a bride, a Goth flower-vendor, an assassin, a nun, a chef, and so on. Along the way, there are many sly allusions to Surrealist works, especially those of Marcel Duchamp (whose alter ego Rrose Sélavy prompted the title).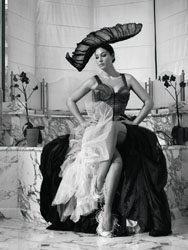 ..........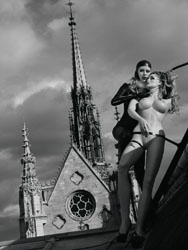 Citing the work of favorite filmmakers ranging from Luis Buñuel to David Lynch (through whom she says she found her palette), Rheims strives to make images that do not yield easily to interpretation. She prefers to work in a "gray area" that, like Surrealism, is a borderland between a lucid narrative and the chance collision of symbolically charged objects, characters, events. If anything keeps the enterprise on a consistent path, besides Paris itself, it's the presence of ravishing, brazen young women in various states of undress. Rheims and Bramly are as obsessed with the erotic as the Surrealists were, and they revel in fetish of all kinds. The overall effect is of a sexual delirium that divides into antic scenes the viewer is left trying to decipher, but which are just as potent shrouded in mystery. The Surrealists understood the power of the subconscious as a source of truth, via artful clues, and Rheims has made a career of exploring her own darker depths with her camera and a willing subject. Here, she goes inside further than usual, though not without a redeeming sense of the absurd. In Belgian actress Inge van Bruystegem, who plays Rose and her twin, she has found a bewitching vehicle for every fantasy she can yank out of herself. Also along for the ride, in fun cameos, are her friends Charlotte Rampling, Michelle Yeoh, Naomi Campbell, Monica Bellucci (regal as Salvador Dali's wife Gala), Azzedine Alaïda, and her son Virgile.
ROSE C'EST PARIS is fabulous and spooky and wicked -- and should not be shown to grandma without warning. Anyone with a drop of affection for Paris will love it, even if they can't connect all the dots. The Surrealists wouldn't have it any other way. Watch the video interview with Bettina Rheims below for more about the book's secrets.
Michael Kurcfeld is a documentary producer and journalist based in Los Angeles and Paris (www.stonehengemedia.com).
REAL LIFE. REAL NEWS. REAL VOICES.
Help us tell more of the stories that matter from voices that too often remain unheard.