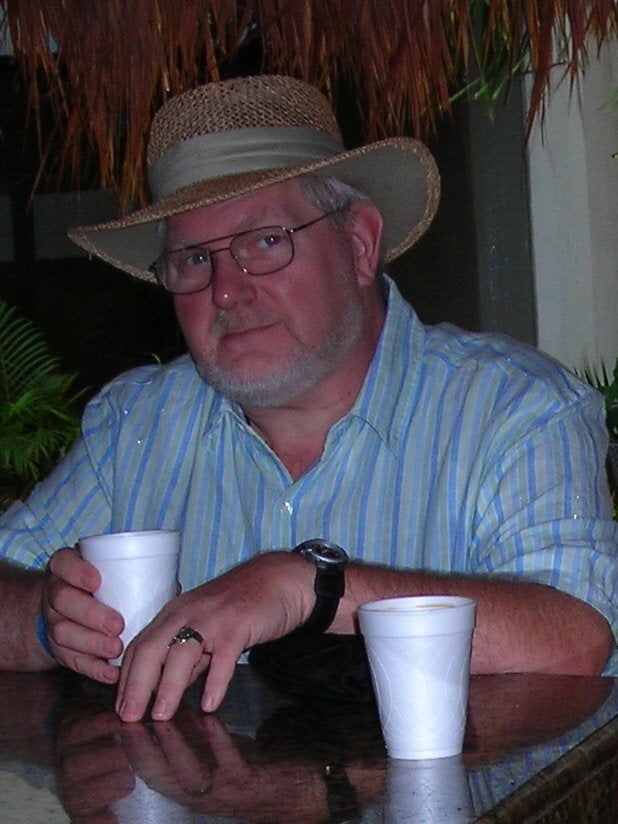 UPDATE 9/8/10: Marvin Bohn told HuffPost that after 25 months of unemployment, he scored a gig this summer as a dining chef with a catering company.
He said he coped with the anxiety of his situation partly by giving himself pep talks. It wasn't easy: "There were times I was just very, very depressed, and even though my mind says that it's not my fault, something's gotta be wrong because I can't get a job," he said.
The Huffington Post caught up with Marvin Bohn sitting on his porch in Yellow Springs, Ohio after a day of thunderstorms. He'd just come back from the movies. We'd heard he was out of a job.
I went through 26 weeks of unemployment benefits. Now I'm on the 13-week extension. I've been looking for work but not finding any. I ran the dining services for Antioch College in Ohio. Antioch closed June of last year. Good jobs in food service are hard to find.
At this moment I've already dropped COBRA. It was costing $597 a month. I just couldn't afford it. I take 11 medications, which I've gotten my doctor to put what he could on generics. But I'm still taking Plavix and Byetta.
In Springfield I worked as an executive chef, 80 hours a week. You could pretty much figure that from the Monday prior to Thanksgiving to New Year's Day I'd have no day off. So many banquets.
I'm a single person. I had taken care of my mother for 23 years. She passed away two years ago. She'd gotten to the point it was probably better.
I need to hopefully get a job that has benefits. When I've talked to insurance companies, what they want to charge you is phenomenal -- anywhere from $600 to a $1,000 a month. Some of them won't even quote me. I'm a type II diabetic. I've had two heart attacks, open-heart surgery, congestive heart failure. I've got a defibrillator in my chest. The same device that Dick Cheney has. It's the only thing he and I have in common.
There are nice people out there who say I don't look 57. I look in the mirror. I look 57.
I did talk to a person last week with a local fast food chain. A local franchise. The job was $25,000 a year, on the clock 45 hours a week. He asked what I was making on unemployment. I told him $365. He just looked at me and said, "That's ridiculous that you make so much."
Burger King. They didn't offer me the job. They'd set up 11 interviews, the largest number they'd had for an assistant manager position.
What's your day like, usually?
Most days I get up in the morning, get on the computer, and look for want ads. Craigslist, Monster, Yahoo. I read the Dayton daily news, I check the Cincinnati paper, the Columbus paper. Trying to find if there's anything out there. If there is, I send in a resume. I basically stopped going out and knocking on doors.
Usually that's how I spend my morning. I will take a walk in the afternoon - today because of the thunderstorms I decided to go see a movie. I saw "Up." I love animation. It was just excellent. Every time I see an animated movie it's so much better than last time.
How did your heart problems develop?
My grandfather had a series of strokes. My father died of a heart attack at age 57, my brother died of heart attack at age 50. My mother had a heart attack, open heart surgery. My older sister died of liver cancer. It spread from her colon. I'm sure it's genetics. My cholesterol is under control, but the doctors will tell you, eating the wrong things, not getting exercise. But I was working 80 hours a week.
When I had my initial heart attack, I was living in Springfield and they were supposed to take me to the community hospital. My insurance company would not OK surgery at that hospital.
I had an IV in me, a pump to strengthen my heart, and an external pacemaker. They came up and told me the insurance company said I would have to pay the deductible. It was over $6,000, I think. Since they would not provide transportation and I would have to wait for the doctors to release me so I could go home, then eventually check into the other hospital, we just simply chose to go ahead and pay the extra amount of money. Four more weeks or five more weeks off work. How much money does that cost?
I always get a little t'd off when they talk about how government is going to tell you what doctors you're going to see. Insurance companies are doing that now.
HuffPost readers: Are you one of the record number of people experiencing long-term unemployment? Tell us about it -- email arthur@huffingtonpost.com.
Calling all HuffPost superfans!
Sign up for membership to become a founding member and help shape HuffPost's next chapter