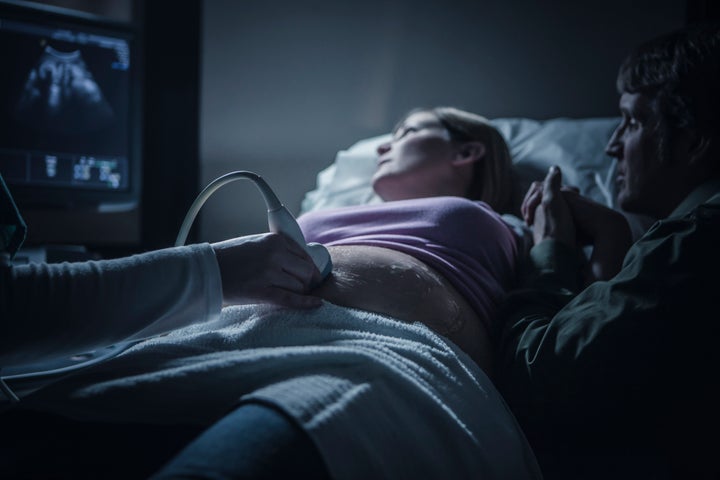 Toward the end of her first trimester, Caroline — pregnant for the first time — lay on an exam table, listening with dread as a doctor listed the problems he saw on the ultrasound screen in front of him.
The fetus' bowels were on the outside of its body. It had an extremely thick nuchal fold ― a measurement of the skin at the base of the neck ― indicating chromosomal abnormalities. The doctor told Caroline, who asked to use a pseudonym for privacy reasons, that he didn't believe the baby would survive outside the womb.
Caroline and her husband sought more tests and more doctors, all of whom agreed that the fetus' chances of surviving to her due date were slim.
So by the time she received the test results showing that the fetus specifically had Down syndrome, the couple already knew what they were going to do.
"It was clear to us both that we were going to end the pregnancy," said Caroline, now 31. She explained that her first pregnancy was planned and her desire to have a child was strong, but she was heartbroken at the prospect of delivering a stillborn. Even on the rare chance that the baby survived, she couldn't picture a lifetime of raising a severely disabled child.
Elsewhere in the country, however, abortion foes are seeking to put a stop to decisions exactly like hers, enacting laws that would punish anyone who performed abortions for Down syndrome.
A court battle in Ohio over a law that penalizes doctors if they knowingly abort a fetus because of Down syndrome is being watched nationally both as a legal precedent and a test of the political support for possible copycat laws nationwide.
State legislators say they simply took a stand for individuals with disabilities. But reproductive rights advocates believe the law is a bad faith effort to use Down syndrome to further stigmatize abortion and, ultimately, criminalize it.
"Banning a woman from having an abortion because of a fetal diagnosis is not only unconstitutional, it also does absolutely nothing to address discrimination against people with disabilities," said Freda Levinson, legal director for the American Civil Liberties Union of Ohio, in a press release last month.
Ohio became ground zero for Down syndrome-related abortion legislation earlier this winter when Gov. John Kasich (R) signed House Bill 214, which makes it a felony for anybody to perform an abortion on any woman who seeks the procedure even partly because she believes her fetus has Down syndrome, either based on test results or for "any other reason." Doctors who perform such an abortion can also have their medical licenses revoked. The formerly pregnant women themselves will not be penalized.
Legal action by the ACLU on behalf of several area abortion providers may stop the law from going into effect on March 23. The ACLU argues that the ban on Down syndrome-related abortions is a clear violation of Roe v. Wade, the landmark 1973 decision that affirmed a woman's legal right to abortion nationwide.
Ohio wasn't the first state to move forward with this kind of legislation. Indiana passed a similar law that has been tied up in litigation for nearly two years. A U.S. district judge blocked it last fall, and it's now before a federal appeals court.
North Dakota's sole abortion provider initially challenged a ban on abortions for fetal anomalies in that state, but eventually dropped the issue because the prohibition does not directly affect its practice. (The clinic does not perform abortions after 16 weeks, which is around the time that a Down syndrome diagnosis is often made.)
Proponents of such bans have painted the practice of ending pregnancies after a Down syndrome diagnosis as modern-day eugenics. Ohio Right to Life, an anti-abortion group, has said it is "particularly egregious" when a fetus can be denied life on the basis of a disability.
It is true that the degree of intellectual disability that accompanies Down syndrome varies widely, as does the severity of potential complications, like heart and gastrointestinal defects. Many people with Down syndrome can lead long, happy lives — and parents of children with the condition want others to know that.
Kelly Kuhns, a 36-year-old mother of a toddler with Down syndrome who testified in support of the Ohio law, told NPR that she never thought about terminating her pregnancy after receiving her son's diagnosis. "He's still worthy of life, just like anybody else," she said.
Major advocacy groups like the National Down Syndrome Society have not taken a position on the law, but they take pains to emphasize that people with Down syndrome live far longer than they did just a century ago and that they're an integral part of their communities.
But many other parents of children with Down syndrome have been outspoken in their criticisms of this kind of legislation. Emily Chesnut, a 40-year-old mother of four, including a 7-year-old daughter with Down syndrome, testified against the Ohio bill and told HuffPost she resents the idea of children like her daughter being used as political pawns.
"If they really cared about making the community better for my daughter, they'd provide more funding for programs that help her. They'd help improve inclusion in schools. They'd help educate parents that Down syndrome doesn't have to be scary," said Chesnut. "I have a whole bunch of issues I would love to have legislators' help with."
"I can love my child with Down syndrome and still be pro-choice," Chesnut added.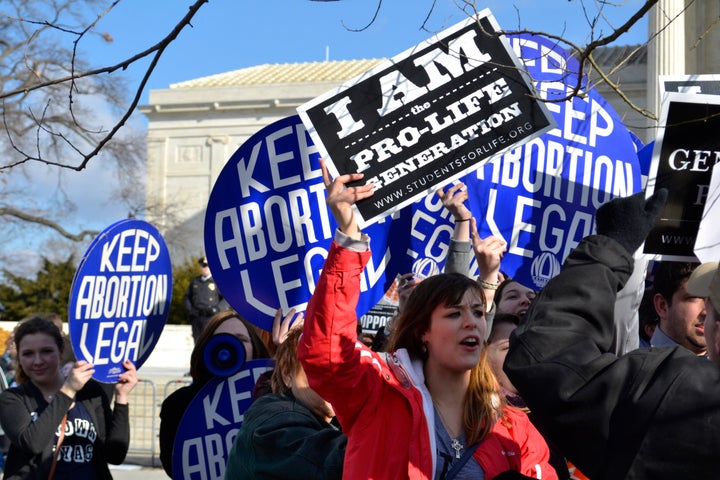 Besides the ethics debate, opponents argue that these laws violate the Constitution.
"It's an outright ban on abortions before viability, which the Supreme Court doctrine could not be clearer is unconstitutional," Jessie Hill, lead counsel on the ACLU's lawsuit in Ohio, told HuffPost. "There's 40 years of well-established precedent that no pre-viability ban — as opposed to a restriction or a regulation — no outright ban on pre-viability abortions has been upheld since Roe v. Wade."
That 1973 Supreme Court case established that women have a right to privacy under the 14th Amendment that extends to abortion — no matter the rationale for the abortion — before the fetus is able to live for an extended period of time outside its mother's womb.
A representative for the American College of Obstetricians and Gynecologists declined to comment specifically on the Ohio law, but said it falls under the broader umbrella of abortion "reason bans" — laws that attempt to curb a woman's access to the procedure based on the reason behind her decision.
ACOG has been unequivocal in its condemnation of such bans, saying they unfairly hold physicians liable for offering women basic health care.
"These 'reason bans' represent gross interference in the patient-physician relationship, creating a system in which patients and physicians are forced to withhold information or outright lie in order to ensure access to care," ACOG said in a 2016 statement.
Caroline believes that if such laws start to take hold, women in her situation won't stop getting abortions. They'll simply travel out of state, adding logistical challenges to emotional heartache.
"It makes me extremely heartbroken and angry. I told my husband that if this is something that becomes a trend, I'm not staying in this country," Caroline said, emphasizing that she has never regretted her decision to terminate her first pregnancy. "I have two daughters now and I can't imagine them growing up in a place where they don't have choice."
UPDATE: On Wednesday, a district court judge issued a preliminary injunction in Ohio, blocking the law from going into effect while the case continues.
Related
Popular in the Community