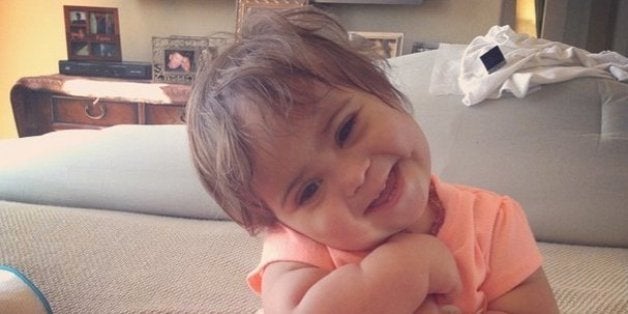 I'd like to introduce you to Ariana, aka "Squishy," the sweet, sassy and seriously adorable 2-year-old that has stolen my heart.
From the moment I discovered her via her mother's Instagram page, it was love at first sight. But it isn't just her chubby cheeks, infectious giggle and megawatt smile that have me captivated -- it's also the fact that Squishy has Down syndrome.
I grew up with a brother who has special needs, so watching Squishy's life unfold in a series of beautiful Instagram photos and videos really hits home for me. Although my brother doesn't specifically have DS, there is something uniquely amazing about being in a family with someone that has developmental disabilities. My sister and I definitely attribute most of our kindness and awesomeness to being raised with our brother. Which is also why I love that Squishy's best friend and sidekick is her 10-month-old sister, Keira, aka "Kiki."
The dynamic duo has the best adventures together, which are all captured by their mother, Andrea Hinton. The 30-year-old stay-at-home mom is on a mission to show that her two seemingly different daughters are actually very similar in many ways.
So, in celebration of World Down Syndrome Day on Saturday, we chatted with Hinton about Squishy, Kiki, parenting two exceptional little girls and what people should know (and love) about children with DS. Check it out below ...
What's the story behind Ariana's nickname, "Squishy"?
We received a prenatal diagnosis with Squishy and one day I was balling my eyes out when "Finding Nemo" came on. There's a part of the movie when Dory comes across this tiny, innocent jellyfish and says, "I shall call him Squishy and he shall be mine." Right at that moment Ariana kicked me, and I felt like she was telling me, "It's OK, Mommy. It's all going to be OK -- I shall be yours." I started to enjoy my pregnancy again and I nicknamed her Squishy. And when she was born she was perfectly squishy! So it stuck.
Squishy has such a big personality! Give us three words that best describe her.
Intuitive: Squishy is always in touch with how others are feeling and sensitive to their emotions. Independent: She wants to do everything by herself, which is a good and bad thing -- good because she wants to learn everything, but bad when we are in a hurry. Lovable: There are no hugs in the world that can compare to a Squishy hug!
When did you learn that Ariana had DS? How did you and your husband feel about and deal with the news?
We learned that Ariana had DS when I was 26 weeks pregnant. I went in for an ultrasound where they thought they noticed something on her stomach so they sent me to a specialist. At that time the specialist said that there was nothing wrong with her stomach, but that they did notice something with her heart. We then went to see a pediatric cardiologist at Rady Children's Hospital in San Diego, California, who gave us her diagnosis, which was DS and atrioventricular septal defect (AVSD), a congenital heart defect. I was informed at that time that Ariana would have to undergo open-heart surgery shortly after birth.
It was a very out-of-body, devastating experience. People always say, "As long as the baby is healthy" -- well, what if your baby isn't healthy? Does that make you love her any less? Absolutely not. For us, it surely made us scared, but we love her even more. Jason was in basic training for the Army at the time so I immediately sent a Red Cross message to him to give him the news. Jason didn't even flinch while we were on the phone. His exact words were, "OK. But we are going to love her just the same -- she's our daughter and she was made from our love." He tells me now that the hardest part for him was not the diagnosis, but that he and I were not together to support each other -- to learn about everything together and love on each other. We didn't get to see each other until Ariana was almost 1 week old. Although his words were so comforting and reassuring, I was a mess. The fact that my unborn child would have to have open-heart surgery made my heart and body ache.
I had no idea what my daughter having Down syndrome meant. What it meant for her future -- for our future. I'm embarrassed to admit that at the time I had never even met anyone with DS. Would my daughter fall in love? Would she be able to have those mother-daughter talks with me like I do with my mother? Will she be happy? I had never felt so alone so I drove myself into research, blogs, YouTube, and I found so many touching and inspirational stories that made me more and more confident that Ariana would be just fine. The hardest thing for me was not Ariana, it was me. Am I a strong enough person? Will I be a good enough mom? And then I finally said stop. We planned and prayed for Ariana, and she is what I wanted, exactly as she is. I just didn't know that at the time.
How is raising a child with DS different from raising a child without?
We are still learning how different it is now that we have two kiddos. With Ariana being our first child, we enjoyed and really relished every milestone. When she sat independently, took her first steps, said her first word, signed her first sign, pointed with intent, all huge accomplishments that we worked with her every day, all day, meticulously. Now that we have Kiki, we are still doing a lot of the same things, but she just starts doing things on her own without any help from us; she's been walking since 8 months old. We realize now what people mean by "cherish babyhood," because time goes by so fast. As far as parenting, we treat both our daughters the same, we are going to instill the same morals, values and rules. I don't want Squishy or myself to use Down syndrome as a crutch -- Down syndrome is just one aspect of my daughter, it does not define her.
Since your husband is in the military, does that mean he's gone a lot of the time? If so, how do you handle taking care of the girls without him around?
Yes, Jason is currently serving in the U.S. Army. He is gone for field expeditions at least twice a year and whenever he is needed in between. So, yes, unfortunately he is gone a lot. My father is terminally ill, so when Jason is gone for a long period of time we do our best to visit my family and I am able to get a little help. Jason also works very long hours so most days it's just me and our girls. I have learned to let the little stuff go, to be present in their world, because time does go by too fast.

Ariana and Kiki have the sweetest relationship! I hope they always stay that close. Have you thought about how you will explain Ariana's DS to Kiki?
We are just going to explain to her that her sister rocks a little something extra called Down syndrome, which is a condition, not an illness. A condition that may make learning and speaking come at a slower pace, but that doesn't mean that Ariana can't do it. Your sister will have many likes and talents like you. Just remember that when someone finds it difficult to speak or learn new things that doesn't make their feelings any less or any different from yours. So both of you, be kind to one another, love one another, protect each other, stand up for one another; you guys are sisters by blood but friends by choice, and I pray it always stays that way.
Were you scared to have another child after having Ariana?
Yes and no. We knew that the risk of having another child with DS was relatively small, but nevertheless still a chance. And it isn't Down syndrome, it's the health risks like Ariana's heart condition that can go with the diagnosis. When I got pregnant again, I knew immediately that Kiki was in perfect health -- motherly instinct. I did get the Harmony non-invasive blood test just to put our minds at ease. Not because we were worried about having another child with DS, rather because we wanted to be just as prepared for this child as we were with Squishy. We are planning on two more kids. We want Squishy to have a big family!
You are always so positive. Do you have any daily mantras/sayings/affirmations that help you remain at ease when times get tough?
I don't have any affirmations, but how can you not be positive with Squishy in your life? I have no reason to feel anything but pure love and positivity with my family. I have learned that I am stronger than I ever could have imagined. I can't be weak, I have to advocate for my daughter, make sure that I am her voice so she gets everything that she deserves. But I do have this quote that I always tell Squishy: "You must always remember you are braver than you believe, stronger than you seem and smarter than you think."
I really want people to know that our kiddos are so much more alike than different. My Ariana is very much a 2-year-old. She gets into everything, is curious about life, she tests her boundaries and is hungry for knowledge. People should know that if we give our kids a little bit of patience and time, they will surprise you and you'll see that they are capable of anything, just in their own time.
What's the best thing about being Ariana and Kiki's mom? And what's the hardest thing?
The best thing about being their mom is having the pleasure of watching them grow and become their own. Ariana has come so far and has done everything that the doctors and specialists told me she wouldn't. They told me that she would not breastfeed because of her heart condition and low muscle tone. Well, she nursed until her sissy was almost born! They told me she would take an average of two years plus to walk; she was walking at 16 months old. They said she may be non-verbal, ha! She babbles her life story every chance she gets. And Keira has been the perfect addition to our family. Wherever Squishy goes, Kiki isn't far behind. Kiki's personality is just starting to bloom and she is the silliest, fastest -- she's going to be our athlete -- most curious baby.
The hardest thing is the mother guilt that I think all mothers have at one point or another. Did I do enough today? Did I set a good example? Did I give each one individual attention? Am I nurturing them the right way? Am I watching what I say about myself around them? It's extremely important for me to lead by example; I treat others how I want them to treat myself and my daughters, with kindness and tolerance.
What hopes and dreams do you and your husband have for Squishy?
First and most importantly, we want Ariana to be happy. That is our biggest hope. We want her to find her passion and be able to follow her dreams. We are introducing her to everything and anything so she can find out what she likes. Ariana is going to start tumbling and swim lessons soon. We are also getting her into piano, dance and sports as soon as she is old enough. We just want her to have every opportunity to succeed and we want her to be confident in herself.
This interview has been edited and condensed for clarity.