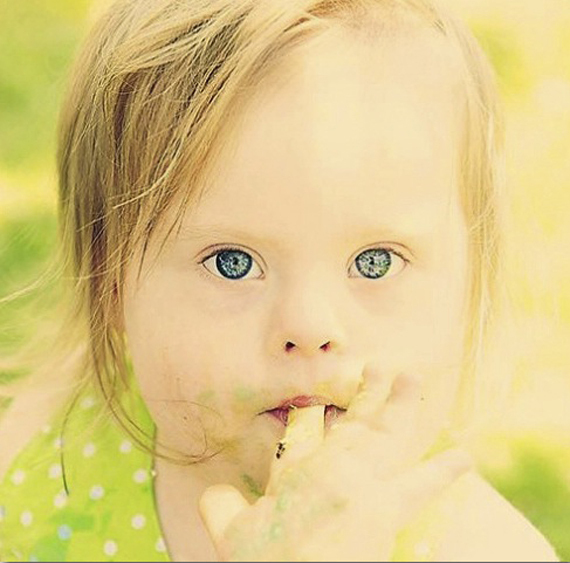 Photo by TUC. Used with permission.
These are perennial questions, when things don't go "as planned." In the end, it often comes to perspective, to how we both literally and figuratively see.
When artist Dale Chihuly lost sight in his left eye, it was tragic. The art of glassblowing has classically valued symmetry, and symmetry was no longer something Chihuly could traffic in, his perspective permanently altered by a physical reality. Add to this a later shoulder injury, which shut him out of the possibility of holding, turning, shaping the glass, and the tragedy could only be deepened. Except, of course, we know that is not the outcome. Chihuly's unique perspective and art has changed how we think of glass and what we want. In his own words, "Once I stepped back, I liked the view."
October is Down Syndrome Awareness Month, and it is partly about shaping (or reshaping) perspective. It pokes at the perennial questions: damage or gift? Though it mostly works to lift our consciousness in the direction of "gift." There is reason. And it's not simply because we now know that people who live with Down syndrome share DNA with people who suffer from Alzheimer's (usefulness, as it goes, tends to sway us, and researchers are doing a few back flips now that they see how people who live with Down syndrome can be studied to help provide healing for "typical people" who have developed Alzheimer's.)
It is perhaps metaphoric that the eyes of people who live with Down syndrome are literally different, a kaleidoscope as artful as the the rosette window of Notre Dame. One has only to take the time to gaze (or set his camera to capturing), and the beauty shocks. At the poetry site I manage, we have delved into the beauty of the eyes of those who live with Down syndrome--not the literal eyes, but the ways of seeing. It is a hard beauty at times, a poetry of injury. Overall, we are not trying to definitively answer the perennial questions, but rather to step back and explore the view through poetry and painting.
Of what are you aware, when it comes to Down syndrome? If the condition is not a part of your life, maybe your awareness has been shaped by vague impressions and occasional news events. You haven't had the chance to get up close and see, for instance, Michael's colors, or hear his favorite poem...
Two roads diverged in a yellow wood,
And sorry I could not travel both
And be one traveler, long I stood
And looked down one as far as I could
To where it bent in the undergrowth;
Then took the other, as just as fair,
And having perhaps the better claim,
Because it was grassy and wanted wear;
Though as for that the passing there
Had worn them really about the same,
And both that morning equally lay
In leaves no step had trodden black.
Oh, I kept the first for another day!
Yet knowing how way leads on to way,
I doubted if I should ever come back
I shall be telling this with a sigh
Somewhere ages and ages hence:
Two roads diverged in a wood, and I--
I took the one less traveled by,
And that has made all the difference.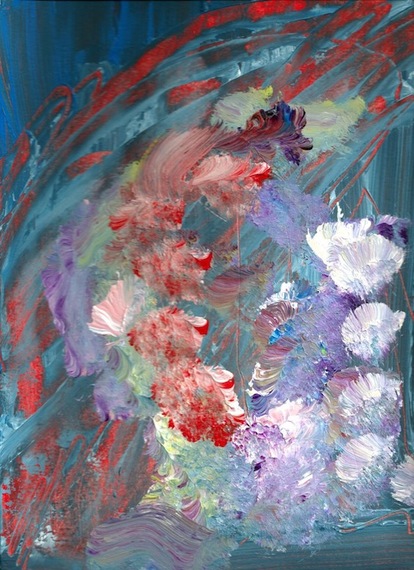 Art by Michael Wasserman. Used with permission.
You probably haven't had the chance to meet young Kimani either, and see her special way of putting together colors...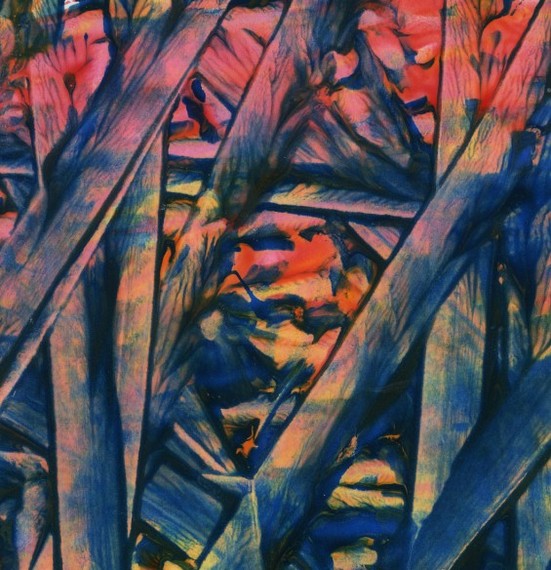 Art by Kimani. Used with permission.
And then there is Kasia, whose words we have found poems in, and whose art has been praised by a leading art critic in Poland...
I am lonely
Why are you staring at the computer screen, not me?
Where do you dream?
Tomorrow I will make an experiment.
God will do confessions.
Will He have time to talk? Can one can come to Him and talk seriously?
Where do you dream?
Do you die in your clothes?
There are small rooms in Heaven, beds, two rooms and two beds.
Why did God create the world?
Where do you dream?
I would like to know when is the end of the world. Is it on Saturday,
Tuesday or maybe Wednesday?
When Liniewski calls tell him that I am cheating on him.
Bury me in Powazki and cover me with soil, like you covered Father!
Where do you dream?
--found poem, from the words of Kasia Puciata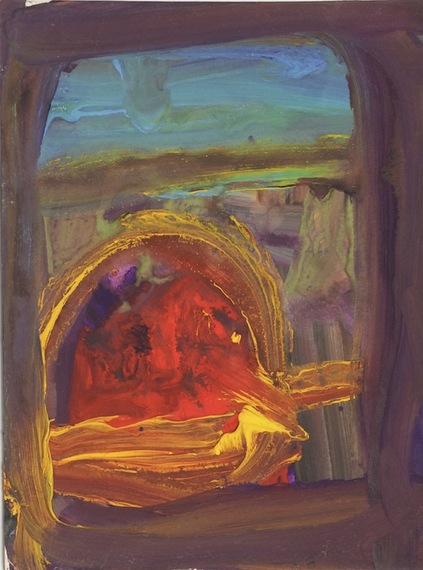 Art by Kasia Puciata. Used with permission.
The words, the images, speak for themselves, though they cannot speak for all those who live with Down syndrome. Still. It might be about how we perceive, what we choose to value, if we can live with and even see the beauty of asymmetry.
Five-year-old Zoya might lead the way...
Papa is the sky
Mama is the air
Elaina is the clouds
Zoya is the moon
And Polly is the sun.
- Zoya, age 5, in Sun Shine Down, a memoir about the birth of Polly, who lives with Down syndrome