Sept-Îles station on the vastly wide St. Lawrence River estuary is not the ideal place to be at 10 p.m., without a car, wondering how to get into town to my already booked hostel after spending nine hours travelling through Labrador and Quebec on the Tshiuetin railway. There's not a vast line of taxis waiting for me, as I'd imagined as though this was London's Victoria Station. There's not even one.
The station consists of a little building with a phone and a taxi company's number affixed nearby. You feed in 50 cents, dial, order and wait.
And wait. At last the lights of a taxi show up rounding a corner about 100 feet away. It stops at the corner, picks up a lady who has positioned herself there instead of at the taxi stop and drives off, leaving you furious at her for stealing the taxi you phoned for.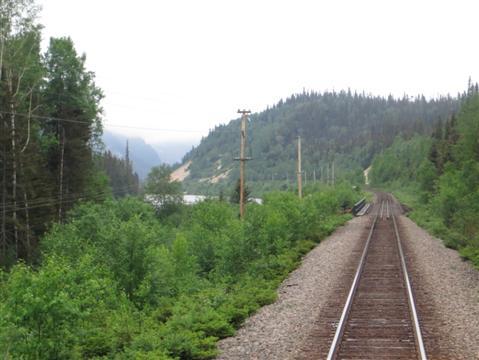 Bye Bye Tshiuetin
You go through the process again, cough up another 50 cents, dial, order, wait - and the same bloody thing happens again. Not to be outdone the third time, I position myself at the lower corner in front of a lady who earlier walked right past me to this ground zero, and wait.
And wouldn't you just know it. A taxi comes through the station exit and pulls up right by the proper taxi stop. Waddling like a duck, hauling my case now freighted with Rivka's tons of rocks, stones and boulders, I rush breathless up to the front of the vehicle.
At the same moment, the lady sprints up, meets another woman carrying an infant and tries to get in. Being the perfect gentleman that I am, I tell them to get the f... out of my way, hurl Rivka's load of rocks, stones and boulders into the trunk, jump in by side of the driver, and tell him to get me to the church on time, leaving the two women mouths agape - and the infant whimpering.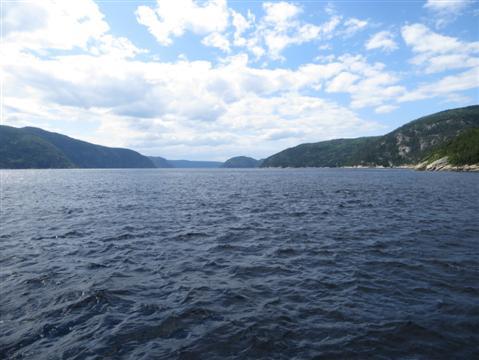 Saguenay River where it joins the St. Lawrence
On the morrow, it's a different taxi story as I pursue my efforts to travel through Canada by overland mass transportation. It's 6.30 a.m., I have to get to the bus station for the early departure south, and end up waking up the whole hostel in order to do so. Being the only person in the universe not to have a mobile phone, I note a little bell on the reception desk which says 'ring for receptionist.'
Well, how was I to know he was going to trip over a door and make a terrible ruckus, and that a woman, her face still asleep, an unmade-up mask, was going to trip down the stairs in most unfriendly mode. By the time I'm finished, I hear stirrings from several other rooms, too, but I do get my taxi to the bus station after prevailing upon the prostrate gent to phone for one.
If you looked down at Quebec from the stratosphere you could be forgiven for thinking Canada's largest province had been enveloped in a vast morass of spider webs. There are huge metal pylons everywhere with power lines cat's-cradling out from them all over the green-forested north shore of the Gulf of St. Lawrence as we make our way through a coal-black black rain storm.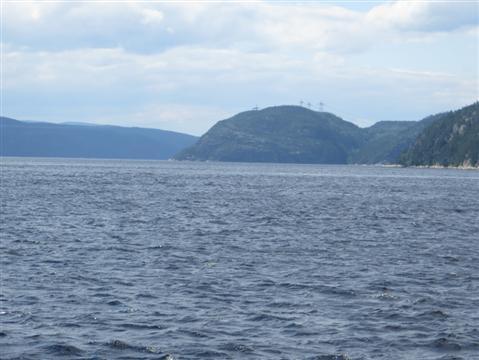 Pylons on a hilltop
We pass a drive-off to Manic-2, just one of the scores of dams in Quebec, some of them over 700 feet high, that engender the giant spiders' webs overhead - and that's not counting those coming through from Labrador. You can't help wondering what all that dammed water has done to the salmon as they try to home back to their spawning grounds.
The Gulf of St. Lawrence, the world's largest estuary, is over 60 miles wide at Sept-Îles. At Pointe-des-Monts where the river meets the estuary it's about 30 miles wide - a great seaway worthy of its superlatives. Superlatives, too, are in order on the bus - the Innu really must do something about their diet; they're even more obese than the average Canadian.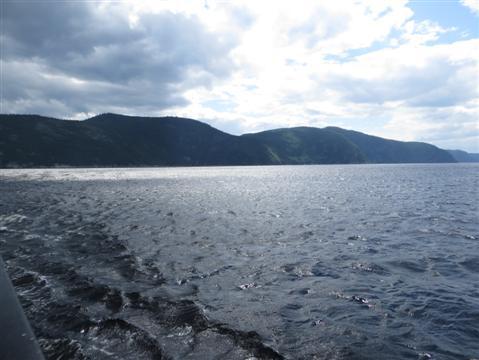 Saguenay where it joins the St. Lawrence
Cliffs loom out of the mists. The weather lifts to reveal steep forested hills, lakes with mirror surfaces, rivers snaking into the St. Lawrence, low waterfalls, fold after fold of pine-carpeted granite coming down to the bank as we hug the coastal cliffs on the twisting, undulating road. Little villages with tin-steepled churches string out along the river.
This is prime whale-watching country where tourists pour in by the thousands during the summer to watch the massive beasts breach in the St. Lawrence River and its estuary. The only whales Yours Truly sees today, though, are those inside the bus, breaching as they turn in slumber on their seats.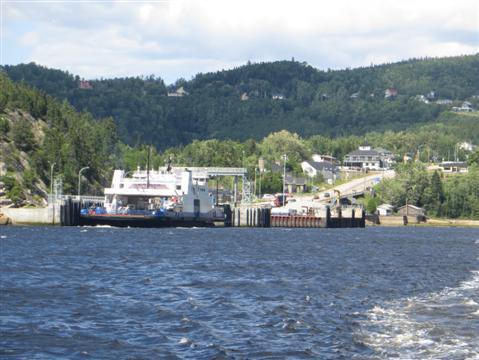 Saguenay River at Tadoussac
We reach Tadoussac and cross the Saguenay River by ferry to Baie-Sainte-Catherine. It's a wonderful mountainous area with pine-clad crags, the start of the Saguenay fjord, the most southernmost fjord in the northern hemisphere. I'm headed there but there's no direct bus today and I have to make a huge eight-hour-long detour to Quebec City.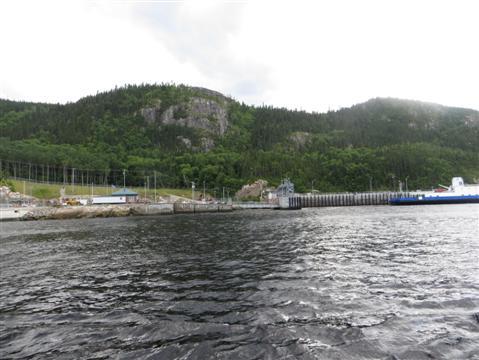 Baie-Sainte-Catherine
We enter a large valley near La Malbaie where a 15-billion-ton meteorite 1.2-miles wide accosted Mother Earth 360 million years ago at 22,369 miles 638.60 yards an hour - well, that's the exact equivalent of 36,000 kilometres per hour, so there.
Some 360 million years later, rivers are tumbling down gorges, picturesque villages dot the countryside, and rugged peaks rise in dark serried ranks on the horizon. At the valley's western end the beautiful little town of Baie-Saint-Paul nestles in a river bay encircled by heavily wooded peaks.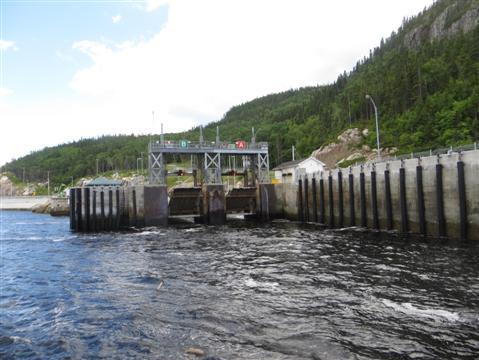 Moorage at Baie-Sainte-Catherine
At last we approach Quebec City. I recognize the cliffs of the Plains of Abraham overlooking the St. Lawrence, now only a few hundred yards wide - Quebec in Algonquin means narrow passage - where the Brits beat the shit out of the Frogs in 1759. I recognise, too, the green mansard roof of the fortress-like Château Frontenac Hotel, all from my first visit 41 years ago.
But I do not recognise the hideous 31-storey 433-foot Édifice Marie-Guyart that mars the city skyline. It evidently existed 41 years ago, but my memory must have blocked it out. Nor do I recognise the equally hideous Hilton Hotel.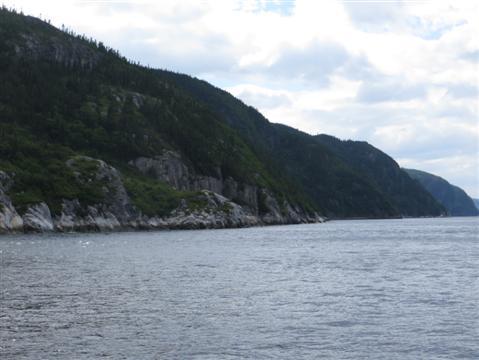 Saguenay River view
It's almost 7 p.m. by the time we drive under a ghastly spaghetti junction into the city, 11 hours - with two meal stops - after starting out. The sun is shining bright and Yours Truly has a two and a half hour wait for the bus to Chicoutimi in the heart of Saguenay fjordland.
So what to do with my two and a half hours? Well, I've got a new Deep Throat to fill me in on the intricacies of Quebec politics. He's not a real Deep Throat, like those I've encountered on other journeys to reveal the secrets of their various countries - you know, the taxi driver, the bar man, the waiter, the chamber maid, the chamber maid, the chamber maid. OK the record's got stuck.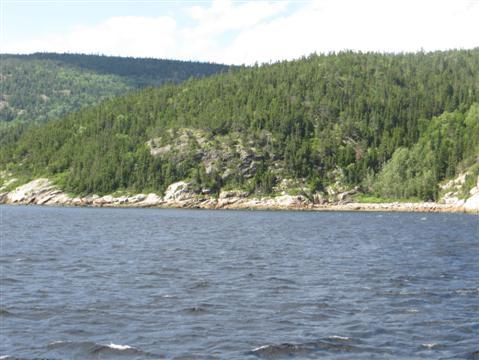 Another Saguenay River view
But if children can have imaginary friends, why can't I have an imaginary Deep Throat? She now fills my imagination in on what really happened at that epochal moment in 1967 when French President Charles de Gaulle passed through Quebec City and set le chat among les pigeons, so to speak, by screaming in Montreal 'Vive le Quebec Libre,' Long Live Free Quebec, the clarion call of the separatists wishing to break up Canada.
What the worthy president meant to say, according to a copy of the speech which my imaginary Deep Throat swears she saw in the general's own handwriting, was 'Vive le Quebec Ivre,' or Long Live Drunken Quebec, which I'm sure would have produced even lustier cheers from his rabid audience.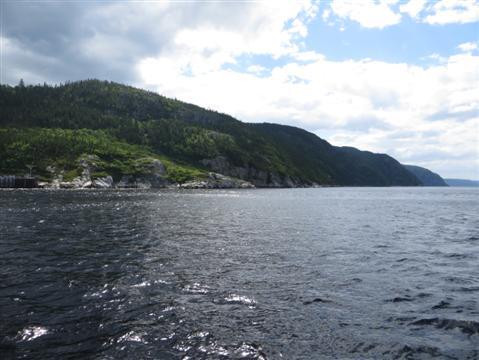 Another Saguenay River view
But for some odd reason an extraneous 'L' slipped in as if he wanted to repeat le Quebec, the 'V' caught fright and hardened into a 'B' and the rest is history - the general cut short his visit in the ensuing uproar and returned home, not with his queue between his jambes, as you'd expect, but instead held very high.
Actually I better not use my French here - queue, normally tail, can mean something very naughty in French slang.
Having at last exhausted all possibilities with my Deep Throat - she can't confirm the rumour I'm now pushing that that the Federal Government in Ottawa wants to force Quebec to change its motto from Je me souviens (I remember) to J'ai oublié (I've forgotten) - I betake myself to a restaurant in front of the train station and the abutting Canadian government building, whose green turrets and mansards would do Harry Potter and Hogwarts proud.


Quebec City railway station
It's amazing how much you can spend to eat really, really badly. The chocolate mousse looks absolutely toxic. And talking about moose, I do hope tonight's bus driver is a local as Quebec is the only place I've been to so far on this trip to Canada that refuses to have bilingual road signs - they're only in French.
What's going to happen if he's not a local, doesn't speak French and doesn't understand the black on yellow image of a moose glaring at a car? And while we're at it, a lot of locals here would look much better if they covered their torsos with something more than a flab- and armpit-revealing under-vest.


Federal building in Quebec City
And while we're at it, we don't we arrive until after midnight and I'm falling asleep and...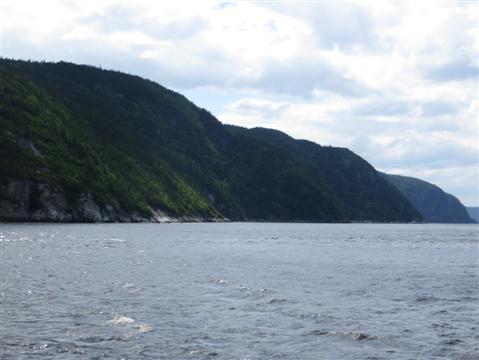 Saguenay River view
______________
By the same author: Bussing The Amazon: On The Road With The Accidental Journalist, available with free excerpts on Kindle and in print version on Amazon.
Popular in the Community