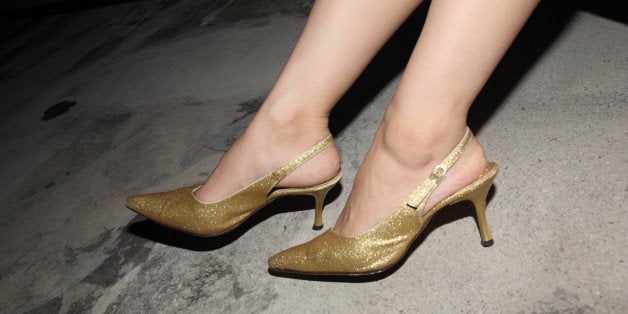 Maybe it's my Tennessee upbringing, perhaps my tomboyish tendencies, or because I spend my days on my feet as a Pediatric Dentist, but I have always been a fan of flat shoes. Ballet flats, loafers, sneakers, and even strappy sandals, I prefer to keep my feet on the ground. To those who worship at the altar of Christian Louboutin or Jimmy Choo, this may sound like trend-phobic blaspheme. But hear me out.
Once I started my professional life, I soon realized that wearing stilettos and pumps had no place in the office. Instead, ballerina flats, loafers, and sneakers became my shoes of choice. I can dress them up, dress them down, and at the end of a long day my feet are happy and energized.
Shockingly, I have even found that many men I have dated appreciate me wearing comfortable shoes. I remember one particular date where after dinner I was asked if I wanted to go to the driving range and hit some golf balls. He stopped himself and said, "Oh wait, you probably won't be comfortable in your shoes, will you?" Then he peeped a look at the cute pair of flats I had on and off we went to hit some golf balls! Yes, I easily and seamlessly transitioned from an elegant dinner to hitting golf balls at the local driving range, thanks to my cute flats. My date even made it a point to comment on how "low maintenance" I seemed, and how he hated when women wore shoes that were clearly uncomfortable.
Wearing flats is definitely not a new style for me. Growing up in the south and spending a lot of my time outdoors meant that I was always searching for a comfortable pair of shoes. I recall going to a local football game as a high school senior and noticing that a few of my friends were having a hard time walking because their heels continued to dig into the grass as they made their way down the field! Who wants that?
At 30 years old, I would like to think that my shoe choice doesn't play a big role in attractiveness or sex appeal, but either way, I would rather be comfortable. Kicked-back easy going style is my choice 99% of the time. We've all seen those women. You know the ones, they go grocery shopping or to their children's social events in the latest high heeled monstrosities to emerge from fashion week. You look at them walk, taking each step as though it were painfully deliberate, and slightly hunched over. You think, "Girl, why? Is it that serious?" I'm all for appreciating fashion, but when it comes to going about my daily routine, I'll take a t-shirt, worn in blue jeans and a pair of flats any day. It's not just because of the comfort, although that's a big part of it, but because of the wide range of flats that some of my favorite designers are now showing as part of their footwear collections. My personal favorite is Steve Madden. He has really upped his game with his women's flats collection. Strappy, printed, loafers, ballet flats, moccasins... oh my! It's all there and won't break the bank.
Now don't get me wrong. High heels will always be a staple piece in a woman's closet, but with more designers adding embellishments and different fabrics to their flats and flip flops and with sneaker companies such as Nike adding bling to their sneakers, I don't need to keep my precious feet at a continuous 60 degree angle and neither do you.
Whether you are dressing up or keeping it casually elegant, you will certainly be able to find a pair of flats that fit the occasion. If you're still not sold on the merits of flats and you're a die hard heels girl, do what I do on the rare occasions that I go for 3" or higher. Tuck a nice pair a flats into your purse.
Your feet will thank you.
Calling all HuffPost superfans!
Sign up for membership to become a founding member and help shape HuffPost's next chapter