Anchored off the coast of Croatia, I felt like I was on a private yacht. Cool breezes were coming off the shimmering waters of the Adriatic Sea, the perfect buffer for the unseasonably intense autumn sun. I was comfortably ensconced on a lounge chair on the deck, alternately picking up my novel to read and putting it down to doze. As church bells rang in the distance, I sat up to soak in the 360-degree views of land and sea.
Satisfied veterans of larger cruise ships, my husband and I were seduced by the promise of a more relaxed voyage, on a smaller craft with fewer people. So we booked a two-week Mediterranean excursion on the Seabourn Spirit. We flew into Rome and checked into the convenient Hotel San Giorgio the night before our departure. Located in the port city of Civitavecchia, the hotel overlooks the water and is one of only two buildings that remained standing after World War II.
With a manifest of 200 passengers and only 106 cabins (compared to ships that carry up to 5000 people), there were no long lines boarding the ship. After being photographed and receiving our shipboard identity cards---and offered the first of many bottomless glasses of champagne to come---we were warmly welcomed by members of the crew who hail from 38 countries.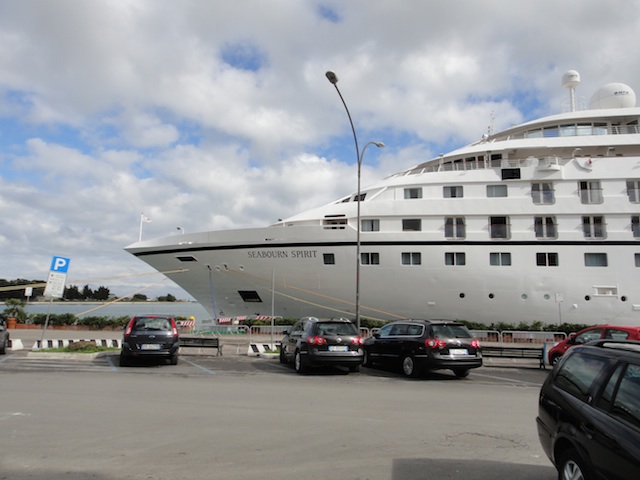 Because there are nearly as many crew as passengers, someone is always around to make sure you are content and comfortable. Within the first day or two, most of the crew knew us by name. Each time I entered or left the dining room, one of the young waiters would graciously wrap his elbow around mine to accompany me to and from my table. We began to feel like we were members of a small private club.
Launched in 1989, The Spirit (like her sister ships, The Pride and The Legend) is one of Seabourn's older vessels but her all-suite cabins are updated and extremely comfortable. With 277-square feet of living area, our cabin seemed roomier than some studio apartments in New York City. Our suite on the sixth deck was one of the thirty-six that had been retrofitted with a French balcony providing light, airy, floor-to-ceiling views. A fruit bowl on the coffee table and a refrigerator stocked with complimentary soft and alcoholic drinks made us feel at home.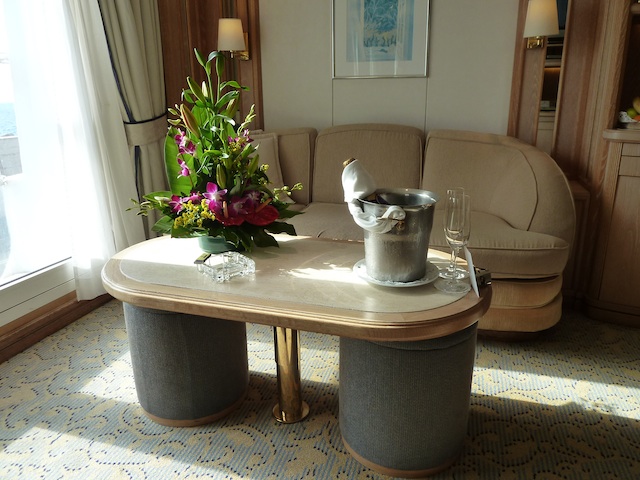 Because of its intimate size, the layout of the ship is easy to master although public spaces, as one might expect, are more limited. The Spirit has eight decks, three with passenger cabins, and all the facilities people are accustomed to on larger ships---just scaled down in size. These include a pool and several outdoor whirlpools; a full-service spa; a gym with ocean views, and a beauty salon. The ship also has two restaurants (one with an outdoor veranda), several bars, a library, a sun deck, a self-serve launderette, a gift shop, a club with evening entertainment, a two-table casino, and a business center.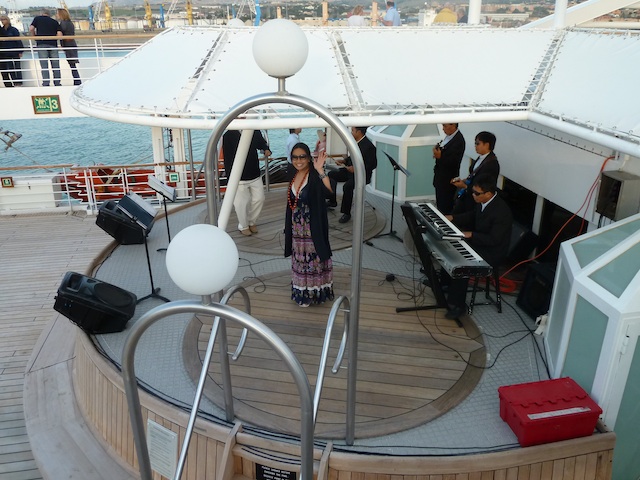 Seabourn brands itself as a "yacht," not a floating hotel, and lives up to the promise. There were no art auctions or photographers following us around the ship. Personal service was, indeed, the hallmark of our experience. Crew members were so warm and personable that we wondered if the CEO of Zappos had trained them in customer service. They anticipated our needs, alert to the slightest sign or gesture suggesting that we were experiencing a dry palate or moment of boredom. When people are paying for a luxury cruise, they tend to be demanding but these guys remained unrattled no matter what request was thrown at them.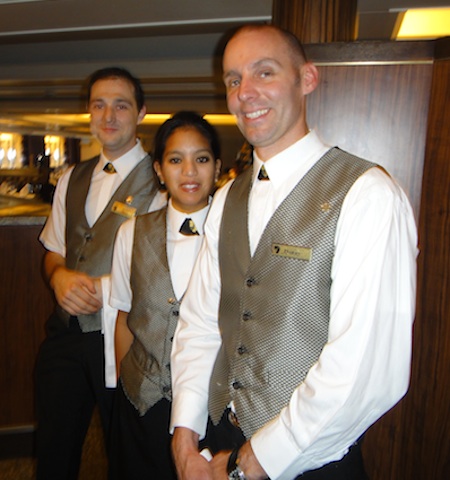 On a small ship, we never felt like we were in the midst of a crowd. Exercise equipment was available without waits and the deck was generally sparsely populated. Apart from the welcome on board and muster drill, there were few intrusive loudspeaker announcements and no loud music playing on the sundeck. There were quiet spots to read or simply to be alone; conversely, 200 is a small village and you begin to recognize your neighbors (if you want to).
Meals were consistently as good as those we had experienced at the finer Zagat-rated restaurant in the States. The menu changed daily and was varied enough to please even the pickiest of eaters. If we chose to remain in our cabin, 24-hour complimentary room service was delivered course-by-course. Since we are foodies, we thought it might be too easy to go overboard eating, but portions were appropriately small, too. We were delighted to come home without any weight gain.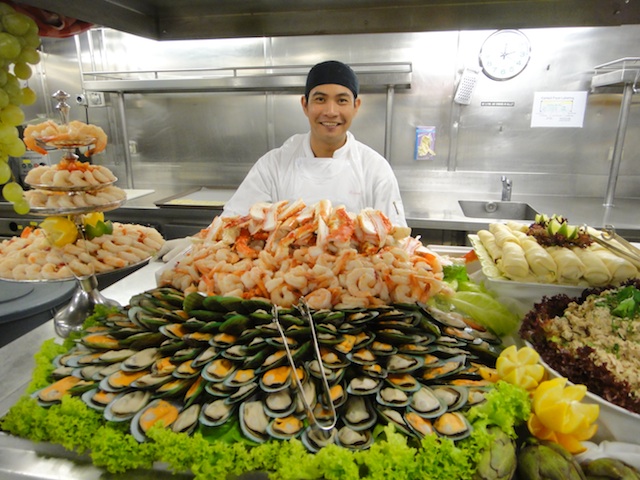 Our ship made stops at the Lipari Islands, Corfu, Brindisi, Korkula, Rovinj, Venice, Hvar, Siracusa, and Sorrento, a real Mediterranean sampler. But it was as almost as exciting to retreat to the womb of the luxury liner, as it was to visit the ports, some of which we could have never gotten to on a larger boat.
The inviting beds were covered with soft duvets and Frette linens. Molton Brown toiletries were tucked inside the spacious medicine cabinet. One night when we returned to our cabin, our unobtrusive stewardess, Odette, had drawn whimsical hearts with bath lotion at the bottom of the tub and left a note suggesting a bubble bath that evening.
But on a vessel this size, we never forgot we were on a boat. One night, we were awakened by the noise of the rough seas crashing against the bottom of boat and lifting it up. Traveling across the Ionian Sea, seasonal gale force winds and 12-foot waves prevented us from tendering at one of the ports and sent scores of seasick passengers and crew to their cabins.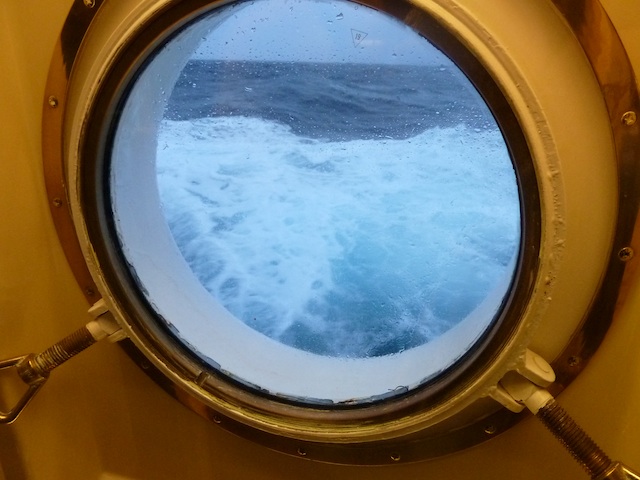 At lunch the next day, the view of the waves outside the portholes looked like we were peering into the windows of a line of front-loading washing machines. While we always felt completely safe, weathering a storm on a smaller vessel requires flexibility and preparedness on everyone's part.
But the sun returned and the waves settled down. The next night we were blissfully lulled to sleep by a more gentle sway and the earlier storm, like childbirth, was only a distant memory. We returned back to Civitavecchia enamored of a cruising experience that was downsized and felt just right.