Spoiler alert: Do not read on if you have not yet seen Season 4, Episode 8 of PBS' "Downton Abbey."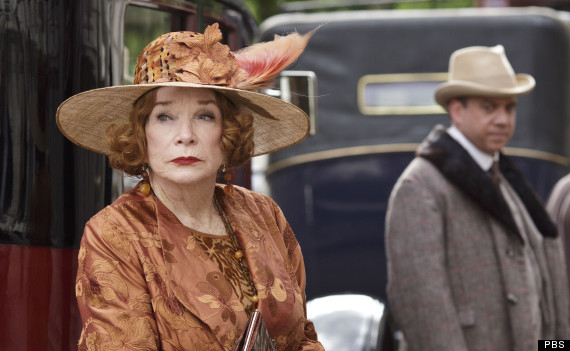 "Downton" has a funny way with time, doesn't it? One episode we're bracing ourselves for Edith's pregnancy adventures abroad, the next episode, she's returned to the Yorkshire mansion, gloomy as ever. Some of you have complained about "Downton" having devolved into a predictable cycle of soap-operatic cliches in Season 4, but the 90-minute finale, with its gorgeous gowns and magical ball and the arrival of some very special American guests, has surely restored faith again in our beloved British series.
The finale began almost like a season premiere: Eight months have passed since last week's bazaar, and the entire Downton clan has packed up and shipped out to the spectacular Grantham House in London to prepare for Lady Rose's ball and a visit to THE Buckingham Palace. Edith has given up her child up to a nice Swiss couple, Mr. and Mrs. Schroder, but hasn't learned a lick of French; Mary revels in the attention of Mr. Blake and Lord Gillingham and re-learns how to smile; and Tom tests his in-laws' patience by bringing in pushy strangers into their Downton house in their absence. Gosh, I don't like the Sarah Bunting character and her funny, probably-staged run-ins with Tom. But I dislike Thomas, ever the opportunist with clenched fists who rats out Tom to Robert, even more.
Anyway, Paul Giamatti is in the house! Shirley Maclaine has graced the series before as Martha, Cora's sharp, wise-cracking mother, but the presence of Giamatti was an even bigger delight. As Harold Levinson, Cora's brother whose involvement in the real-life Teapot Dome scandal dragged Robert overseas months before, Giamatti introduced sarcastic Yankee humor that clashed immediately with the snooty British elite around him. His sorrowful face was the perfect canvas to convey the hypocrisy he witnesses around him. Harold's "American" straight-forwardness is perceived as rude by the Prince of Wales, but it is in fact the Prince who rudely walks away from him after his introduction. The cross-cultural humor throughout this episode was ace.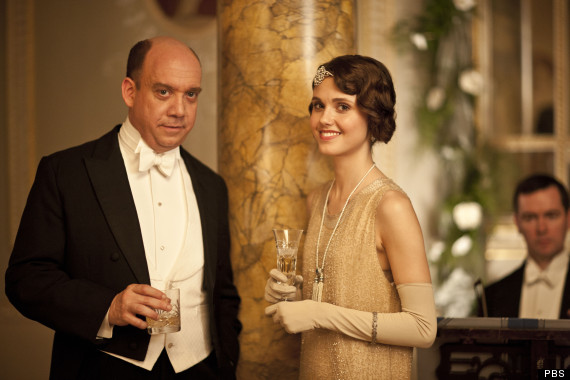 Harold and Martha each attract their own suitors, Lord Aysgarth and Madeleine Allsopp, a weird father-and-daughter pair shopping for a wealthy safety net to help save their dwindling family fortune. Giamatti horrifies Madeleine with strange speeches like his being a playboy (can we please have a Harold Levinson-dedicated spinoff?), but actually comes to like her in the end. Madeleine, poor soul, has probably stuck through it all because Daddy asked her to. In the end, Harold asks Madeleine to become his pen pal, which is kind of like being let down easy.
The majority of the episode was dedicated to a scandal involving Terrence Sampson, the seedy card sharp who near swiped Robert clean at Downton a few episodes back. He is brought to the Grantham House by Aunt Rosamund, who has no idea what she has just done. Why can't people just communicate more in these kinds of shows? Anyway, Sampson heads out to the Embassy club with budding "flapper" (is that the 20th-century equivalent of being a hipster?) Rose and the Prince of Wales, where he snatches a romantic letter that the Prince of Wales has written to his lover, Freda Dudley Ward. There is some mild flirtation between Rose and the Prince of Wales, but Freda kills that immediately by making it clear the boy is hers. In any case, the stolen letter threatens to rock the entire British monarchy should it be leaked to the press, as Robert sees it, so he, Rose, and Lady Mary hatch together a plan to steal the letter back from Sampson by invading his house while he is distracted by a game of poker at the Grantham House. When did "Downton" suddenly become an episode of Nancy Drew?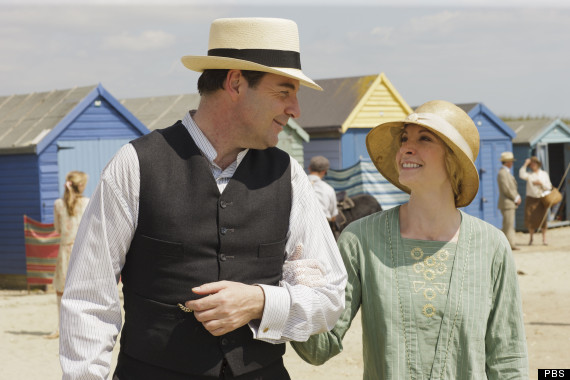 In the end, Bates comes through to save the day, not once, but twice. Do we all still like Bates now? Because I've made my distrust of him pretty clear throughout this season, and no more than now do I feel validated. Robert asks him to go through his Rolodex of prison friends to find a handwriting forgery expert to fake a letter instructing Sampson's doorman to let Lady Mary in. Bates confidently says he can find one, because it turns out the handwriting forger is HIM. After Mary and company come back empty-handed from Sampson's sad, sad apartment, Bates pulls a sleight of hand and pickpockets the letter from Sampson's jacket right in front of him. In just a matter of a few episodes, Bates has gone from Anna's loving, concerned husband to a potential murderer and the guy who does all of Robert's dirty work. I'm inclined with others here that it's basically time for Bates to die.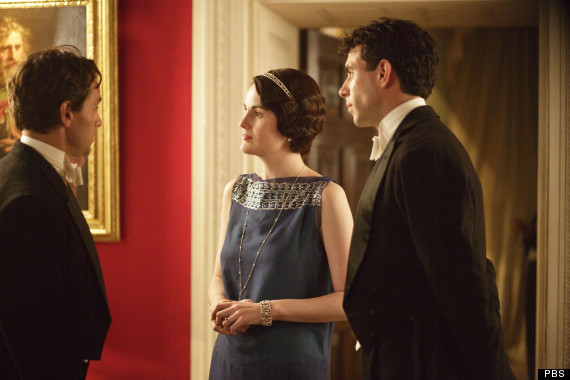 There were no wedding balls, but there was the Jane Austen twist at the end of the finale, of course -- one that will leave us hanging until Season 5's premiere. Lady Mary tries to make sense of her love triangle by admitting to Lord Gillingham that she could never see herself with Charles Blake, basically because they're fighting at opposite ends of the struggle, and because he's not that rich. Props go to Gillingham, because he wants a fair fight. He reveals that Blake is actually the heir to his distant uncle's fortune, one that makes Gillingham look like a pauper. It turns out that OMG Mr. Blake is filthy rich! Mary's eyebrows hardly move up or down, but we all know that the odds are now stacked in Blake's favor. "My lot's going down and your lot's coming up. Is that a recipe for a peaceful co-existence?" Mary once asked Blake. Now they can commiserate over their up-down future together atop of not one, but two ridiculously gigantic lots.
Meanwhile, Edith ignores Aunt Rosamund's pleas to leave her baby alone and compels Mr. Drewe, the farmer who is indebted to the Downton family, to adopt her "friend's" baby. We knew that Edith had been penciling in Mr. Drewe as a potential option ever since she visited him with Mary and Tom about the pig farming months back. Both Mr. Drewe and Edith know exactly whose baby they are actually talking about. It just remains to be seen who else will notice the striking resemblance between Edith and Mr. Drewe's adopted baby in the future.
Downstairs, Daisy fends off the advances of Levinson's bold valet, whom Mr. Carson hilariously insists on calling Levinson. After her heartbreak with Alfred, Daisy turns down the opportunity to go to America to cook British food for Levinson in New York, and, in doing so, ingeniously disposes of her biggest competition. Ivy overhears their conversation and volunteers to go to America instead, obviously seeking her own escape from staid kitchen life in boring Yorkshire. Mrs. Patmore looked relieved to see her go. Does this mean a future for Daisy and Alfred after all?
And what of Mr. Carson and Mrs. Hughes budding relationship? Throughout the season we have watched the two caretakers of the house sit back with a cup of tea and exchange picture frames and talk of long lost loves. We've seen them preside over the younger members of the house in a manner that could only be described as parental. And now, as they enjoy their day off from London and take a cool walk into the sea, we get a glimpse of Carson's surprisingly youthful ankles as they reach out and hold hands. If this tender moment foretells "Downton Abbey, The Retirement Years," I'm all for it.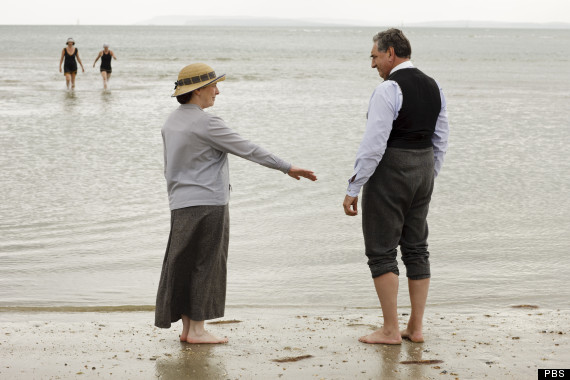 "Downton Abbey" airs Sundays on PBS at 9 P.M. ET.
PHOTO GALLERY
"Downton Abbey"
REAL LIFE. REAL NEWS. REAL VOICES.
Help us tell more of the stories that matter from voices that too often remain unheard.