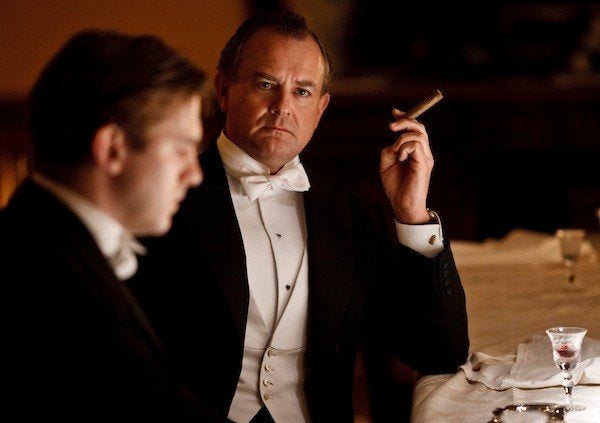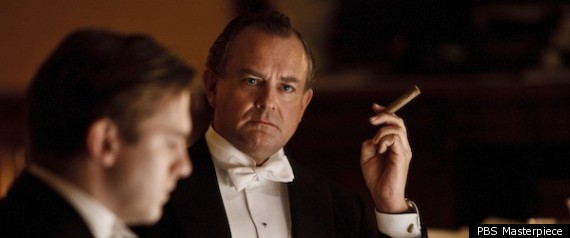 Being an aristocrat shouldn't just look easy. It should look absolutely effortless.
The Dowager Countess of Grantham, the most entertaining character on "Downton Abbey" knows this in her bones. She's constantly involved in quietly vicious drawing-room battles, but she carries herself with formidable, even amused, savoir faire. One can't imagine this supremely confident woman with a hair out of place or without the perfect quip.
The fact that Maggie Smith makes the Dowager Countess, the matriarch of the high-born Crawley clan, even more delightful in Season 2 is certainly a cause for rejoicing. Every second of her screen time is gold, and everyone involved with "Downton Abbey" knows it.
Unfortunately, "Downton Abbey" (Sunday, PBS; check local listings) itself is a more labored, problematic affair this year, though there are fewer bumpier patches in the second half of the period drama's new season.
Don't worry, you'll still get drawn in to the love affairs and intrigues that take place in the fancy drawing rooms and cramped servants' quarters of the Earl of Grantham's stately home. You'll find yourself rooting for Matthew Crawley, Lord Grantham's earnest, thoughtful heir, who's gone off to fight in World War 1 as the season begins. And despite her hard exterior, you'll find yourself caring about Lady Mary Crawley, Lord Grantham's whipsmart yet quietly vulnerable eldest daughter, who is bored by her conventional life yet can't quite find a way out of her meaningless duties.
Below stairs, you'll find yourself wondering if the sly footman Thomas and his partner in crime, the acerbic ladies' maid O'Brien, will get involved in even more intrigues and revenge scenarios, and it goes without saying that you'll sigh over the star-crossed love affair of the spirited maid Anna and that unlikely heartthrob Mr. Bates, who is an amalgam of all of Jane Austen's worthiest heroes.
Still, your investment in the many stories spun out by creator Julian Fellowes may take longer to develop this year, because the costume drama's pace is off in the early going and it's far more contrived and inconsistent than it was in its first season. The fact is, in its first few episodes, as it struggles to get dozens of different stories in motion, "Downton" itself lacks a certain elegance. Gradual buildups are achieved in some story lines, but others suffer from an abruptness that smudges the show's much-celebrated elegance.
Sixteen seconds: That's the length of an Episode 3 scene that almost caused me to throw the TV remote across the room. It's a key meeting between two characters who have endured a painful separation, and the scene's brevity was emblematic of the choppy editing that especially affects the first half of Season 2. Yes, the wordless scene was followed up several minutes later by a conversation between those characters, but what was the point of slicing the scene into bits? There wasn't one.
During the first few episodes of the season, I began to wonder if the show's creative team was under orders to ensure that most scenes lasted less than a minute. More chilling was the idea that "Downton's" top brass doesn't trust the audience's attention span. Poppycock, as the Dowager Countess might say. Given the chance to do so, costume-drama fans love nothing more than to sink into a story and absorb its every detail and nuance. Give us a few waistcoats, a couple of corsets and good actors reciting well-written dialogue that hints at deep emotions and complex conflicts, and you can make a scene last 20 minutes or more. We'll hardly notice.
The abrupt transitions early in the season, however, foreground the many spinning wheels of the various plots, and the thing is, plot simply isn't "Downton's" strong suit. Atmosphere, relationships, details and terrific performances are the show's draws, and those things are all roughly manhandled when the show whirls around in a hyperactive manner.
It doesn't matter that almost everything that transpires at Lord Grantham's stately home is something we've seen before on some soap opera or other. It doesn't really matter that (as perceptive TV bloggers Tom and Lorenzo point out) the show stacks the deck in favor of certain characters, especially those belonging to the landed gentry, whose positions of power are never seriously questioned by the clearly pro-aristocrat Fellowes. It almost doesn't matter that certain characters are one-dimensional except when the story needs them to act more like human beings (though the inconsistent writing for Lady Cora, the Earl's wife, who is savvy one minute and absurdly naive the next, can be particularly jarring).
My point is, those things are usually forgivable, because when it's really humming -- as it is when the second season moves into high gear -- "Downton" offers a host of other pleasures. Of course, the ensemble cast is generally spectacular, but that's not enough to explain "Downton" fever. Good British actors in competent costume dramas are a dime a dozen on TV these days.
"Downton" is a hit beyond the costume-loving crowd because its core themes are relatable and compassionately conveyed: It's about how people who are stuck in certain positions or ways of life modulate their ambitions or attempt to tolerate (or block) change. The pursuit of social and personal power is a subject that Fellowes knows well (and handled gracefully in "Gosford Park"), and "Downton's" intelligent observations about class, ambition and frustration make it resonate even with those of us who've managed to live our whole lives without valets or footmen.
The crisply told first season of "Downton" set a high bar, and if the second wobbles in the attempt to clear that bar, it is, perhaps, understandable, given that the show tries to synthesize elements of melodrama, soap opera, character drama and drawing-room comedy. The good news is, despite the obvious growing pains, which include some contrived obstacles and clunky character introductions and exits, the show gets things right more often than it gets them wrong, especially as various story lines knit themselves together over the course of the season. In any event, it's very hard to resist a show that made me regularly laugh out loud (for all the right reasons). The Dowager Countess naturally got many of the best lines, but even Cora and the irascible cook, Mrs. Patmore, launched some very entertaining verbal grenades.
All things considered, though there were more frustrations this time around, you can still count me as a "Downton" fan. Even though a few story lines -- such as Lady Sybil's chemistry-free flirtation with the family's chauffeur -- don't quite work, Fellowes and the cast ultimately create a world that is every bit as detailed and real as Dillon, Texas, or Pawnee, Indiana (no wonder Leslie Knope is a big fan).
The fact that the majority of story lines work is a credit to the show's skilled actors, who are able to invest "Downton's" most absorbing tales with layered emotions and poignant restraint. Michelle Dockery and Dan Stevens, who play Lady Mary and Matthew Crawley, respectively, are particularly worthy of praise; Matthew's war experiences and Lady Mary's search for meaningful autonomy are the lynchpins of the season, and in more scenes than I can count, Dockery and Stevens are simply transfixing. Among the servants, I must single out Jim Carter as the very proper butler Carson and Phyllis Logan as the the practical yet kind housekeeper, Mrs. Hughes; just as their characters keep the house running smoothly, these actors function as the quietly effective lynchpins of many "downstairs" stories.
The last few hours of Season 2, in which the characters are united by a series of post-war crises, are especially strong and affecting. By that point, "Downton's" pace has settled into a much more pleasing rhythm, making the occasional contrivance, cartoonish character or implausibility easier to forgive. There are deaths that will make your eyes mist over, pregnancies, clandestine love affairs, secrets tucked away and sometimes shared. By the wonderful final episode of the season, which takes place as a new decade dawns, you will be -- as I was -- mildly desperate for your next "Downton" fix.
This feature on "Downton Abbey," which has interviews with cast members Michelle Dockery (Lady Mary), Dan Stevens (Matthew Crawley) and Elizabeth McGovern (Lady Cora), previews specific story lines that take place in Season 2. Fellowes previews the new season here.
Calling all HuffPost superfans!
Sign up for membership to become a founding member and help shape HuffPost's next chapter