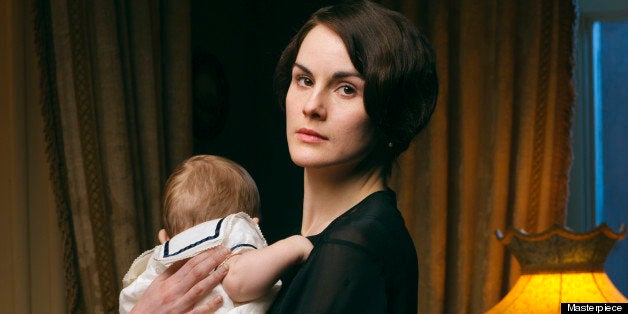 "Downton Abbey" Season 4 will span from February 1922 to spring/summer 1923, and Neame pointed out that a time shift will help both the characters and the audience get a little distance from the loss of Matthew: "I think all of us in a way, as viewers of the show, feel we've gone through a bereavement with the loss of Matthew, and it's really nice to feel that we've gone through several months of coming to terms with that, and we are going to reconnect with these characters who have also had several months to deal with the immediate shock of that, so that both the audience and the characters have experienced some passage of time."
Critics were shown footage from the new season, which included Mary (Michelle Dockery) still clearly wracked with grief over the loss of her husband, storming away from a typical "Downton" family dinner after lamenting that after surviving the war, it was particularly cruel for Matthew to have died in a simple car accident. In another scene, her father, Robert (Hugh Bonneville) told his mother, Violet (Maggie Smith), that Mary is "broken and bruised" and it's their job to protect her from the world, to which Violet wisely responded, "It's our job to bring her back to the world." Following that unmistakable Dowager Countess wisdom, another scene saw Violet telling Mary that she can't mourn forever and needs to choose between death or life -- something that Mary seemed to visibly struggle with.
Other clips saw Edith (Laura Carmichael) all dolled up for a fancy dinner date with her newspaper editor in a London restaurant; the impetuous Lady Rose (Lily James) out at a club and being asked to dance by a man; Violet inviting Tom Branson (Allen Leech) over to teach Mary about the intricacies of running Downton now that she and her baby are technically in control of half the estate; Rose asking Anna (Joanne Froggatt) to be her chaperone to an event that sounded like it was designed for servants and commoners; Mrs. Hughes (Phyllis Logan) rooting through Mr. Carson's (Jim Carter) trash after Carson displayed some strange behavior over a letter; and the Downton servants reacting very enthusiastically to the prospect of Valentine's Day.
Mary's Back On The Market
Matthew's death may be fresh in our minds, but that apparently won't stop a crop of new potential suitors from seeking Mary out in Season 4. "She has more than one love interest," Dockery admitted with a laugh. "[Tom Cullen] is an old family friend who she's known since the girls were children, and they haven't seen him since she was tiny. And yeah, she's kind of slowly, throughout the series, coming back to real life. And of course, it's important for her to eventually move on. So he is a potential love interest."
"There are certainly some eligible bachelors. Old family friends find a reason to start rekindling their relationship with Downton," Neame agreed wryly.
Don't expect one of Mary's suitors to be Branson, however. "We are aware that there are suspicions about Tom and Mary's relationship, but they are very much friends, and he is her brother-in-law still," Dockery pointed out. "I think they become close because of what they've both been through, having lost a partner. And, also, Mary becomes far more involved in the running of the estate with Tom. So they do we do have a lot of scenes together. But, romantically, I don't think it's going anywhere. I hope not. It's very inappropriate!"
A New Side Of Edith
Although Edith has been unlucky in love for much of the series so far, that might change in Season 4. "She is still involved with the paper. And it is a lot more complicated than [just dating her editor], which I'll have to let you see without giving too much away, as ever," Carmichael teased. "But the death of Matthew really affects the whole family. So when we start, she hasn't seen Michael Gregson [Charles Edwards] for some time, due to the fact that the family is in mourning. So when we come back to the house, she's seeing Michael for the first time, which is a lovely scene that's in the first episode. She's still turning in some articles. And we know that she's been writing about the cause of the soldiers, but it's a kind of modern woman thing. I like to think of her as the Carrie Bradshaw of the '20s."
"I think what we can say is it really is a very different season for Edith this year," Neame added. "It's very exciting and a very active story for Edith."
Still, while we'll be seeing Edith in London more often and becoming more fashionable as a result, the cast deflected any questions regarding whether we'll see Edith taking off any of her fancy new dresses this season. "It's 'Downton Abbey,' not 'Game of Thrones'!" Dockery laughed.
Mother Of The Year
Mary has never been a particularly warm or demonstrative character, and sadly, the death of Matthew will put her right back to square one -- even in regards to her relationship with her son. "She was never going to be a very maternal mother ... And also, within the aristocracy, they didn't really see their kids very much. So there's a nanny, and eventually there will be a governess looking after baby George. So you don't see much interaction between the baby and Mary," Dockery previewed. "To begin with, it's hard to bond with the baby because she's going through the grief. She looks at him and she sees Matthew. So it's a slow process with motherhood for Mary."
Where Do We Go From Here?
Dockery admitted that upon learning that co-star Stevens was leaving the show, "My first reaction was 'oh, crap! What is going to happen?' Because I thought, 'Where can the story go now?' We've spent all this time having this on/off, will they/won't they relationship, and then suddenly it was coming to an end. So initially I was concerned about what would happen."
She continued, "But I think that, as much as it was sad to see Dan go, the same as it was to see Jessica [Brown Findlay] go, it opens up opportunities for Julian [Fellowes] to write a new chapter and something quite different, not only for Mary, but the knock on effect it has for other characters. Initially I was I was concerned, but now I'm not because it's a great series, and it's a very different series to what it could have been."
No End In Sight
Neame confirmed that there are no immediate plans to end the series, telling critics that he feels "the show has got a lot further to go," and is confident about the creative direction of Season 4.
"The show is so popular around the world now, and it is it's beloved, and it's in fine form. We are shooting the final episode of Season 4 ... We've edited most of the episodes. The fourth season is in extremely good health. Our minds are now in the fifth season and what those stories potentially would be ... I'd give it away by saying we are not going to World War II, but that's still 18 years away or something in storytelling. So I think it has a while to go ... If people love the show around the world, we want to keep making it. And when we feel that maybe it's had its time, hopefully we'll know that before you guys do, and we'll make a decision to call it a day. When that will be, I don't know, but it's not anytime soon."
Although the series has lost three major regulars, Stevens, Brown Findlay and Siobhan Finneran (who plays O'Brien), Dockery pointed out that the show's shooting schedule allows the actors to do other things between seasons, and she has no plans to leave. "As far as we know, we are all doing Series 5 next year, and beyond that, we really don't know. That's in the hands of Julian and our producers."
Thomas Is Up To His Old Tricks
Neame wouldn't confirm any romantic developments for gay character Thomas (Rob James-Collier), but rest assured he'll still be causing trouble in Downton. "It's going to be a complex world for him going forward because I've heard rumors that O'Brien may be heading for the hills," Neame teased. "So there's going to be a bit of a shakeup to what happens to his story, but there's always going to be that core thing of wanting to be in control; wanting to find out what's going on; wanting to make sure he can dictate things; that rivalry with Carson, and he's always trying to usurp that authority. He remains a very compelling character."
It's A New Dawn
Season 4 will undoubtedly be dealing with the loss of Matthew and how it affects our core characters, but it won't all be doom and gloom. "Edith goes to London a lot ... and Lily James's character, Rose, is another bright young thing, who is having a lot of fun at Downton," Carmichael promised. "So in amongst the mourning, there are these escape scenes for a couple of the characters ... I think it will feel in a different era."
"We are really getting into the '20s," Neame agreed. "You really are into this era when these houses started to disappear, where they are in threat, where all of those old things are being cast aside. And that's a journey for however long this show goes on ... This world is coming to an end. But although there is Matthew's death to get over, there is this whole change of direction for Mary, and there is for all of the characters coming into this modern age. Ultimately, the heart of the show ... is the story of these 20-25 characters that are much loved around the world and how they all continue to try and get by and get on, and how they interact and how they make each other laugh and how they hate each other and have disputes and rivalries and all of the things that have been the fuel of all of the previous seasons."
The Jazz Singer
Gary Carr has been cast as Jack Ross, a jazz singer and potential love interest for Lady Rose, and while Neame didn't have any storyline-specific spoilers to share, he gave away this much: "We are now well into the '20s ... and a lot of these [early jazz] performers did travel to Europe, I think primarily to Paris, but also to London ... It was changing music and entertainment and all of those things. So we just thought that was a really interesting departure, and it's all part of the modernization of the world of 'Downton.' But you'll have to see it. I think he's got a great voice."
"Downton Abbey" Season 4 premieres Sunday, Jan. 5, 2014 on PBS.
What are you most looking forward to about next season of "Downton"? Weigh in below!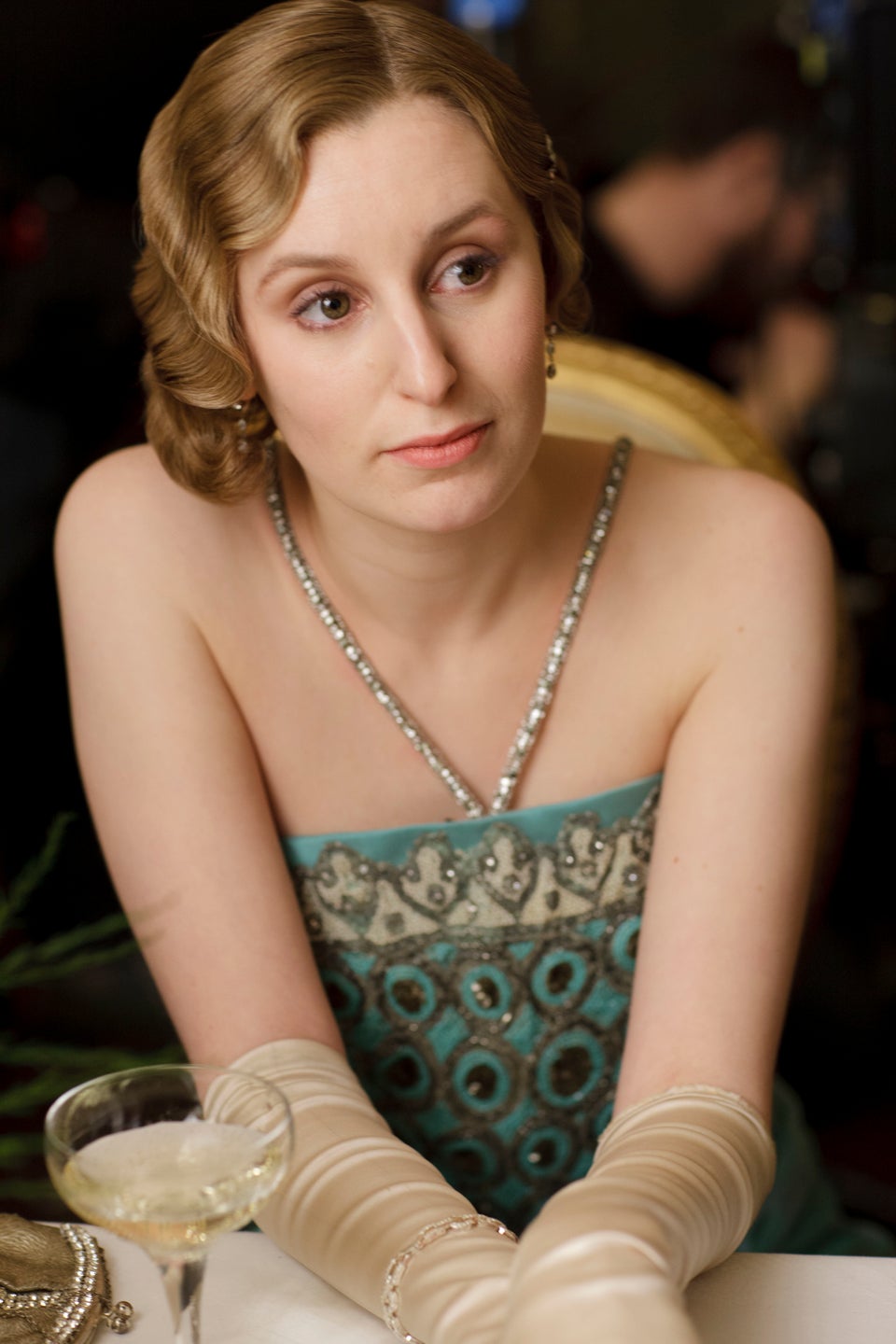 "Downton Abbey"
Popular in the Community