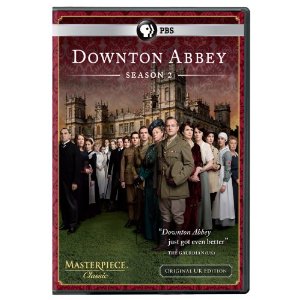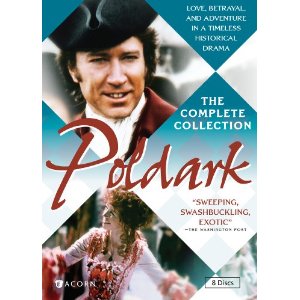 DOWNTON ABBEY SEASON TWO ($49.99 BluRay; PBS)
POLDARK THE COMPLETE COLLECTION ($79.99; Acorn) -- Don't tell my mother, but Downton Abbey has swiftly declined from a pale imitation of the original Upstairs Downstairs to a pale imitation of Falcon Crest. She's enjoying the show but I quickly switched from eagerness to see if the second season could build on the over-praised first to laughter at its foolishness to boredom. The first season lifted entire plot lines from U/D (and shamelessly from Mrs. Miniver) but it was fun. This season it has gone completely off the rails, with episodes ending with soap-like revelations (complete with "da-dum!" foreboding musical cues), characters behaving utterly without rhyme or reason from one moment to the next. Why, for example, has Isobel Crawley gone from a sensible if blunt woman to a blithering idiot? The plot twists come so fast and furious all you can do is laugh. But they keep coming at a ludicrous pace, until even the guilty pleasure is drained out of it. Having seen the entire season, trust me -- it doesn't pull itself together. Maggie Smith still manages to swat down one-liners with aplomb, but the rest of the fine cast is thoroughly at a loss. You'd be much better off watcing Poldark, an earlier generation's PBS sensation. This has all the pleasures of Downton, including the period setting and juicy storylines. But it's intelligently done and the characters don't change from moment to moment and it all wraps up nicely in two seasons (even though there were many more books for them to draw upon.) Downton, I fear, is going to be with us for many years to come.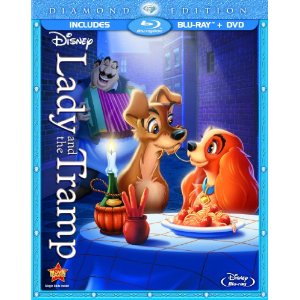 LADY AND THE TRAMP ($39.99 BluRay combo; Disney) -- It's a knee jerk reaction to refer to every single Disney animated film as a classic. But right below the top-tier of Snow White and Pinocchio and others, you'll find the second tier of very good films that are charming and have stood the test of time -- even if they're not stone cold masterpieces. In that group resides Lady and the Tramp, a sweet and charming tale bolstered by Peggy Lee's terrific songs and one of the most romantic kisses in screen history. No wonder it's on the cover of this set, which looks great and features the strong extras that a Disney production deserves.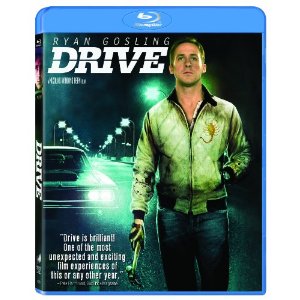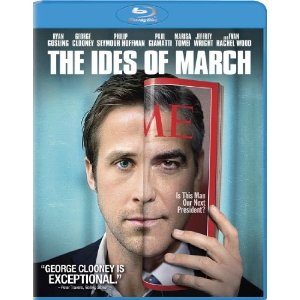 DRIVE ($39.99 BluRay; Sony)
THE IDES OF MARCH ($35.99 BluRay; Columbia) -- Actor Ryan Gosling had the sort of year every savvy actor longs for when building a career. He co-starred in the popular romantic comedy Crazy Stupid Love and garnered attention for both his abs and his comedic chops. Then he took the cool character study Drive to Cannes where it received tons of acclaim for critics, launching a pretty good box office run as well as Oscar talk for his co-star Albert Brooks. He wound it up with the political drama The Ides Of March, which did in fact garner an Oscar nomination for director George Clooney's screenplay. All Gosling needs now is an out-and-out hit (or better yet franchise he can call his own, a la Matt Damon's Bourne films) and he'll be able to continue making the smart, bold films he wants for years to come.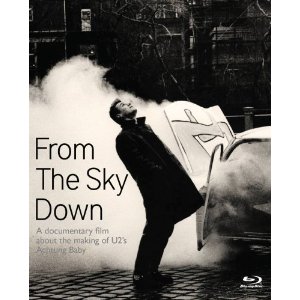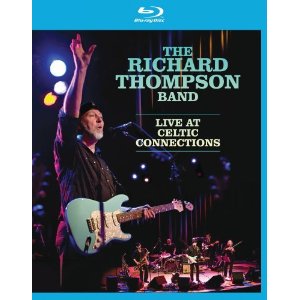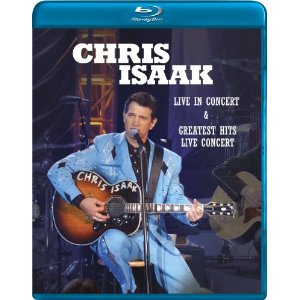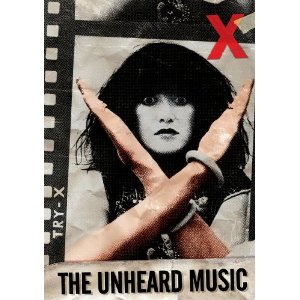 U2: FROM THE SKY DOWN ($24.98 BluRay; Island/Universal)
THE RICHARD THOMPSON BAND: LIVE AT CELTIC CONNECTIONS ($19.98 BluRay; Eagle Rock)
CHRIS ISAAK LIVE IN CONCERT/GREATEST HITS LIVE ($17.97 BluRay; Image)
X: THE UNHEARD MUSIC ($16.95; Angel Media/MVD)
TOM PETTY AND THE HEARTBREAKERS: LIVE IN CONCERT ($17.97 BluRay; Image) -- The U2 documentary is a fine straightforward documentary that appeared in the lavish reissue of Achtung Baby. This edition is longer than that one, which seems pretty cruel if you forked over more than $100 for the set. Still, it's a solid look at a turning point in the band's career, albeit strictly for fans of the band already. Richard Thompson is a sterling live act and one of my all-time favorites, but this concert is for his album Dream Attic, which is not one of his best. Since the concert leans so heavily on it, this show is simply good and doesn't scale the peaks Thompson so often does. Chris Isaak has quietly gone about amassing a chunk of great singles, but this awkward combination of two concerts contains three songs that appear on both (a lot when the shows only include 11 or 12 tunes). He's fun and in good voice but deserves a better live document. Unlike U2, the LA band X delivered a really memorable documentary about their group before calling it a day, though X: The Unheard Music has been overlooked for years, thanks to its lack of availability. This fine new set with extras should remedy that. Finally, Tom Petty and the Heartbreakers are a legendary live act, but like Springsteen, they've never been well captured on film. The same, sadly, is true here of this fine but unremarkable performance for Soundstage.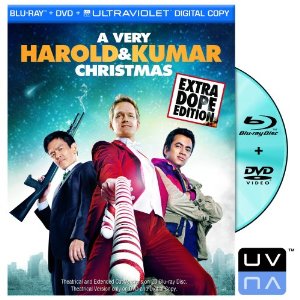 A VERY HAROLD & KUMAR CHRISTMAS ($35.99; Warner Bros.) -- Maybe it was the holiday season, but this third H&K movie got closer to the sweet spirit of the original than the rather sour sequel. And of course there can never be enough of Neil Patrick Harris in self-mocking, lady-killer mode. Though the 3-D was used extensively in theaters, for some odd reason it's just kind of dumbly amusing to see all sorts of things flying out at the camera even in 2-D. Will there be a fourth? Of course there will be a fourth.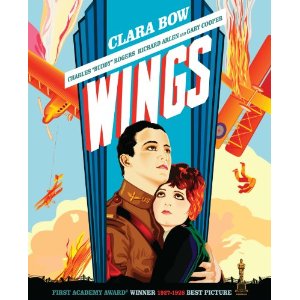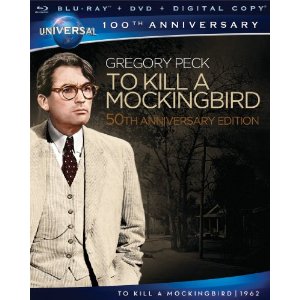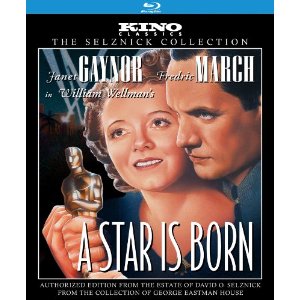 WINGS ($29.99 BluRay; Paramount)
TO KILL A MOCKINGBIRD 50TH ANNIVERSARY ($26.98 BluRay; Universal)
A STAR IS BORN 1937 ($29.95 BluRay; Kino)
Wings was the last silent film (indeed the only silent film) to win the Oscar for Best Picture and it's also memorable for one of the great screen debuts -- Gary Cooper makes a tremendous impression in a small role as a doomed pilot. It may soon be joined by the silent homage The Artist in that rare category. This nicely restored BuRay showcases the still fun if creaky movie and kicks off a series of Paramount restorations. To Kill A Mockingbird is also beautifully presented by Universal, which makes sense for one of the films that truly deserves the word beloved. I like it better than the book but have never been crazy about either (it's usually good to keep that to yourself on a first date; I can't tell you how often people say, "But that's my favorite book!") And A Star Is Born is always ripe for remake, but the Janet Gaynor and Frederick March edition is too often overshadowed by the Judy Garland and James Mason take. This sharp-looking restoration is good though the all-but absent extras are not up to standard for a movie with this strong of a history.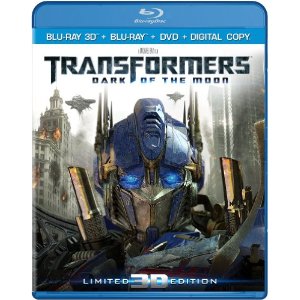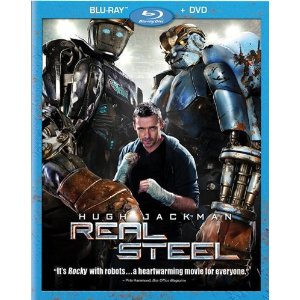 TRANSFORMERS: DARK OF THE MOON ($54.99 3-D BluRay combo; Paramount)
REAL STEEL ($39.99 BluRay; Touchstone/Disney) -- Why Transformers continues to make loads of money is beyond me. I understand fans turning out for the original and then seeing the sequel with hopes it might be better. But surely by the time of this third edition, it's clear the noisiest and dumbest franchise around can't be bothered to do anything but smash things together. The 3-D was pointless in the theater, frankly and it might even be marginally less tiresome to watch the movie on 2-D at home than with the glasses. That doesn't however make the movie any good. Real Steel at least bothered to come up with a plot, albeit a hackneyed one about a dad finding common ground with his estranged son by building and fighting robot boxers. Hugh Jackman has terrible taste in scripts (or needs a manager who does). To go from this to appearing on Broadway where he can sing "Stepping Out" and then be greeted by literally thousands of adoring fans afterwards...well, it's a miracle if he ever makes a movie again.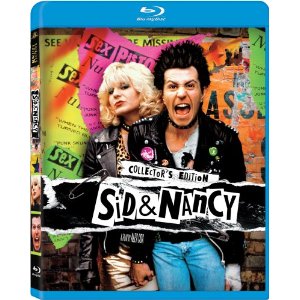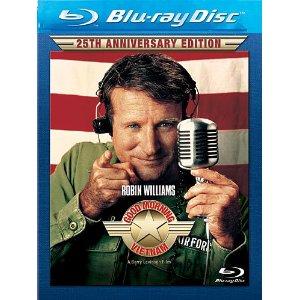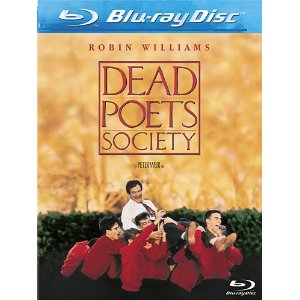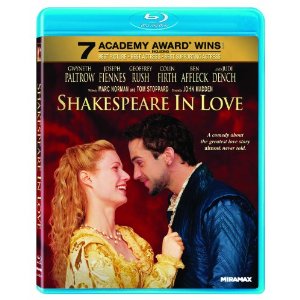 SID & NANCY ($24.99 BluRay; MGM/Fox)
GOOD MORNING VIETNAM ($19.99 BluRay; Touchstone/Disney)
DEAD POETS SOCIETY ($19.99 BluRay; Touchstone/Disney)
SHAKESPEARE IN LOVE ($14.99 BluRay; Miramax) -- First let me note the happy fact of falling prices for BluRay. I never thought they should have been priced a penny more than DVDs and it's nice to see classic titles coming out at $15 and $20 price points, with sale prices even lower. Gary Oldman would be my pick for best actor this year for his work on Tinker Tailor Soldier Spy. But he's been wowing us for decades, including his marvelously unhinged immersion into the role of Sid Vicious. Robin Williams tore it up in the uneven Good Morning Vietnam but wisely got out-of-the-way in Dead Poets and ceded the stage to the talented young students led by Robert Sean Leonard and Ethan Hawke. Finally, Shakespeare In Love is often seen as lighter fare that robbed Saving Private Ryan of its Best Picture Oscar, but it's a fun romp and holds up quite nicely thank you.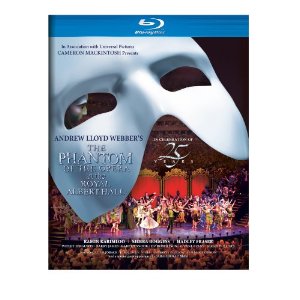 THE PHANTOM OF THE OPERA AT THE ROYAL ALBERT HALL ($39.98 BluRay; Universal) -- In a few days, Andrew Lloyd Webber's Phantom will celebrate its 10,000th performance on Broadway and has just passed its 25th anniversary in existence. This lavish one-time staging at the Royal Albert Hall is a live performance starring Ramin karimloo and Sierra Boggess for broadcast around the world. it avoids the sterility of the Joel Schumacher film and adds a little oomph to a show so many people have seen in person already. I'll take the music of Cats, Evita and Jesus Christ Superstar over this, but virtually everyone else in the world seems to disagree with me. If you like it, this is a fine live version.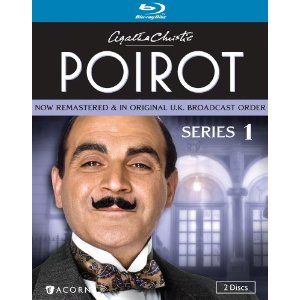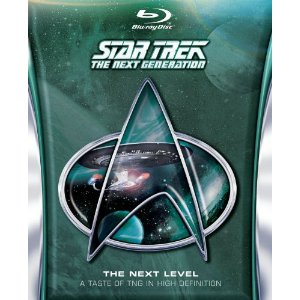 POIROT SERIES 1 ($49.99 BluRay; Acorn)
STAR TREK THE NEXT GENERATION: THE NEXT LEVEL ($22.99 BluRay; Paramount) -- I've seen David Suchet's definitive performance as Agatha Christie's Hercule Poirot, but I was not there at the start. So I'm very excited to begin this series at the beginning and follow him all the way through from the first mystery they broadcast ("The Adventure Of The Clapham Cook") right down to the final whatever (Suchet is determined to film every single Poirot tale, whatever its origin). I don't think Poirot fans are obsessed with picture quality, but the BluRay looks very good. It's a pity they couldn't have put out a massive boxed set with, say, half of the entire run in chronological order in one place, rather than dribbling out these season by season releases for a show that has been on so long. But you can't have everything...unless you're a Star Trek fan. Paramount is determined to give you what you want and surely those fans do care about hi-def. This teaser set contains three episodes from ST: TNG converted into high-definition and the results are pretty stunning as far as the level of detail now visible. it's sure to get fans chomping at the bit for the BluRay released of the entire series after such careful remastering.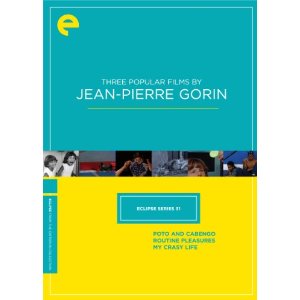 THE MOMENT OF TRUTH ($29.99 BluRay; Criterion)
THREE POPULAR FILMS BY JEAN-PIERRE GORIN ($44.95; Eclipse/Criterion) -- I've never enjoyed my homework more than now when it comes from Criterion. When other labels reissue movies, it's usually films I've seen like Shakespeare In Love and To Kill A Mockingbird. But when Criterion reissues a movie, it's sometimes a movie I'm completely unfamiliar with but am certain to find fascinating. I can't wait to get to the bullfighting drama The Moment Of Truth, by Italian director Francesco Rosi, starring real-life matador Migeulin. I can only assume that Hemingway loved it. And from their marvelous Eclipse series comes three documentaries by Gorin that focus on twin sisters, model train enthusiasts and a Samoan street gang. All from the 1980s and all of which are completely new to me -- for any other label, that might be concerning. But when Criterion takes the time to put it out, it's certain to be worth your time too.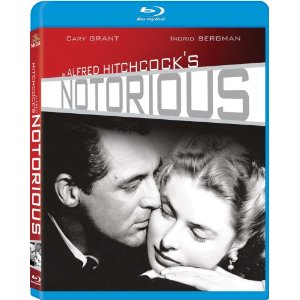 NOTORIOUS
REBECCA
SPELLBOUND
MANHATTAN
ANNIE HALL
THE APARTMENT ($24.99 each on BluRay; MGM) -- I've reviewed a string of old movies that were reissued in the last few weeks -- To Kill A Mockingbird, A Star Is Born, Wings and so on. I've casually mentioned that they look good to great. It's easy to take for granted the work and expense that needs to go into those releases so they do look good...but not when you're faced with lazy work done here. This batch of six titles from the MGM library are all on BluRay and trust me, these are not restorations or even remasterings but just whatever print was available slapped onto Bluray and then given the insulting tagline "The Ultimate high-Definition Experience." Uh, hardly, not when my years-old DVDs look virtually the same. The beginning of Woody Allen's Manhattan is one of the most famed openers in film history and should stun you with its lavish black and white. Here it looks grainy and ugly, as if smog has descended on New York. After all these years, you'd think they'd want to do it right. The same is true with every other film here; they are at best no better than the most recent DVD releases. That's puzzling to say the least since by now studios realize the value in their film libraries and few directors are more popular than Alfred Hitchcock. But here he have one of his best (Notorious), one of his worst (Spellbound) and a work-for-hire that won Best Picture (Rebecca) all delivered with indifference. Ditto Woody Allen's Manhattan and Annie Hall, as well as Billy Wilder's coruscating The Apartment. I would have two or three of these six films on my all-time best list. But if you already own them, there's no reason to buy these BluRays. And if you don't own them, buy a used or new DVD at a cheaper price and wait until they do it right.
MOST TITLES LISTED HERE WILL BE AVAILABLE IN MULTIPLE FORMATS AND IN MULTIPLE COMBINATIONS, INCLUDING DVD, BLURAY, DIGITAL DOWNLOAD, VOD, STREAMING AND THE LIKE. THE FORMAT LISTED IS THE FORMAT PROVIDED FOR REVIEW, NOT ALL THE FORMATS AVAILABLE. IT IS OFTEN THE MOST EXPENSIVE VERSION WITH THE MOST EXTRAS. DO CHECK INDIVIDUAL TITLES FOR AVAILABILITY IN ALL THEIR VARIOUS GUISES AND PRICE POINTS.
Thanks for reading. Michael Giltz is the cohost of Showbiz Sandbox, a weekly pop culture podcast that reveals the industry take on entertainment news of the day and features top journalists and opinion makers as guests. It's available for free on iTunes. Visit Michael Giltz at his website and his daily blog. Download his podcast of celebrity interviews and his radio show, also called Popsurfing and also available for free on iTunes. Link to him on Netflix and gain access to thousands of ratings and reviews.
Note: Michael Giltz is provided with free copies of DVDs and BluRays with the understanding that he would be considering them for review. Generally, he does not guarantee to review and he receives far more titles than he can cover.
Popular in the Community