Anna Stump is a Los Angeles based artist who has delved into painting portraits of actors as Jesus Christ from popular movies. The series was recently exhibited as an exhibition entitled Sexy Jesus at her pop-up gallery in a storefront at the Los Angeles Downtown Art Walk and seemed equal parts titillating and pleasing.
With its edgy title for her accomplished oil on canvas pictures, it titillated because the preconceived notion with the public is that fine art must be intentionally provoking some reaction. The pictures are edifying as Stump's expressionistic realism manages to capture actors in their role as the Prince of Peace without the cloying sentimentality that tends to accompany art associated with faith. When she took time to take questions from this ex-seminarian about her intriguing, and ongoing, project, she was quick to point out hat she is still working on her portraits of Jeffrey Hunter and Willem Dafoe.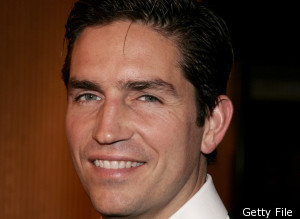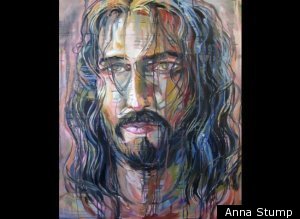 James Caviezel
MAT GLEASON: What inspired you to present these paintings of Hollywood actors in their role as Jesus?
ANNA STUMP: For several years I've been painting portraits of women. Some gay guys saw my work and asked me if I ever did paintings of men, and I told then I'd think about it. So considering who to paint, I realized I should work with THE man. I teach art history and am constantly looking at religious imagery, but I realized my ideal of Jesus was inspired by Hollywood.
Interview continues beneath slideshow.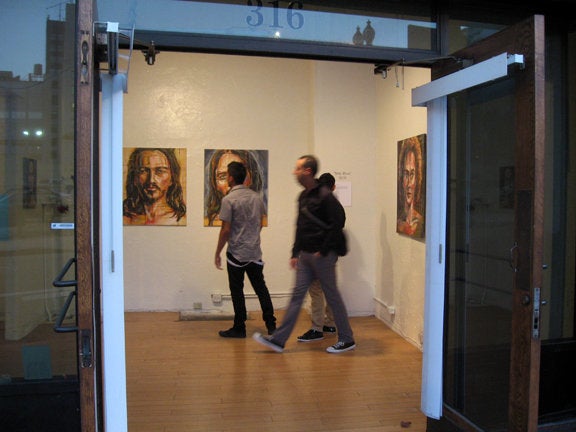 SEXY JESUS - Paintings by Anna Stump
MG: Are you Christian?
AS: I was raised Mainline Protestant. One of my grandfathers was a minister. So I was exposed to a pretty good dose of Sunday school growing up. I definitely went through an adolescent infatuation with Jesus, heavily influenced by media, especially "Godspell," "JCSuperstar," and "Jesus of Nazareth." My children are being raised Jewish, and I have lived in Moslem country (Turkey). However, I am not currently religious.
MG: Does the work on occasion inadvertently serve as a spreading of the gospel or advancing the faith of some Christians?
AS: Unfortunately, religious conservatives don't usually come to see art galleries. I've looked online to see what churches purchase to decorate their walls today, and the imagery basically hasn't changed since those paintings done in the 1940s of Jesus by Warner Sallman, a commercial artist. I don't intend my paintings to promote religion; rather they question the idea of selling Jesus to the broad public by using handsome movie actors and intense rock stars.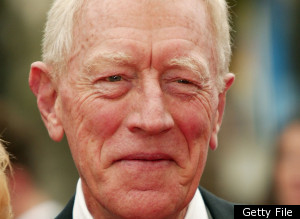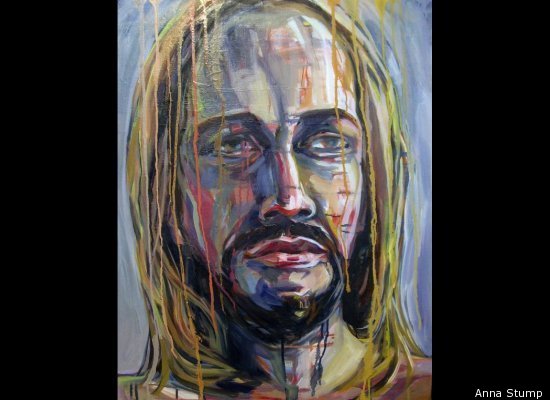 Max von Sydow
MG: Has anyone asserted your exhibition or any of the works in it as blasphemous?
AS: Not yet. But people have questioned the Jesuses because they don't match the accepted art historical trope.
MG: What was the most challenging instance where someone insisted that you "got it wrong"?
AS: Most people haven't seen "The Color of the Cross," in which Jesus is played by a black actor, Jean-Claude La Marre. So they wonder at that painting. Others have asked me why I don't have more of a Middle Eastern looking Jesus, but a movie using an olive skinned actor with kinky hair hasn't been made. I find this interesting, that the public is aware that Jesus was Mediterranean, even though they want him to look vaguely Germanic. Or like Jim Morrison.
People who haven't seen "Godspell" wonder at the clean-shaven Jesus with the blond afro (Victor Garber). Apparently that musical and "Jesus Chris Superstar" are making a come-back.
MG: The consistency in the portrayal of Christ as an attractive homeless person or a hippie you can take home to meet your parents doesn't jibe with my interpretation of the biblical description of an assertive rabbi with carpentry experience. Do nonbelievers get offended or too literal?
AS: Non-believers just get freaked out by so many Jesuses. They don't know if I'm proselytizing or making fun (which I'm not). So because the message isn't clearly satirical, nor is it adoring, people get uncomfortable. One person thought so many bearded guys were the Apostles, because seeing multiple portraits all looking different acknowledges that we really have no idea what Jesus looked like. And because Jesus is so intensely personal to many Christians, this worries them.
MG: Which viewers ask the most questions?
AS: People over 50 are more likely to ask me about the paintings. Young people just enjoy guessing who the actors are.
SEXY JESUS ran thru mid-August on Gallery Row in Downtown L.A.

Popular in the Community