: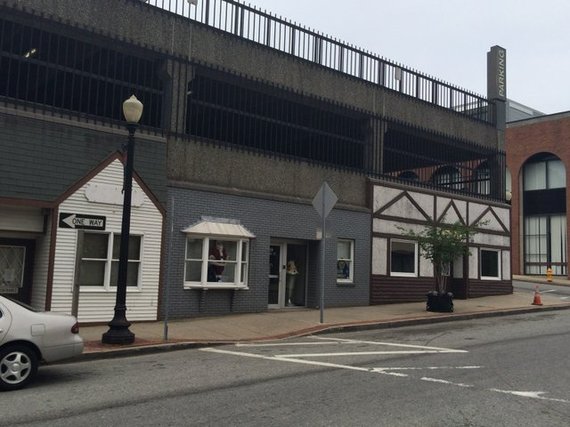 At a primary intersection in the weather-beaten downtown of Pawtucket, Rhode Island, I came across this little row of storefronts.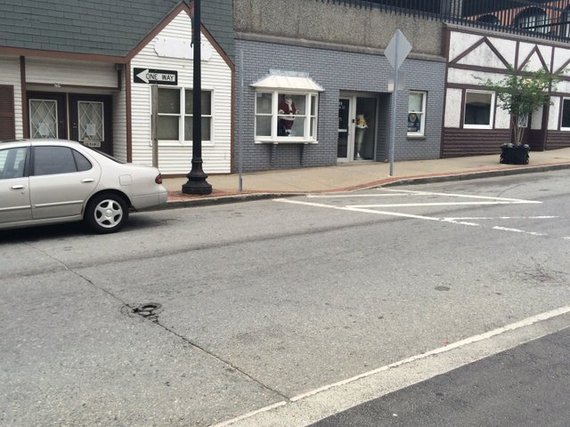 The photo is deceptive: I positioned the camera so it centers on the street, only to conceal what is going on at the periphery. Perhaps the reader can already tell, but if not, the next photo is a dead giveaway.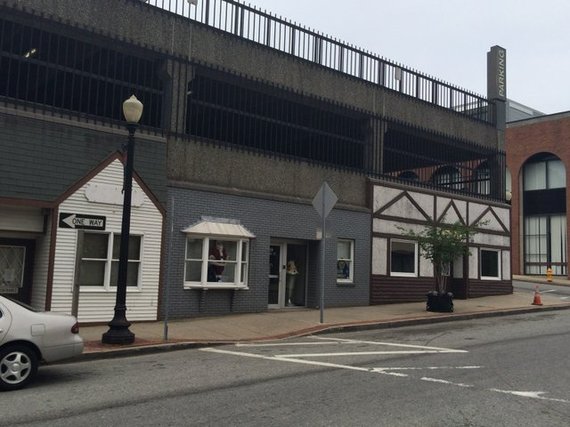 This isn't a row of independently conceived little buildings; it's the street-level side of a parking garage. And, within its context, it's remarkable.
Why? First of all, it achieves the most basic objective of activating the street level. This hardly seems like rocket science to anyone familiar with contemporary urban design principles, but the abundance of lifeless parking garages scattered across most American downtowns would suggest it's a major achievement. By the 1960s, when town centers clearly were declining in jobs and overall importance, many city planners determined that the key solution was through improved parking to remaining viable buildings. After all, most American households by that point in time owned cars and perceived the suburbs as the next big thing. So the obsolete older buildings downtown got demolished, making way for parking lots or garages, thereby giving motorists a convenient walk to their destinations. And these new garages offered nothing else at the street level, because why add more commercial space to a district that was struggling with what it still had? Although the earliest garages often boasted handsome façades, soon they just devolved to hulking, concrete horizontal stripes. But they sure gave us a lot of parking.
The tactic didn't work; downtowns continued to hemorrhage jobs. Perhaps these revitalization efforts would have succeeded if these parking garages had served more than a single purpose, like the one here in Pawtucket? Probably not--after all, the prevailing belief up through the early 1980s was that downtowns were hungry for parking, not for more commercial space. And this, in turn, explains the second reason why the Pawtucket garage in the above photos is so distinctive: it's old.
One local media source excoriating the interior cleanliness of the garage notes that it is a "1970s-era construction", indicating that it took place during the apex of the struggling downtown. This garage inevitably replaced older structures, providing the Pawtucket's main street with abundant spaces at a time when that seemed to be the only way to stave off the flight of further businesses. Thus, the developer--which quite possibly was the City of Pawtucket itself (since it has long owned the garage)--installed these little storefronts in an era when most other 1970s-era parking garages would have plopped nothing more blank exterior wall onto the streetscape. This developer even showed some sensitivity toward aligning the streetwall with adjacent buildings.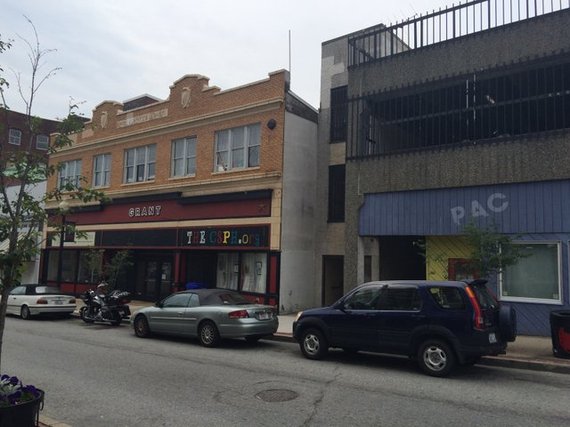 But the bittersweet achievement of this otherwise humdrum garage are those four storefronts, which, judging from their placement within the garage (most visible at this Google Streetview at Main Street and Park Place East) don't stretch back so far. A July 2013 article from the Pawtucket Times estimates that they total about 2,000 square feet, indicating that each façade only captures about 500 square feet. They're small. In other words, way back in the 1970s, the individuals who conceived this parking garage were experimenting with something approaching microretail--the ultra-small spaces intended to accommodate fledgling entrepreneurs who lack the resources to lease larger storefronts.
The leasable spaces in this Pawtucket garage may not quite pass muster as true microretail; in fact, the most salient contemporary American manifestation of microretail is the food truck (or something of equivalent size). But these tiny shops from the seventies represent a prescient attempt to mix land uses within a structure. While mixed-use garages become much more common in the 1990s up to the present, it may only be through fiat: most bigger cities have regional center design standards that push vigorously or mandate first-floor retail. But without such design standards, many developers would be happy to build single-use garages.
Alas, the Pawtucket examples below aren't changing that viewpoint.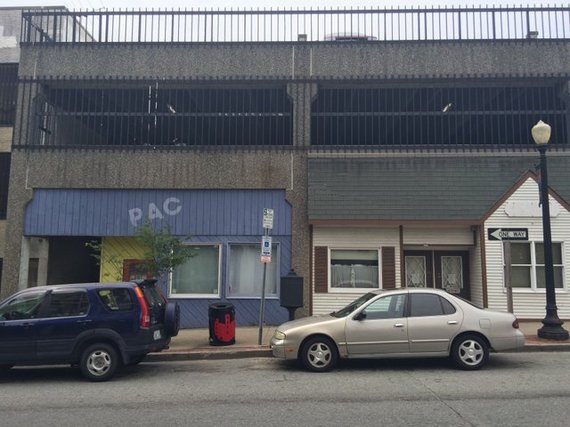 Closed curtains and window dressing at least mitigate some of the hollowness, but they clearly aren't prized commercial space. According to the already cited Pawtucket Times article, which announced the City's attempt to sell the garage for private sector management/redevelopment, all four spaces were vacant. When I took these photos in July 2015, the situation for these storefronts didn't look any more promising. But that may have less to do with the challenges of mixed-use than downtown Pawtucket's ongoing malaise. Though fundamentally a suburb of Providence (its neighbor to the south), this little city of over 70,000 grew as a manufacturing powerhouse in its own right, with a discrete industrial downtown oriented toward the Seekonk River. In the 1960s, when Providence was plunging in population and jobs, Pawtucket remained relatively stable, losing .5% in population loss compared to Providence's staggering 16.6% decline. It's possible that, in the 1970s, Pawtucket still held its own as a bedroom community with an intact downtown and it could justify a mixed-use parking garage.
Forty years later, the tables have turned: downtown Providence is quite active, while Pawtucket's main street offers little more than day jobs, coupled with thrift stores, tax preparers, addiction recovery centers and a host of other social services. On a Saturday morning, the streets are virtually empty.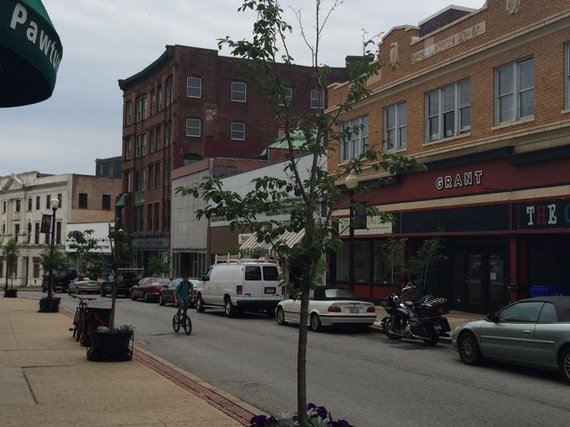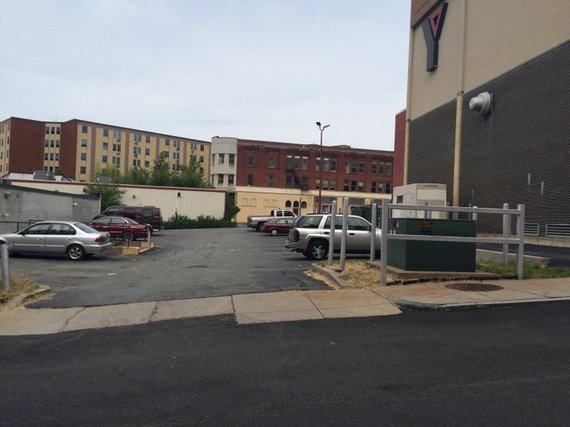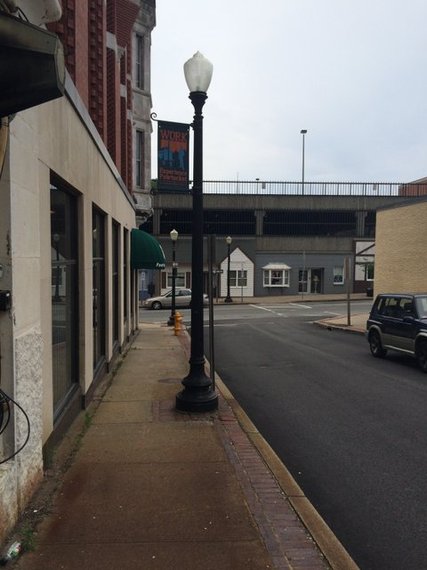 These little storefronts must contend with a challenging downtown economic climate. And now, based on the City's RFP two summers ago, the entire facility may soon come tumbling down.
Then again, a very recent report from local media source WPRI suggests that the City was unable to find an appropriate buyer, and now the Mayor's biggest goal--the linchpin to downtown Pawtucket's revitalization--is to upgrade the garage, which apparently involves "blowing out" those storefronts in order to "improve safety and increase foot traffic".
Yes, that's right. These same storefronts that favorably distinguish this garage from virtually every other parking facility built in the 1970s...these little nooks that offer the possibility of street engagement at a time when comparable structures in other downtowns never conceived of such a thing...they could get destroyed before the end of the 2015 construction season to make way for more parking.
Sure, it's ridiculous to get sentimental. But making them the scapegoat for downtown Pawtucket's stagnancy is a low blow, dowdy and empty though they may be. Negligent maintenance aside, this is downtown parking done right. A façade improvement that retains street activation is nearly always a superior alternative to a structural change that eliminates activation altogether. Even if it takes years for these little spots to find tenants, the overall impact of eliminating street-level commercial space along one of downtown's most prominent intersections is far more damaging in the long term. Would a handful of new parking spaces really be worth more to the operator than 50% commercial occupancy? History truly does repeat itself, and, if this Pawtucket garage is any indication, sometimes the cycle begins again in less than a lifetime.
This article originally appeared in the author's personal blog, American Dirt. All photos taken by the author.