When Saygin Celen founded Downtown Shoes in May, 2014, he was a man inspired by the brand's namesake. He saw--and continues to see--downtown New York City as a beacon for ambitious, stylish, and outgoing individuals. The company's fashionable, suede, high-necked shoes are intended to go from work to play without losing their cool. Read on to learn how a trained Mechanical and Industrial engineer strode into the fashion industry.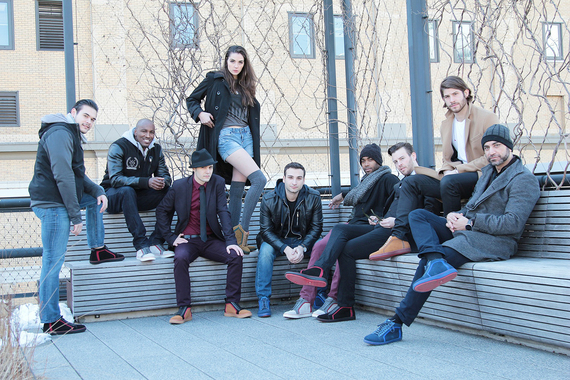 Saygin Celen (far right) with
brand Ambassadors. Photo by Anett Elek.
What did you do before Downtown Shoes? Where?
I am an engineer by training, with an MBA in international marketing. Engineering requires delving into deep details relentlessly, which really helped me focus on the design aspect, craftsmanship details, versatility and comfort without sacrificing anything. I started working as a designer, then moved up to production engineer. I lived in Barcelona for 5 years. I worked in architecture, managing a small company and turned it into an architecture solution company. Then, as I came to New York, I started my own company, Downtown Shoes one month after my arrival [in New York]. I was traveling back and forth looking for the right moment to move full-time to the city that never sleeps, and experience it deeply from inside.
What made you want to start your own business?
I come from an entrepreneur family. Getting my MBA also made me push myself into the deep jungle of trial and error--taking new ideas to fruition. I am a doer, because I believe that is the only way we can deeply learn things and enhance ourselves and make a big difference. You need to find your great idea and push it forward everyday painstakingly.
Entrepreneurship makes you a better person and makes you explore a great number of things, including yourself. I think Downtown was the idea that I wanted to dedicate myself to make it reality. It took thousands of steps: finding a name, changing the manufacturer three times, and tens of prototypes each taking sometimes a month. There were thousands of emails. It was definitely a great experience making it happen.
How did you decide on the name? What were some of the other choices?
When I moved to New York, I lived in far Brooklyn for two months, but I wanted to live in Manhattan with all the ups and downs--all the energy coming towards you. That was the meaning of living in New York. You go out and things happen, mostly, unexpected; meeting a new person, finding an opportunity, discovering a great cafe, finding yourself in a hidden art gallery. All these things tend to happen, even more, in Downtown.
I called the brand Downtown because it reflects the energy that I want to convey for the brand for today and for the far future. Downtown is versatile, energetic, bold, sometimes tough, yet elegant, it lives day and night. Downtown people are great at changing their moods, going into a cafe, their office, or to a cocktail bar. They are always present and real.
What was Downtown's first shoe, and how did you decide on it?
Downtown's first shoe was Soho. I wear it everyday now. The suede and neck was a given in the shoe equation for me. The suede reflects the elegance, great looks and high quality. The neck was to give the sense of boldness and versatility. Red was also another given. The stitches, accent, lining and sole are all red. The red reflects the expressive individual, the person who has deep energy inside, who likes to change everyday and challenge the ordinary. This is all Downtown and Soho was the first shoe that completed our vision of the Downtown as a fashion brand from New York.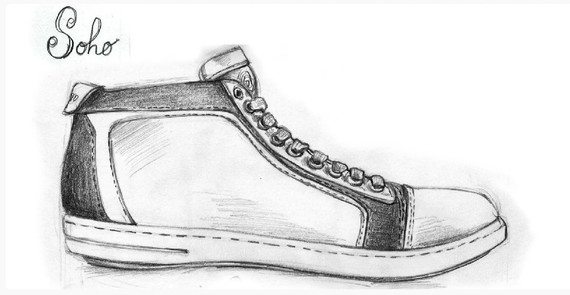 An early sketch of the 'Soho' shoe.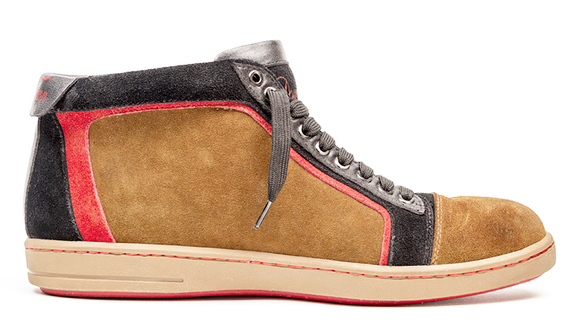 The 'Soho' shoe.
How would you describe your style?
I would say, Versatile Cool. You can wear a Downtown for almost any occasion and it always looks natural. Downtown may be for people who like to explore--who are stylish. Downtown is a lifestyle shoe brand for people who live a fast paced life with many activities around the clock, just like a New Yorker does. If you ask a New Yorker, the next few days are almost always full because they need to and like to do things and try new things.
Where are the shoes manufactured?
The shoes are manufactured in China. We also tried to manufacture in Europe especially Turkey and Italy; however, the final price was higher for the top quality we were asking for. We wanted to have accessible price for the top quality we needed. China has the advantage of having a huge shoe industry. The region we make the manufacturing has the capacity to produce half the global shoe production volume. Therefore, they have great certain advantages for reaching any kind of material with affordable prices and they are happy to help create solutions for you.
We officially started sales at the beginning of 2016. Our main headquarters is located in New York, but we now have offices in San Francisco, Germany, and China, too. Apart from our manufacturing team, we have around 10 talented people in our staff.
Where are Downtown Shoes sold? Where would you like to see them in the future?
Our shoes are sold mainly through our website. That's where we will mainly keep our focus by centering our mind on attracting more customers and fans to our ever-changing and evolving brand. We will also take steps this year with top online retailers so that we increase our interaction with Downtowners around the world.
Where would you like to see Downtown Shoes in the future?
We have plans to see Downtown in the top boutiques and retailers who have a great selection of products. We will be launching our women's shoe line before the end of this summer reflecting the same Downtown New York energy, yet, femininely. Next year, we have plans to extend the Downtown shoe design in the other top fashion cities. Firstly, it will be Downtown LA, followed by the cities in Europe, Downtown Paris, Downtown London and Downtown Milan. Each shoe line will reflect a different energy and be identified with that city and a well-known designer from that city. Our design team will work closely with each designer to create the Downtown for the respective city. In 2018, we would like to step to become a fashion brand by launching our first clothing line starting from Downtown New York and moving our way forward with the other fashion pioneering cities.