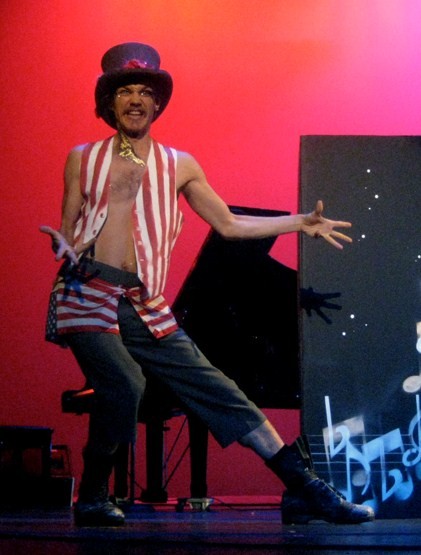 Pixie Harlot Layard, credit Earl Dax
That bottom part of Manhattan, once known as the Lower East Side and East Village and now called simply "Downtown," has its own madly ingenious world of creation and culture - from gay productions at the brand new Dixon Place theater complex on Chrystie Street to wacky musical concerts at places like the Mehanata Bulgarian dance bar on Ludlow Street.
The Downtown scene also has its own imperial impressario: Earl Dax, the socially minded Albuquerque born producer who recently re-staged his outrageous production of Weimar-New York for a special two night run at the Henry Street Settlement's classy Abrons Theater.
Weimar-New York is a show Dax has already presented from coast to coast, a broad ranging spectacle that uses the cold, cynical but sensually decadent humor of pre-Hitler Weimar Germany as a framework for what the San Francisco blogger/critic "Suzanne" described as a gathering of "burlesque, cabaret, comedy, drag, and East Village-flavored performance artists (who) sing, dance, strip, and think out loud about oppositional politics, sexual identity, dependence and independence."
Dax's most recent production of Weimar-New York had a packed, cheering audience on both Henry Street nights. The show's initial acts wasted no time in setting the sardonic Weimar mood. Among the first: San Francisco burlesque star Alotta Boutte, a monumentally large, extremely wide lady who entered Stage Right wearing a sparkling blue evening ensemble, burst into a fabulous ragtime song & dance routine, then performed her decidedly sexy strip tease all the way down to pasties, a thong and a triple teared tummy. The audience went nuts (how long has it been since you heard "take it off?!").
There were two cabaret accordion performers, Susan Hwang, a tall, longlegged brunette who sang oddly amusing love songs about zombies and bed-bugs that she'd herself composed; followed by Phoebe Legere, that chic, gorgeous and very funny Vasser blonde whom Liz Smith once described as "the new Bobby Short." And who could forget The Pixie Harlots, Dax's winsome, outrageously costumed chorus line who proudly sported beards and moustaches under their heavy makeup.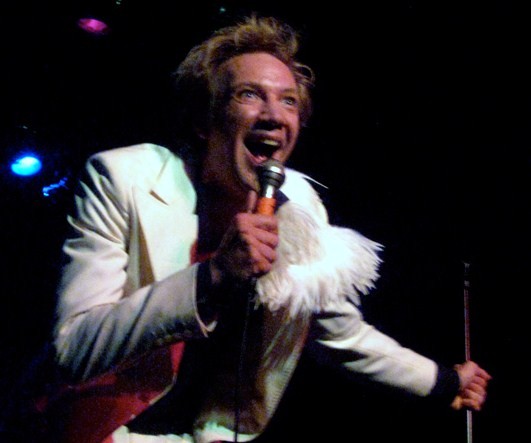 Sven Ratzke credit:Earl Dax
Liza Minelli didn't show up. But today's Berlin cabaret scene was represented by the American premiere of audience grabbing singer Sven Ratzke, a clever, super energetic German/Dutch star whose vast popularity on the European cabaret circuit is easily understood.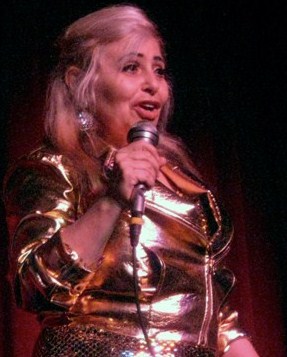 Penny Arcade credit Earl Dax
Masters of Ceremonies for the evening were platinum-haired performance artist and song stylist Raven O, who's currently starring Tuesdays in "One Night With You" at the Bleecker Street Theater, and the iconic Penny Arcade, a fabulously no holds barred lady who sort of combines Kathy Griffin and Belle Barth. She changed her costume between each act and got her own start back in the 1960s as part of Andy Warhol's original gang.
Weimar-New York is going to be performed again this summer at Bard College's Spiegeltent (July 31). Let's hope Earl Dax brings it back to New York City this autumn, either Downtown or Uptown!
REAL LIFE. REAL NEWS. REAL VOICES.
Help us tell more of the stories that matter from voices that too often remain unheard.