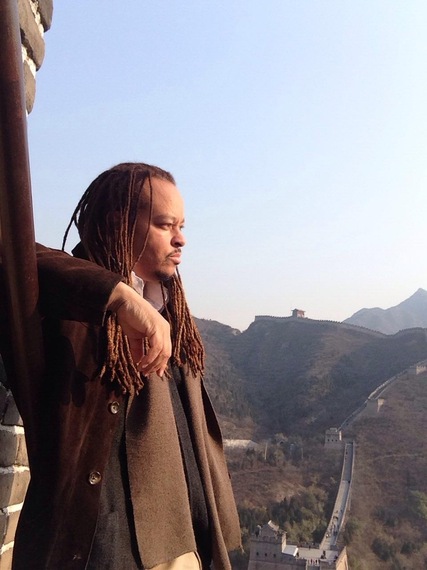 Dr. Aaron Bruce is much like a warrior, using his skills and know-how for promoting inclusion, social justice and multicultural understanding. Indeed, in his role as Chief Diversity Officer for San Diego State University, he is at times, teacher, mentor, counselor, and goodwill ambassador for the university, where he has steadfastly served for the past six years.
All this, coupled with his thoughtful, empathetic demeanor -- and his trademark dreadlocks -- are just some of the reasons why the soft-spoken Bruce has earned the respect and admiration of students, staff and faculty alike.
"Helping faculty and staff is very important to me, but I especially enjoy helping students learn about the value of diversity and about themselves," he says.
They come to me for advice, unsure about what they want to do in life. The world is in front of them and I try to help them be comfortable with the ambiguity. We talk about what makes them happy, what makes them get up in the morning, go in early and stay late. I try to help them think beyond the scope of their immediate vicinity, and to think globally.
Bruce, a certified diversity trainer who has facilitated countless professional development trainings, both nationally and internationally, is an active member of the National Association for Diversity Officers in Higher Education (NADOHE). He's also involved with the Southern California Association of Diversity Officers in Higher Education. His degrees include a Bachelor of Arts from Michigan State University, a Master's in International Business Administration from United States International University, and a Ph.D. in Education from the combined Rhode Island College and University of Rhode Island doctoral program.
What motivates Bruce most of all, is seeing San Diego State's students thrive in this ever-changing world, not only while at school, but also long after graduation.
One of my passions is helping to develop the next wave of future leaders who, in order to be successful, need a global perspective. For students of color, who are the least likely to study abroad, international experience can help them in any field they go into.
Which is why his clarion call to students these days, is to study abroad, something he can't stress enough when addressing students, either individually or at motivational presentations. For starters, the economic benefits, he asserts, are enormous.
Studying abroad contributes to global, regional and national economies in a significant way. It opens up doors for international trade, commerce and understanding, as well as for peace building, communication, and national security. These are tools that can help every student become a global citizen.
According to NAFSA (National Association of Foreign Student Advisers), in 2012 over 75 percent of students studying abroad were Caucasian. Yet only five percent were African American and close to eight percent were Latino. Overall, the number of U.S. students enrolled in an institution of high learning, who actually take advantage of study abroad programs is a startling one percent. Meanwhile the number of students from SDSU who study abroad each year is at seven percent.
Bruce believes the study abroad experience can help students learn about different cultures, while providing them with the opportunity to be emissaries for the United States.
"There's something to be said for being a global citizen, and understanding how what we do in the United States impacts other parts of the world," Bruce notes. "But it also has the potential to change perceptions of Americans, and that's very significant."
Statistics show that studying abroad can have a positive impact on a student's career outlook, too. A IES Abroad survey revealed that 90 percent of students participating in a study abroad program found their first job within six months of graduation, while only 49 percent of those who had not studied abroad, were employed within the same time frame.
Bruce can pinpoint the moment he first became aware of the value of a global education.
I took Spanish in high school. Maybe you say one phrase during class, but there's no application for what you're learning. My parents decided to take me on a vacation to Venezuela and while we were on the plane my father said, "No one in this family speaks Spanish, so it's up to you. If you don't speak it, we don't eat." I quickly realized there's a use for learning a second language.
Since then, he's spent time in over 15 countries, including Kenya, Cuba, the Dominican Republic, China and the United Kingdom.
I talk to people I don't know. I meet cab drivers, tour guides, and people who run hospitals and head corporations. You understand that everyone has value, regardless of what role they play in society. No matter who you are you have a great story to share.
Bruce's research on African Americans and study abroad found that trust and credibility were one of the key factors influencing college student's decisions to study abroad. The trust of a mentor, faculty member, relative or classmate has a profound impact on inspiring a student to go abroad. Having someone who students see as a trustworthy and authentic source can provide the words of encouragement to see the world and, as Bruce says, "Keep it global."
I've talked to some students about why they're going to college. Their immediate reaction might be, "I need to get a job." Well you can get a job without going to college, but universities are hoping that what young people will gain from the experience is a vision -- something they're committed to that makes a difference, not just for them, but also the rest of the world. It's our responsibility to provide the setting where students can explore and develop that vision, and the guidance to help them get there, and studying abroad can help them reach that goal in ways they never imagined.
Popular in the Community