On April 19, 2011, Dr Kumariah Balasubramaniam died at his home in Sri Lanka. He was 84-years-old. Known to consumer rights community simply as Dr. Bala, or Bala, he was a towering figure in the public health community, and he will be missed by his family, friends and professional colleagues.
I first met Dr. Bala in a 1996 meeting in Bielefeld, Germany that had been organized by Health Action International (HAI), a large network of physicians, pharmacists, public health workers and health activists. Dr. Bala, along with others, organized perhaps the first international meeting of public health groups to look at the impact of trade agreements. The World Trade Organization (WTO) had come into existence in 1995, and with it, a new agreement on Trade Related Aspects of Intellectual Property (the TRIPS Agreement) that set out tough new standards for patents and other intellectual property rights. Dr. Bala and others organized the event to evaluate the consequences on poor people living in developing countries.
At the 1996 Bielefeld event, Dr. Bala's presentation was memorable, in part because of the compelling data he presented to illustrate his concerns about the impact of patents on drug prices and access to medicines, and in part because of his scholarly research, lucid presentation style, wry sense of humor and caring attitude. Over the years, I have seen Dr. Bala make presentations at many meetings of health advocates, and I have always learned a great deal.

In a moving tribute by Professor Colvin Gooneratne in the Ceylon Medical Journal, Dr. Bala was described as "one of the most knowledgeable, resolute, articulate, versatile, resilient and in many other ways exceptionally brilliant health activists [the world] has produced." This assessment is shared by many.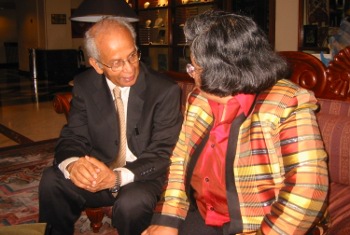 Dr K. Balasubramaniaum with Dr. Krisana Kraisintu, taken at a regional HAI meeting on pharmaceutical patents and public health in Colombo, Sri Lanka, in 2003.
Dr. Bala was born September 12, 1926 in Sandilipay, in a Northern Province of Sri Lanka, where he excelled in his studies, and entered medical school, and later joined the faculty of the University of Ceylon, before contracting tuberculous, an illness that almost killed him, and took several years to treat. Upon regaining his health, he rejoined the University of Ceylon and later the Universities of Colombo and Peradeniya. In 1968, he received a PhD from the University of Manchester in the UK, for "research on the biotransformation of amylobarbitone in healthy adults and patients with chronic renal insufficiency."
When working on clinical research, Dr. Bala became interested in "the social economic, political and cultural dimensions of health delivery," in part due to the influence of his colleague Professor Senaka Bibile, another leading figure in the essential medicines movement.
In the middle phase of his career, Dr. Bala served a variety of posts in government, and as a staff member or consultant to a wide range of multilateral institutions, including the United Nations Conference on Trade and Development (UNCTAD), the World Health Organization (WHO), the United Nations Industrials Development Organisation (UNIDO), and the Caribbean Community Secretariat (CARICOM), working on policies for the pharmaceutical sector in Ethiopia, Nepal, Cuba, the Philippines, Tanzania and other developing countries.
In the 1980s, Dr. Bala began a third career as an activist. In 1981, Dr. Bala was one of the founders of Health Action International (HAI), an important network of public health doctors, pharmacists, academic researchers, and health activists, organized to promote the rational use of medicines, and to ensure social justice in health care. From 1987 to 2002, Dr. Bala lived in Penang, Malaysia, where he represented Consumers International and Health Action International in a wide range of research and advocacy efforts. From 2002 until his death in April of 2011, he lived in Colombo with his wife Kamala Balasubramaniam. Dr. Bala continued to work for Health Action International until 2010.
In 2006, Dr. Bala received the Olle Hansson Award, which "recognizes the work of individuals from developing countries who have contributed the most to promoting the concepts of essential drugs and their rational use." Dr. Bala was cited for "his continued efforts in ensuring health for all."
Many of us who knew Dr. Bala remember him mixing insightful commentary of the evidence regarding pharmaceutical policy with homey anecdotes about life in rural areas, where people were so poor the killing of a chicken had a special significance.
I remember Dr. Bala's surveys of drug pricing illustrating the weak relationship between ability to pay and drug company prices (Pfizer charging more in Indonesia than in Canada for the same drug), and his thoughtful comparison of the 1474 Venetian Statute on Industrial Brevets (the first patent law) to modern legal frameworks for dealing with government use of patents or abuses of patent rights.
I remember him most for introducing me to his youngest son, Thiru Balasubramaniam, fresh from his degree in economics from the University of Pennsylvania.
Dr. Bala is survived by his wife Kamala Balasubramaniam, and four son, including Bala Balakumar, Balasubramaniam Ravichandran and Rajiv Balasubramaniam living in the United States, and Thiru Balasubramaniam who manages the Geneva office of Knowledge Ecology International.

Calling all HuffPost superfans!
Sign up for membership to become a founding member and help shape HuffPost's next chapter