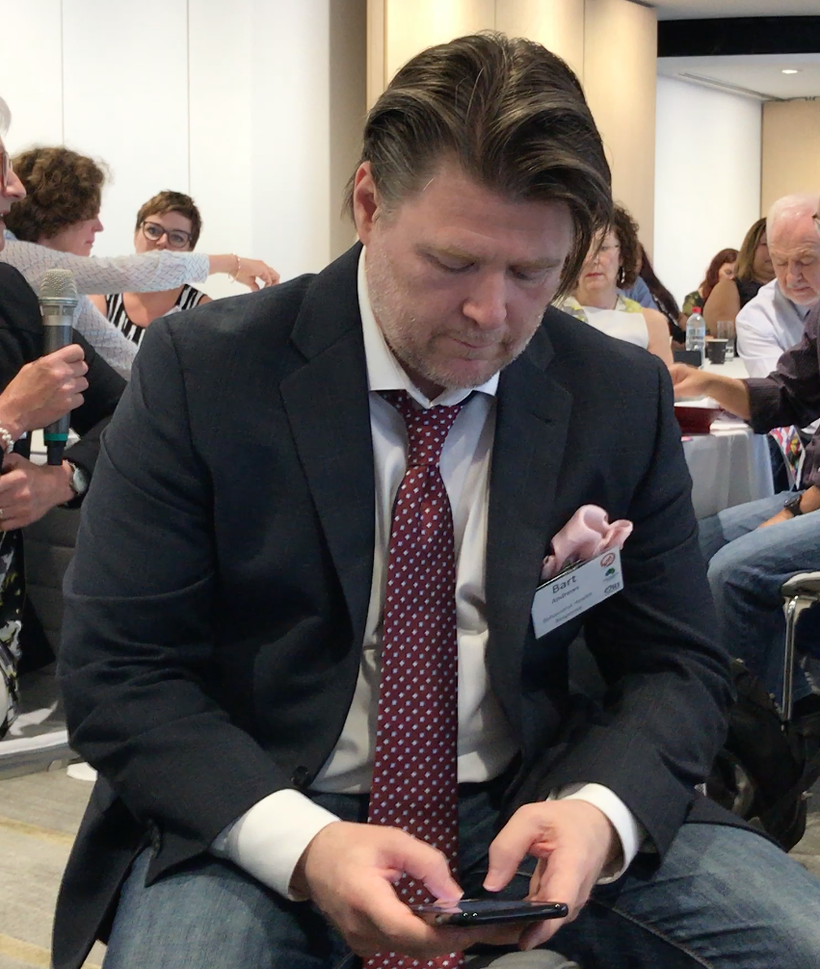 Dr. Bart Andrews' ongoing contributions as a medical professional, crisis and intervention specialist and leadership point person in both healthcare and technology lend themselves to establishing the major role he's played in helping to eliminate the stigma that's associated with suicide and mental illness on a global scale.
I've had the pleasure of working directly with Bart on a number of mental health initiatives over the years and what strikes me about his approach is his honest, open attitude which I think are critical to helping people relate when it comes to talking about mental illness.

One of my biggest goals in the world of mental health and suicide prevention awareness is normalizing the idea that it's OK to talk. I personally believe there absolutely has to be a willingness for people who suffer to be open about the daily struggles of mental illness in order to establish care and a wellness plan. 

It's important to note that I live with and struggle daily- most days- with severe Bipolar Disorder.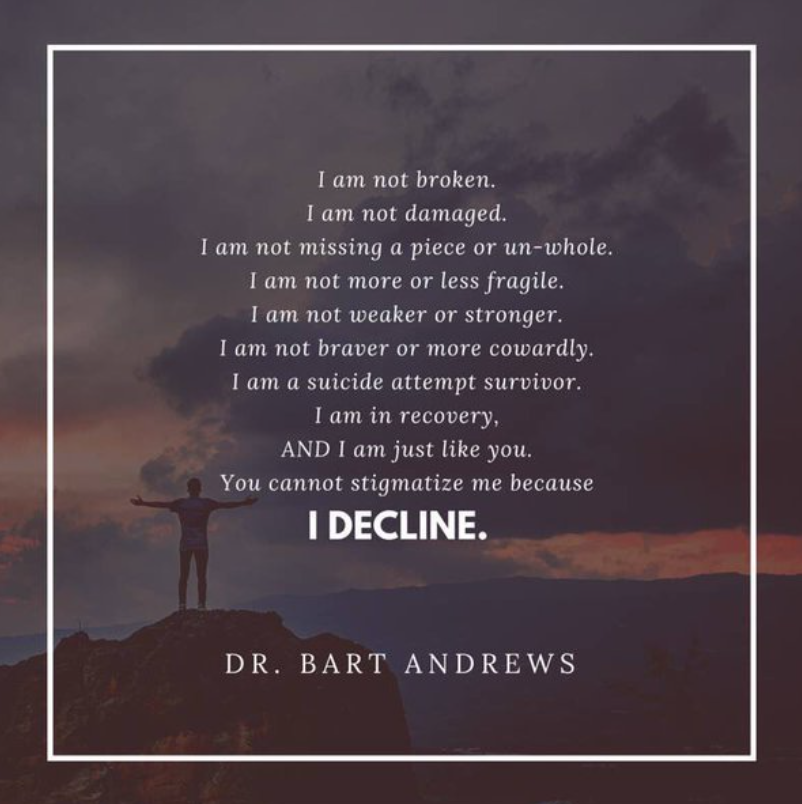 I have to remind myself, as Bart does on a regular basis, that I deserve happiness and I have to work hard every day to maintain my treatment and wellness plan. 

The plan that is in place for mental wellness is intricate. 

But it's also straight forward and something I have as a routine which has been hugely beneficial in me rebounding when I have episodes related to my brain disease. 

That entails communicating with the people around me even when I don't feel like talking. That means being honest about what I'm feeling. That means adhering to an active plan of stress reduction by working out, eating healthy and doing things which promote blood flow to the brain. 

And most important that also means putting one foot in front of the other and making progess- even when it seems like my life is less about success and more about the mindset of one step forward and two steps back. See my plan for wellness below, maybe it can help you.
Dr. Andrews has nearly 12,000 followers on Twitter and other social media outlets. His reach on that platform is incredible. To date he has 98,000 tweets and counting. He is regularly hired for conferences and events as their tweet chair, leading the social media charge for many Suicide Prevention, and Mental Health Health efforts. And believe me, when storify releases its top ten of said conferences and events, Dr. Bart Andrews rarely strays from numbers 1 and 2.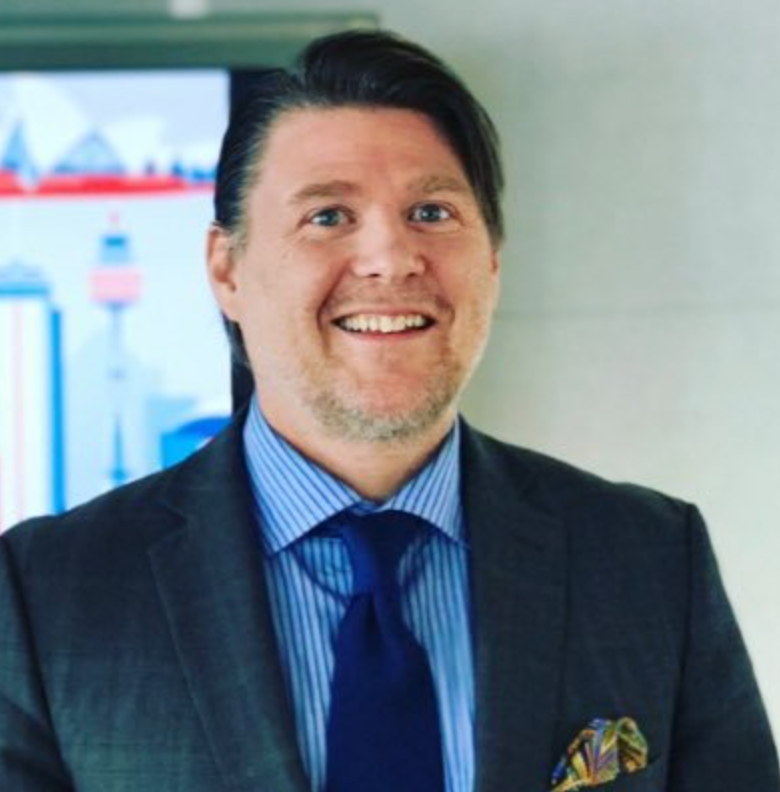 In today's world having that kind of impact on social media is an important part of helping as many people as we can when it comes to awareness of these issues. Bart is the VP of Clinical Practice/Evaluation at BHR. BHR is the for-profit subsidiary of Behavioral Health Response (BHR), a non-profit organization, incorporated in the State of Missouri in 1994. BHRW's parent company was developed by Missouri's Eastern Region Community Mental Health Centers of the Department of Mental Health to plan, coordinate and deliver access and crisis intervention services. Learn more here - Behavioral Health Response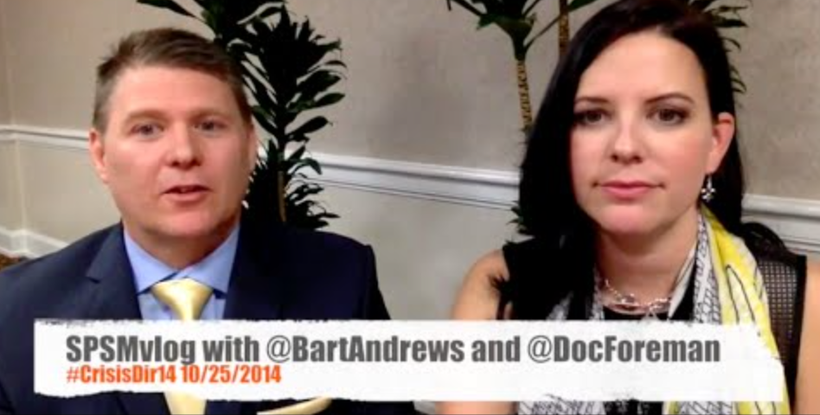 In addition he has over 17 years of experience providing behavioral health services including his current role at Behavioral Health Response. He received his Bachelor of Arts degree from the University of Missouri-St. Louis and his Ph.D. from Southern Illinois University Carbondale. He also co hosts the amazing #SPSMChat with the incomparable Dr. April Foreman. A very popular online vlog series. Bart is also an SPRC (Suicide Prevention Resource Center) Steering Committee Member.
#SPSMChat with @DocForeman @ADWW @BartAndrews @KevinHinesStory
His ongoing work in advocacy includes raising community awareness about the risk of suicide and training community members, law enforcement and other professionals in suicide assessment and intervention.
He's also on several crisis and suicide related boards including his as Vice President of the National Association of Crisis Directors and the National Suicide Prevention Lifeline's Standards, Co-Chair of Trainings an Practices Committee . Executive Committee Member - AAS Board if Directors, (The American Association of Suicidology.) Clearly the good Dr. Holds many hats, all vital to the growth of the suicide prevention global movement. Dr. Andrews is also an Applied Suicide Intervention Sills (ASIST) Training Coach. His efforts in #ZeroSuicide initiatives are legendary. DBA is doing it all while daily trying to make this world a better place.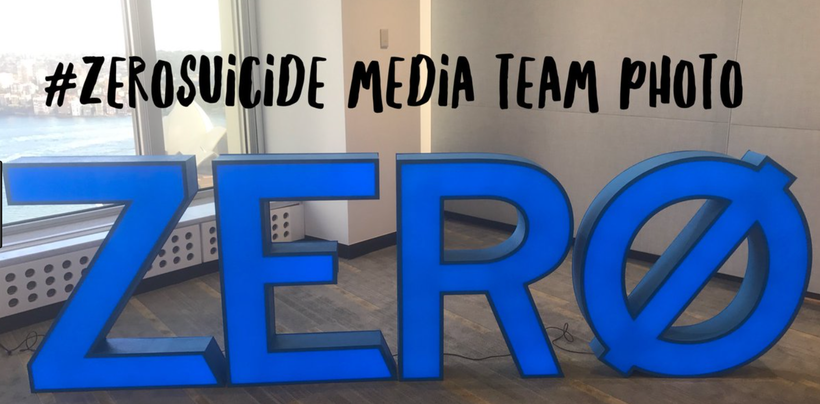 As a suicide attempt survivor off the Golden Gate Bridge in 2000 I understand how important it is to be proactive in advocacy in order to combat the statistics of suicide. Bart does this remarkably well, his innate ability to multitask, all the while being a doting father, a wonderful husband to his wife, and a real champion of change.
According to the American Foundation for Suicide Prevention roughly 43,000 Americans die by suicide each year. That's 117 people every day. As it is for Bart our common goals are to get that number down to zero. Remember, as I always say #BeHereTomorrow with the help of others and the acceptance to help yourself- no matter what. Please do navigate to 17th & Montgomery Productions for more mental health digital content. 


REAL LIFE. REAL NEWS. REAL VOICES.
Help us tell more of the stories that matter from voices that too often remain unheard.
This post was published on the now-closed HuffPost Contributor platform. Contributors control their own work and posted freely to our site. If you need to flag this entry as abusive,
send us an email
.