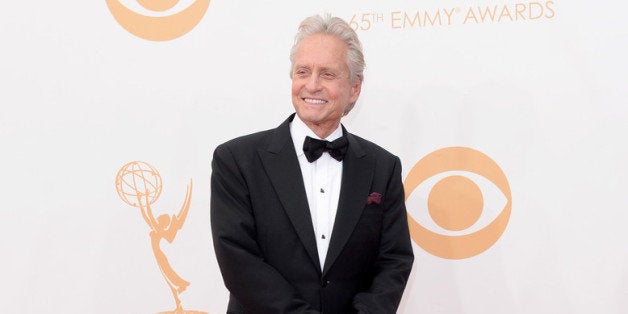 Michael Douglasis one of the most famous actors of our time, and a source of many people's entertainment in his completely commanding performances in many films and TV. Having received two Oscars, three Golden Globes and one Emmy, Michael's most remembered roles have been in Wall Street, American President, Streets of San Francisco, and Behind the Candelabra.
After three misdiagnoses (yes, three!) of his gum soreness, Michael was correctly diagnosed at McGill University by his fourth second opinion physician to have stage IV cancer of the tongue. As he put it, "We had one of those 'uh oh' moments, which is never a good thing to hear from your plumber or mechanic, but is a REALLY bad thing to hear from your doctor." He was referred back to a center near where he lived, Memorial Sloan Kettering in New York City, for his radiation and chemotherapy.
Those treatments of head and neck cancer are of course tough to endure. As he described them, the "seven cycles of hell." But because of the positive attitudes of his physicians and nurses, he came through those therapies successfully.
He viewed treatments as a battle. "Like a soldier I prepared for battle ... and it was my job to toughen up and get ready for the treatment and later on for my recovery." He saw it as a "well-planned war" with physicians, nurses, supportive care providers and rehabilitation therapists as allies.
What are the tips for your health to be learned from Michael's struggle? Here are my lessons to be learned.
• When you have a symptom that is not getting better, get a second, or third, or fourth opinion if necessary to properly diagnose and treat the underlying illness. Michael had four doctors in succession to diagnose his tongue cancer. Fran Drescher had eight second opinion doctors to diagnose her uterus cancer.
• Choose a good team to help you in your challenge to overcome cancer or serious illness. Just like Michael, your team should include yourself (he was the general), your doctors (his surgeon, radiation oncologist, medical oncologist), your supportive care specialists (his nutritionist), and your rehabilitation team (the speech and swallow and physical therapists). Don't forget your pharmacist who can help with symptom support and finding affordable medications.
• Since the going can get tough, be sure your have doctors just like Michael's with positive attitudes. Don't let negativism of your physicians questions your commitment to getting the best cure with the least side effects and most comprehensive support.
• Be brave and get the support of your family and friends and physicians to help you through any tough treatments you must have to cure an illness. For tips on how to endure continuing treatments, see my book Surviving American Medicine.
Michael has shown us how to make the proper decisions to overcome stage IV cancer and regain a high quality life. Use these five tips to give yourself the best chance to survive.