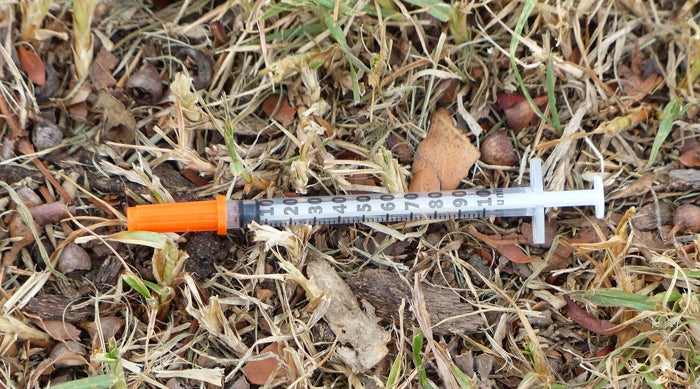 Pain is a devastating force that can threaten to undo much of what we are trying to accomplish as healers. And so we have developed useful narcotics to control it whenever possible. These drugs are responsible for helping health care teams save lives in hospitals, in disaster zones, and wherever a simple break in the abject suffering makes all the difference in patient outcomes.
Some of these very same wonder drugs are at this moment on a killing spree on America's streets. It's a numbing irony that cuts right to the heart of modern health care and insurance and the unintended consequences our systems can foster—if not directly cause.
For instance, a report from the New York Times and ProPublica, a nonprofit journalism group, has suggested that too many people are getting opioid prescriptions because of a cold calculation:
At a time when the United States is in the grip of an opioid epidemic, many insurers are limiting access to pain medications that carry a lower risk of addiction or dependence, even as they provide comparatively easy access to generic opioid medications. The reason, experts say: Opioid drugs are generally cheap while safer alternatives are often more expensive.
They are called controlled substances for a reason. These are drugs we have studied for years to get the dosing right. Fentanyl is sprayed up children's noses, for heaven's sake, so that fear of a needle doesn't add to their suffering. These drugs are with the good guys.
And yet fentanyl, produced illegally for street sale, is a monster, up to 100 times as potent as morphine. Where it is uncontrolled, it leaves a trail of twisted bodies. We've all seen the zombie videos, right? And we've recoiled at the photos of passed-out parents behind the wheel of a car with a scared 4-year-old in the back seat. Drug overdoses today are the leading cause of death for Americans 50 and younger, and more than 2 million Americans may be misusing opioids.
Overdosing has become so prevalent that a nurse's education often features lessons on reviving victims with naloxone (or Narcan), an opioid "antidote." It has save thousands of lives. But then what?
The pain on the streets of America is real. It is the product of injury or illness, yes, but there is also so much suffering born of economic, racial, and health inequities. We must remember that this drug-abuse "epidemic," though very scary, isn't a completely new phenomenon—it is simply a different demon wreaking havoc this time around. It's heroin, it's methamphetamines, it's crack cocaine, only even more toxic to the human body. People who are hurting will try anything that can make the pain—physical or emotional—diminish, even for a little while. They are no different from patients at the hospital. But their "providers" are not in the business of making them well.
Even as we pick up the pieces, nurses must also pick up the clues to budding addictions. For perhaps as mighty as naloxone are the power of observation and the strength of communication. Dr. Deborah Finnell has been a pioneer on nursing curriculum that includes screening, brief intervention, and referral to treatment (SBIRT). It helps caregivers act with compassion and education before addiction can take hold by making screening for abuse (drugs or alcohol) a key yet subtle part of patient interactions.
It is a way we can begin to defeat the opioid beast, or at the very least beat it back. Meanwhile, let us not forget about the social ills and short-sightedness that keep leaving the door open.
Related
Popular in the Community