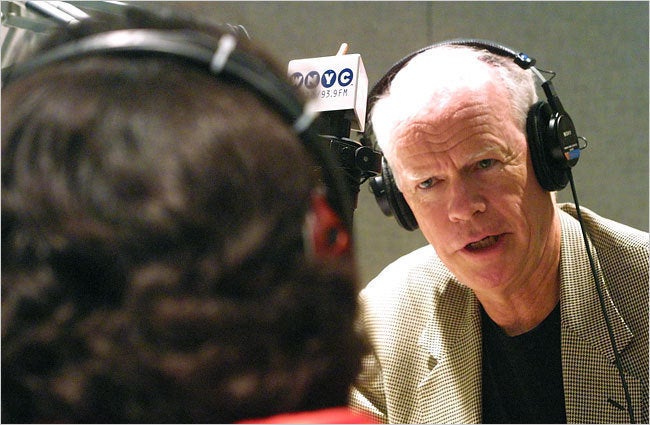 An influential psychiatrist who was the host of the popular public radio program "The Infinite Mind" earned at least $1.3 million from 2000 to 2007 giving marketing lectures for drugmakers, income not mentioned on the program.
The psychiatrist and radio host, Dr. Frederick K. Goodwin, is the latest in a series of doctors and researchers whose ties to drugmakers have been uncovered by Senator Charles E. Grassley, Republican of Iowa. Dr. Goodwin, a former director of the National Institute of Mental Health, is the first news media figure to be investigated.
Dr. Goodwin's weekly radio programs have often touched on subjects important to the commercial interests of the companies for which he consults. In a program broadcast on Sept. 20, 2005, he warned that children with bipolar disorder who were left untreated could suffer brain damage, a controversial view.
"But as we'll be hearing today," Dr. Goodwin told his audience, "modern treatments -- mood stabilizers in particular -- have been proven both safe and effective in bipolar children."
That same day, GlaxoSmithKline paid Dr. Goodwin $2,500 to give a promotional lecture for its mood stabilizer drug, Lamictal, at the Ritz Carlton Golf Resort in Naples, Fla. In all, GlaxoSmithKline paid him more than $329,000 that year for promoting Lamictal, records given to Congressional investigators show.
In an interview, Dr. Goodwin said that Bill Lichtenstein, the program's producer, knew of his consulting but that neither thought "getting money from drug companies could be an issue."
"In retrospect, that should have been disclosed," he said.
But Mr. Lichtenstein said that he was unaware of Dr. Goodwin's financial ties to drugmakers and that, after an article in the online magazine Slate this year pointed out that guests on his program had undisclosed affiliations with drugmakers, he called Dr. Goodwin "and asked him point-blank if he was receiving funding from pharmaceutical companies, directly or indirectly, and the answer was, 'No.' "
Asked about the contradiction, Dr. Goodwin and Mr. Lichtenstein each stood by their versions of events.
Calling all HuffPost superfans!
Sign up for membership to become a founding member and help shape HuffPost's next chapter