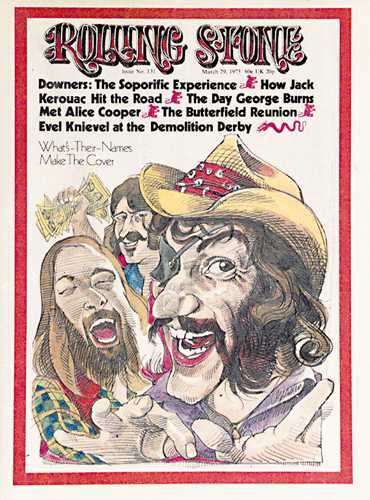 Hard to say what was more inexplicable: that much ado was made about reality star Kim Kardashian popping up on the cover of Rolling Stone, or that even more ado was made over Sinead O'Connor's Facebook post criticizing the event. These days it's hardly a surprise to see Kardashian on the cover of anything, let alone a pop culture magazine. And maybe-priestess O'Connor being bitter and (hypo)critical is about as newsworthy as dog bites man's sandwich.
Who ordained Sinead barometer of pop culture anyway? And what makes her qualified to criticize a magazine that's been publishing steadily since 1967? No one and nothing.
So why has her foul-mouthed rant caused so much brouhaha?
Good question. And one that might never be answered. We can examine the commenting itself though. And if anyone is in any way qualified to comment about the cover of Rolling Stone, that'd have to be Dr. Hook, whose 1972 hit "The Cover of the Rolling Stone" did so very much to help make the placement a thing of such great import.
"I don't care about [the Kardashians], but yeah, I've heard of 'em", said the good Dr. Hook when reached by phone at his Daytona Beach, Florida home. "I don't watch the Kardashian show. I don't really care about stuff like that."
No surprise there. In fact, it'd be more surprising to find he hasn't ever heard of Ms. Ubiquity. Then again, had Dr. Hook copped to watching and caring about Keeping Up with the Kardashians, we'd have to assume the singer was under the influence of too much of his old band's own medicine.
Yes, by Dr. Hook we mean of course Ray Sawyer, whose eye-patch still has most everybody believing he's the eponymous leader of a band that once included the Medicine Show. (After nearly 45 years, who's gonna argue?) Sawyer was the singer of Shel Silverstein's satirical song back in '72, and it was his face which graced centerplace on the cover of Rolling Stone (RS 131) the following March. In the decades since, Sawyer's seen 'em come and he's seen 'em go, and he can't see what all the fuss is about.
"O'Connor's complaining about a reality show star being on the cover of Rolling Stone?" asks Sawyer, summoning some of that long-lasting rhetorical irreverence. "I just went on to their site, it says Music, Movies, Television, Politics, Sports... all kinds of people have been on the cover and are on the cover of the Rolling Stone. Why can't Kardashian be?"
Indeed, why not cover star the de facto head of a multi-million dollar family such as Kardashian? She's surely as deserving as former Jersey Shore shortie Snooki, who rode a rocket on her Rolling Stone cover (RS 1126). As for how much it all matters and what it all means, well...
"It don't make any difference to me one way or another, and I think most people are gonna feel like that," says Sawyer. "But I'll tell you this: I don't think Kardashian being on the cover is gonna kill the Rolling Stone or kill rock 'n' roll. That's ludicrous. I can't believe anybody would believe that."
Neither apparently can anyone else, which is probably why O'Connor's crass criticizing made more of a splash than that which caused the lass to get critical in the first place. Lest we not fully grasp the good Dr.'s point though, he makes it downright unequivocal.
"The Rolling Stone is too big of an institution for a chick like [Kardashian] to kill it."
Having gotten Dr. Hook himself to chime in on this much ado, we'd also like to hear his thoughts on a few other faults in O'Connor's logic, namely:
If O'Connor really believed Simon Cowell and company would be to blame for the death of music, where was she when the X Factor host made his Rolling Stone cover (RS 997)?
Did Mother Bernadette Marie also come to terms with the papacy before Rolling Stone covered Pope Francis (RS 1202)?
And, perhaps most puzzling of all, why on earth would Dylan be "f--ing horrified" by any of this claptrap? Is it because he's been on the magazine's cover a grand total of 25 times?
"Those are questions you'll have to ask O'Connor," says Sawyer, with a succinctness that means he's had enough of the subject.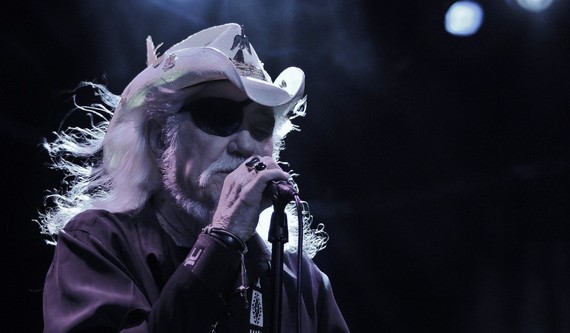 Sawyer's right of course. Those are questions for O'Connor to answer. And would it not likely ignite a firestorm of more torrential coverage, we might even ask her. While we're here though, may we ask you a couple quick questions concerning "The Cover of the Rolling Stone"?
Once Dr. Hook and the Medicine Show made the cover, did you really go out and 'buy five copies for [your] mother'?
Do you still sing the song whenever you perform?
"You bet. The fans would kill me if I didn't."
With that last laugh the good Dr. Hook is gone. To think though that after nearly half a century in the business, Sawyer's still out there making people smile with his irreverent take on what once upon a time it meant to make it. O'Connor of course 'ceased singing' her smash "Nothing Compares 2U" after just half that span. Seems she ran outta emotional ammo or something.
Perhaps Sinead shouldn't have wasted her bullets shooting at obvious targets.
REAL LIFE. REAL NEWS. REAL VOICES.
Help us tell more of the stories that matter from voices that too often remain unheard.