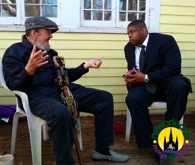 New Orleans music icon Dr. John has endorsed mayoral candidate James Perry in NewOrleans.com.
"The man is the only person I have met that's in this race for mayor who is for the people," he said in endorsing Perry. Dr. John (Mac Rebennack) has been active in local causes including Voices of the Wetlands, the move to reopen Charity Hospital in its original location and raising funds for local charities.
"James Perry is the right candidate, in the right place, at the right time," said Dr. John.
"Artists and musicians like Dr. John are the heart and soul of New Orleans," states Perry. "We thrive on rhythm, blues, jazz, zydeco, funk and rock and roll. I'm truly humbled that Dr. John has endorsed my candidacy for Mayor and if elected I'll do more than make sure that music, arts and culture are truly supported in our great city. I'll make the city safe again for musical treasures such as Dr. John and the people in New Orleans that want to enjoy our music and experience our culture.
Popular in the Community