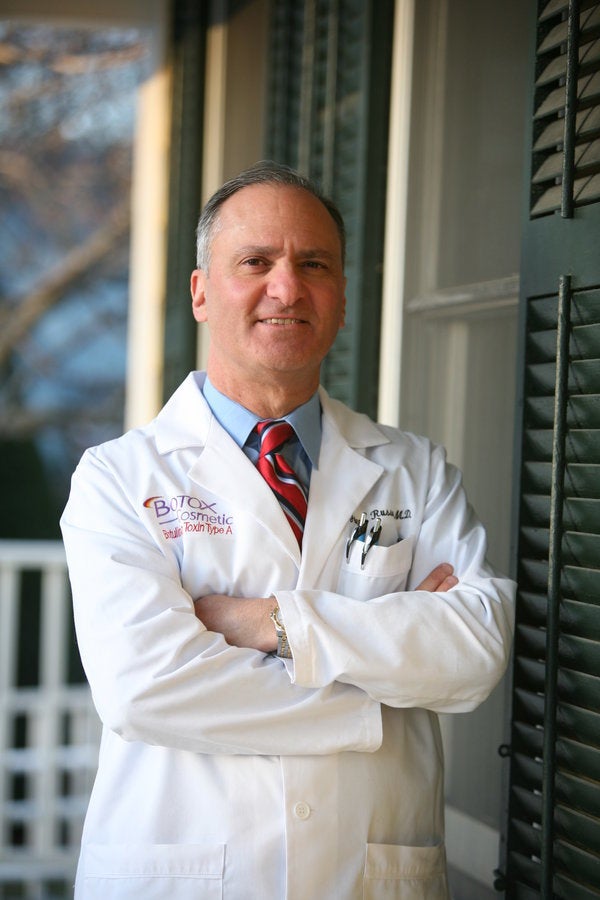 I saw the angel in the marble and carved until I set him free. - Michelangelo
He's a modern day Michelangelo, except for the fact that his art is very much alive. Thousands upon thousands of beautifully sculpted, buffed, and polished artistic creations living, breathing, and walking among us. For twenty-five years he has grown one of the largest cosmetic surgery empires in Massachusetts. He specializes in plastic surgery, including breast augmentation, tummy tucks, and face lifts. He also has an entire team who focuses on injectables for wrinkle smoothing, as well as laser treatments for skin tightening, fat reduction, and hair and tattoo removal. As well, he oversees a team that specializes in aesthetics, including a line of non-abrasive skin care products for anti-aging. He says that he is in the business of building and restoring confidence and that sometimes it takes minor changes in one's outside physical appearance to allow for a person's inner beauty to shine.
His name is Dr. Joseph Russo and what most don't know about this extremely successful plastic surgeon, is that he's 100% self-made. He grew up in West Haven, Connecticut to a mom and dad who both worked for a local factory. His dad's advice to him growing up was to find a job where he could use his mind instead of his hands, and so when it was time to head off to college, he set off on a journey to become a doctor. He landed in one of the most prestigious medical schools in the country, George Washington University, where he stayed until his third year because he exhausted all of his student loan options. He graduated from University of Connecticut School of Medicine and found his way into plastic surgery because he loved the aesthetic and reconstructive nature of the job. He says that a lot has changed in 25 years in the world of cosmetic surgery, making it more affordable and less invasive for those looking to make changes to their appearance today.
I recently spent an afternoon talking with Dr. Joseph Russo about building empires, overcoming adversity, and helping clients expose their inner beauty through physical changes to their outer beauty. Here is Dr. Joseph Russo, Inside Out:
Be a Pioneer: Russo says that he credits a great deal of his success to his willingness to keep on learning and investing in new ideas. He says that plastic surgery is a rapidly changing business and that almost every month there are new technologies coming down the pike. He shared a story about a new technology he is currently testing where patients use virtual reality goggles to look at how their body will change after surgery. He says that his business goes through entire revolutions every few years, and success requires that he remain on the cutting edge of all the new changes. He has become so good at pioneering his way through the business that he started his own school, Aesthetic Institute of Massachusetts where he is training doctors, nurses, and physician's assistants in aesthetics, helping them to transition their skills and their practices into new opportunities. Russo says that if you want to build a legacy around your business, you must be willing to be the pioneer.
No Safety Net: Russo has built one of the largest and most successful cosmetic surgery practices in the state. He says that he did it because he had no choice. He says he is grateful for the fact that he had to figure out his own way to success from day one. He took out massive amounts of debt in order to get through college, and he says this made him humble and appreciative of every opportunity that came his way. When he started his own practice he says that he didn't have a life savings to fall back on, and his motivation to succeed back then had a lot to do with the student loan debt he had to pay off. He says that if you want to achieve big dreams in business and life, eliminate the safety net so that failure is simply never an option.
Build a Family Not a Practice: Dr. Russo has fifty team members on his staff and many of them have been part of the business for twenty plus years. He says that he never really concentrated on building just a practice, but rather focused on building a family. To him, the people who work for him are family members. They laugh together, learn as a group, have fun, and push one another to perform at higher levels. He says that his momentum in the business is very much a byproduct of the family atmosphere that has been created organically from within. His philosophy is that when team members treat one another like family, they also treat the clients that way, and by doing so, the clients build the business by referring friends and family. Russo says that his greatest fear in scaling the business over the years was that employees and clients would feel like a number. However, he says that with a close knit family-like atmosphere behind the scenes, there's a culture of compassion and caring that extends to the client base as well, so that every person who walks through their doors feels important.
Inside Out: Dr. Russo's personal philosophy is that real beauty starts from within. He says that the procedures and enhancements provided by his practice are often an important tool for helping patients restore or build the confidence they need to let their inner beauty shine. He says that for some individuals, it's much easier to expose what is inside them when they truly feel good about what is on the outside. That being said, Russo says that he and his staff spend time getting to know each client personally, and there have been times when they have declined to treat patients who seem to present red flags. He says that unfortunately, there are sometimes clients who will never stop fixing, lifting, cutting, and altering their outside appearance in an effort to feel good on the inside, and in such instances Dr. Russo says that he is not afraid to say no, and to refer them out to get the help they need loving themselves on the inside. Russo says that the key to being a great cosmetic surgeon is in setting real expectations with yourself and the client. He says this requires you to have an honest understanding of what you are capable of coupled with a candid dialogue with each client so that they know what to expect after the work is done.
Dr. Joseph Russo has sculpted an amazing life and business by following his dream since a very young age. Now he's helping others enhance and restore their outer beauty so that they can bring the best of what they have on the inside, out. 
Calling all HuffPost superfans!
Sign up for membership to become a founding member and help shape HuffPost's next chapter
This post was published on the now-closed HuffPost Contributor platform. Contributors control their own work and posted freely to our site. If you need to flag this entry as abusive,
send us an email
.