New York clinical psychologist and well-known TV and radio personality Judy Kuriansky, Ph.D. just returned from Haiti where she trained "comforters" -- many of them Haitian Boy Scouts -- about how to assist those traumatized by the recent earthquake there.
These youth are still visiting patients at a local hospital, L'Hopital de la Communaute Haitienne, in Port-au-Prince, carrying on their support to those suffering -- to soothe the wounded minds and souls of hundreds of the injured lying on blankets outside.
The comforters walk amidst the patients to give out water and offer a sympathetic ear. These new psychological first aide recruits felt exceptionally good about their new role, reporting that helping others also helped them cope with their own trauma.
As one Scout said, "When I aide others, I feel helped myself." The kind-heartedness of the comforters was evident in their answers when asked about self-care. Almost all wanted more strength to continue to help others.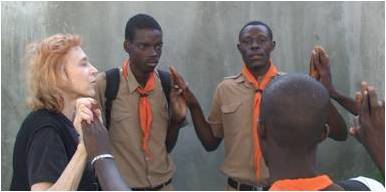 Dr. Judy Kuriansky trained local Boy Scouts to be "comforters"
in the wake of the earthquake that recently destroyed Haiti.
The patients were also grateful that anyone cared to talk to them. These helpers are now recruiting other youth and training them in the techniques they learned from Dr. Kuriansky.
Known globally as "Dr. Judy," she also is the main NGO representative to the United Nations of the International Association of Applied Psychology (IAAP). The oldest international association of psychologists, its mission is to facilitate interaction and communication about applied psychology around the world.
"While research shows that a certain percentage of people do suffer severe reactions diagnosed as PTSD (post-traumatic stress disorder)," says Dr. Judy, "a majority of people are resilient and just need to feel they are not alone and be offered support, especially right after the disaster."
Having worked for decades with trauma survivors, including with the Red Cross, Dr. Judy was in Sri Lanka after the Tsunami, at the World Trade Center after 9/11, in China following the SARS crisis, in Israel on several occasions after bombings, and in New Orleans in the wake of Hurricane Katrina.
"Research and past disasters prove that survivors can have emotional needs that are ignored for weeks in light of the priorities of food, water and shelter, and tending to physical conditions," says Dr. Judy. "Simple supportive techniques can go a long way to increasing their natural ability to cope."

Helpers can also be traumatized, but often suffer in silence as they carry on their heroic work, she notes.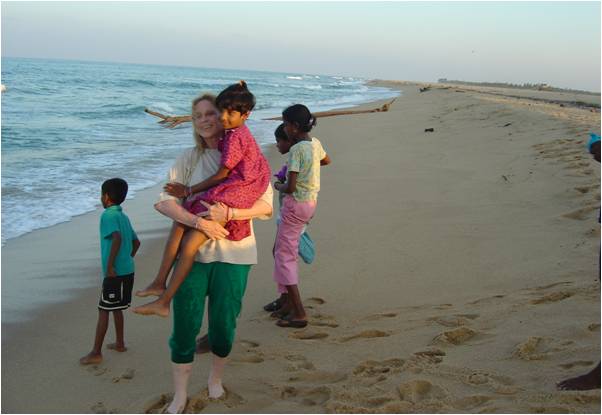 Dr. Judy was in the north of Sri Lanka after the Tsunami,
a tragedy equal to the disaster that has now befallen Haiti.
"Much has been reported about the destruction and physical stressors in Haiti after the tragic earthquake, but attention needs now to be paid to the emotional stress of the responders, including hospital staff, volunteers, recovery workers, police -- and even clergy," Dr. Judy told me.
Over the course of a long interview in my living room, Dr. Judy explained to me about her experiences in Port-au-Prince:
Right now people are still in shock, and are heroically coping, but there is a risk of more severe emotional reactions -- including depression and anger -- as the weeks of deprivation wear on.

In addition, the essential mourning process for the dead is incomplete, as many bodies are still buried under the buildings.

Children are playing in the streets now, but when asked, some report nightmares, stomach aches and headaches.

Particularly worrisome is that children are not able to go to school, which will result in a lost generation who are deprived of an education.

Creative means will have to be found to make up for this dire interruption of education. In an ideal world, funds and resources could provide computers and hand-held devices for children to learn.

Dr. Judy has developed a clinical tool box that is cross-cultural in nature, which has recently been published in a book about Principles of Multi-cultural Counseling and Therapy.
"This collection of techniques -- thirty years in the making -- can be used in disaster situations around the world," she explains. Included are exercises for breathing, feeling safe, and processing emotions that are universal in their approach and can be translated into local languages.
Relevant inter-culturally as well as inter-personally, she encorporates these approaches at international workshops and in her classes at Columbia University Teachers College.
"The primary goal to facilitate coping as well as family and is community re-building," Dr. Judy told me.
In her role with IAAP and also as psychosocial program director for US Doctors for Africa, Dr. Judy is working with First Lady of Lesotho, Mathato Mosisili, wife of Prime Minister Pakalitha Mosisili, to develop a new iteration of a girl's camp for AIDS orphans there. Lesotho is a nation inside the boundaries of South Africa.
Involved with disaster relief for decades, Dr. Judy has met many world leaders.
Here, she chats with President Bill Clinton, now U.S. Envoy to Haiti.
The two women met at the First Summit for the First Ladies of Africa held last year at the Beverly Hills Hilton Hotel in Los Angeles, hosted by U.S. Doctors for Africa, an organization akin to Doctors Without Borders.
"In Africa, Haiti and so many developing nations around the world, international aide can support the people's own capacity to build their own society themselves, as they have the ability to do so," Dr. Judy explained to me.
Entering Haiti only five days after the earthquake, Dr. Judy reached Port-au-Prince where she then survived the enormous aftershock. She traveled with Father Wismick Jean-Charles, a Haitian Roman Catholic priest working on his Doctorate at Fordham University and ministering to the Haitian community on Long Island.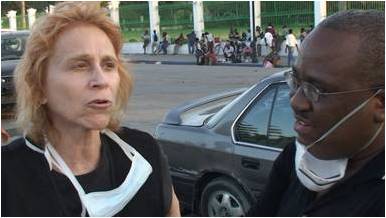 Dr. Judy in Port-au-Prince after the quake with Father Wismick Jean-Charles.
"Following the aftershock, the already-frightened people found comfort in praying intently," Dr, Judy told me in an interview last week in my New York City home. A series of video from that interview may be seen here.
In Haiti, she assisted in feeding children, training local people to support others, helping first responders, and assisting with setting up sustainable mental health services.
Staying in a tent in the courtyard of a damaged Catholic church, the St. Louis King of France parish of the Montfort order, Dr. Judy had no access to a shower and little food for a week. She survived on power bars and some rice and beans from the nuns.
Dr. Judy had just been to Haiti before the earthquake, helping Father Wismick oversee the development of a community center in his native village, Petites Desdunes, four hours from the capital city. They were also helping people suffering from the flooding last year near Gonaives.
Dr. Judy is a distinguished member of the Advisory Board of the organization I founded ten years ago, Orphans International Worldwide (OIWW).
She is also on the executive committee of the Committee on Mental Health at the U.N., a member of the Disaster Section of the American Psychiatric Association and a visiting professor of Peking University Health Science Center in Beijing, China, and expert in reconciliation, using multistakeholder and people-to-people approaches, evident in her book, Beyond Bullets and Bombs: Grassroots Peacebuilding Between Israelis and Palestinians.
It is for her leadership as a thought leader and global citizen in the field of psychology and assistance in disasters that Dr. Judy is receiving our organization's highest award, the Global Citizenship Award For Leadership In Helping Humanity.
The Award will be presented to Dr. Judy at the Orphans International Worldwide Haiti V.I.P. Reception, Sunday, Feb. 28, between 6-9pm. See Facebook Event Page. Open to the public.
Calling all HuffPost superfans!
Sign up for membership to become a founding member and help shape HuffPost's next chapter