Dr. Jack Kevorkian, the man associated with the rather morbid nickname "Dr. Death," is well known for his work advocating for the rights of the terminally and seriously ill. From the 1950s to the 1990s, he worked tirelessly to bring awareness to the demand for assisted suicide, reportedly aiding more than 130 patients in ending their own lives on their own terms.
While history remembers Kevorkian for his efforts in the field of medicine and bioethics, a new art exhibition is paying homage to a lesser known side of the famed activist. "The Last Paintings By Jack 'Dr. Death' Kevorkian" at Los Angeles' Gallerie Sparta is showcasing 11 original oil paintings by the late artist, giving a glimpse into the complicated creative life of one of the world's most well-known personalities.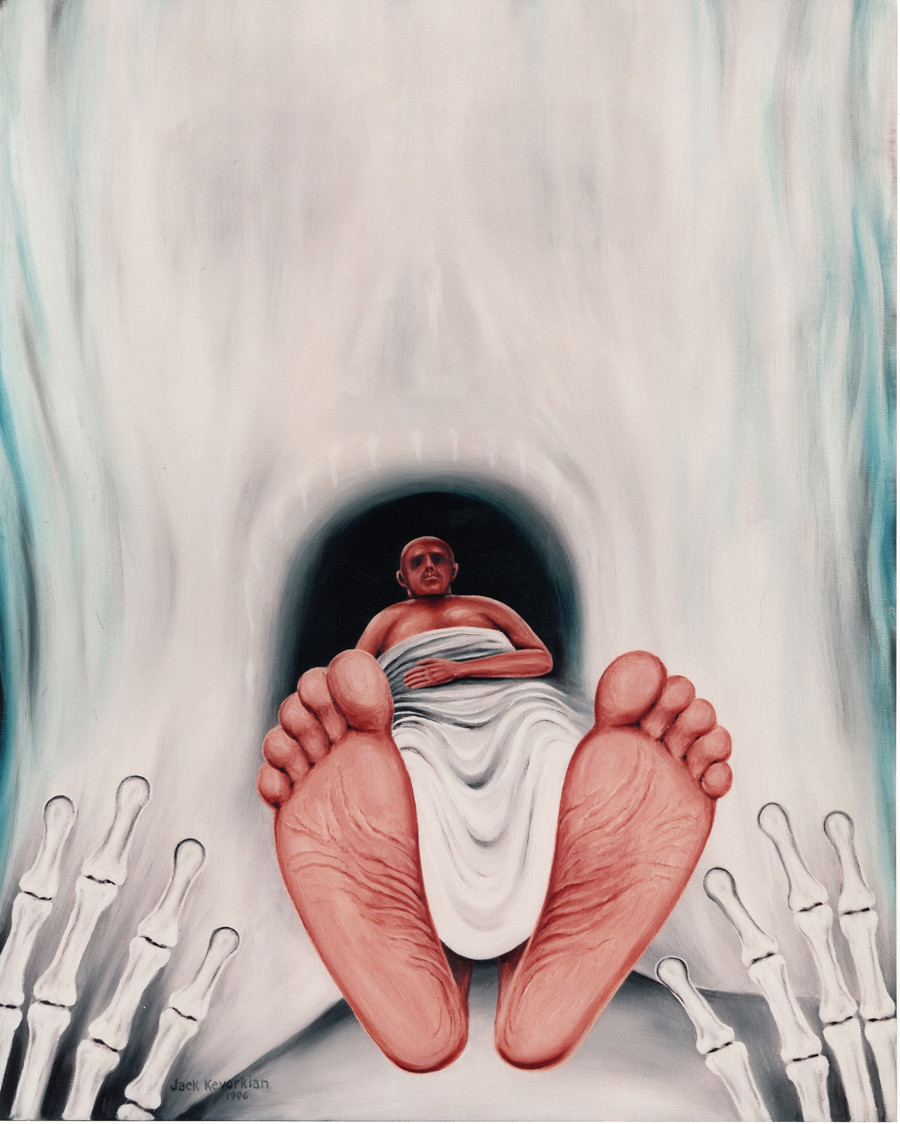 "Coma" - 28X34 - oil on canvas - 1996 - $45,000
According to exhibition curator Lee Bowers, Kevorkian began studying drawing and oil painting when he was a young man, painting throughout the 1960s and beyond. The 11 paintings on view at Gallerie Sparta are from a series of 18 works created specifically in the 1990s, many of which feature darkly macabre imagery like that in "Coma" (pictured above), a portrait of a grim man silhouetted by a CAT scan machine and an ominous pair of skeletal hands.
"He is noted in the art world for his unique vision that only a pathologist and an advocate of assisted suicide could have, as many of the compositions are about an incapacitated life, such as 'Paralysis,' 'Coma,' and 'Fever.'" Bowers explained to HuffPost. "Then there are the three political narratives, 'The Papal State of Michigan,' 'Brotherhood,' and 'The Ninth Amendment.' His painting style, composition, use of color and volume, as well as the unique subject choices, are quite skillful and very provocative."
Beyond the blatant references to his efforts in the medical world, some of the works on view also point to Kevorkian's prolific artistic and musical side. The inventor, composer and author painted three works dedicated to his love of music, aptly titled "Johann Sebastian Bach," "Chromatic Fantasy" and "Art Fugue." But his status as an advocate for "death-on-demand" cannot be ignored for long. His "Thanatron" machine is also on display, the euthanasia device that allowed patients to push a button releasing drugs or chemicals meant to induce death.
"My first reaction [to seeing "Thanatron"] was silence and a prayer for the many lives that ended with it," Bowers remarked. "Then we began to assemble it as it came in the original wooden case that he carried. Stephan [Sparta] assembled and I handed him the nuts and bolts. We did not talk."
All the paintings are available for purchase at Gallerie Sparta, as is the "Thanatron" machine. Scroll through a preview of the paintings on view until April 30, 2014, and let us know your thoughts on Kevorkian's art and legacy in the comments.
Calling all HuffPost superfans!
Sign up for membership to become a founding member and help shape HuffPost's next chapter