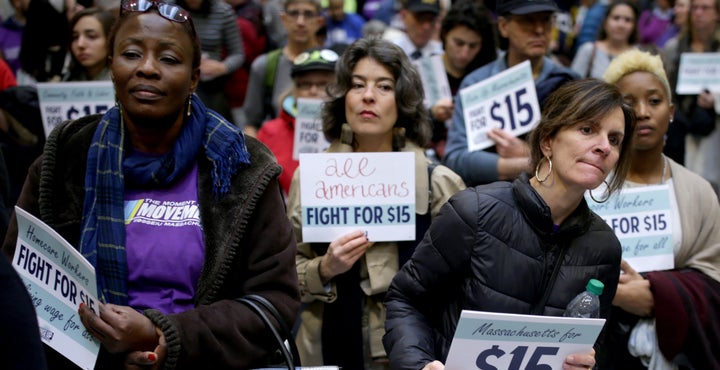 On April 4, 1968, Dr. Martin Luther King Jr. came to Memphis. He marched in solidarity with Black sanitation workers striking for higher pay and union rights to build a better future for their families and generations to come. They were part of Dr. King's Poor People's Campaign, fighting for economic justice for poor Americans of all backgrounds. But that day is forever remembered as the day Dr. King was tragically murdered by a white supremacist at the Lorraine Motel.
Forty-nine years later, the barriers to economic and racial justice — which Dr. King fought so hard to break down — remain firmly entrenched. More than half of Black workers in America are still paid less than $15/hour. And Black women like me make only 63 percent as much as white men. That's why I marched through the streets of Memphis on Tuesday to honor Dr. King's memory and carry on his fight with thousands of workers in the Fight for $15 and the Movement for Black lives.
I'm 62 years old and I've never participated in a protest before. For more than 40 years, I've worked as a home care worker here in Memphis—helping seniors and people with disabilities with their daily needs, from bathing, cleaning, using the bathroom,and cooking, to administering medication and wound care. I started by caring full-time for my brother, who has a severe disability, after my mother passed away. I've devoted my life to caring for others, and my job is skilled—it requires patience, compassion, and training. Yet I've never been paid more than $9 an hour.
"Discrimination against women of color in the workplace is deeply ingrained in America, from our culture to our legal code."
Ninety percent of home care workers are women, and predominantly women of color. While people of color make up one-fourth of the total U.S. workforce, we comprise over half of the home care workforce.
So it's no coincidence that home care workers are also some of the lowest paid workers. There is no better example of a workforce that has been systematically oppressed under a legacy of racism, sexism, and economic injustice than home care. Due to our nation's rapidly aging population, home care is one of the most in-demand, fastest-growing professions in the country. Yet home care workers are paid an average annual salary of $13,300—and over half of us must rely on some form of public assistance.
Discrimination against women of color in the workplace is deeply ingrained in America, from our culture to our legal code. Until 2015, for example, home care workers were deliberately excluded from the Fair Labor Standards Act that ensures protections like minimum wage and overtime. Yes, you read that correctly: just two years ago, home care workers could legally be paid less than the minimum wage and work countless hours without being paid for overtime.
Economic injustice is not only hugely damaging to people of color—it's damaging to entire communities. Low pay for home care work discourages people from going into an essential and in-demand profession. The shortage of home care workersprevents many seniors and people with disabilities from getting the care they need, forcing Tennesseans into costly nursing homes before they're ready ― and increasing costs for taxpayers, who wind up footing the bill.
This is why I joined together with other workers of color in the Fight for $15 movement two years ago. We've won raises for 22 million Americans—including 10 million who are currently on a path to $15. But millions of workers like me are still not paid enough to support our families.
As Dr. King did, we're fighting for future generations so they don't have to live in a world in which the color of your skin too often dictates your pay. My children are in the home care workforce. They shouldn't have to make impossible choices—like whether to pay the electricity bill or buy groceries—like I do. They deserve to be able to care for their own families while caring for others. All workers should—regardless of race or what neighborhood they come from.
Dr. King said in 1961 that "the two most dynamic and cohesive liberal forces in the country are the labor movement and the Negro freedom movement. Together, we can be architects of democracy." Today, I will stand in front of the Lorraine Motel to continue his fight. Like Dr. King, I refuse to be intimidated—and I will never stop fighting the evils of racism and economic injustice that have held back Black and Brown people for too long. We remember this as the day Dr. King was assassinated. Let's also remember it as the day we keep his fight alive.
Popular in the Community