Today's observation of the holiday dedicated to Reverend Dr. Martin Luther King Jr. will mark the culmination of weekend long festivities for a number of churches and community organizations throughout the country. Most ceremonies honoring Dr. King's life and vision will likely hone in on what many tout as "the dream." Another familiar refrain during these ceremonies is a call for people to heed Dr. King's quest for peace, justice and equality not only during the third Monday in January, but every day of the year. Like a newly minted New Year's resolution, such appeals inspire hope. They are hallowed opportunities for us all to consider how we can fulfill Mahatma Ghandi's stirring conviction to be the change we want to see in the world.
However, since Dr. King's assassination in 1968 more Americans have resolved themselves to helping fulfill Dr. King's dream, while fewer can come to consensus on what that dream represents, a contention eloquently considered in historian Nikhil Singh's recent study, Black is A Country. Part of Singh's analysis centers on the reduction of King's life and work to a burst of rhetorical flair during his speech at 1963's March on Washington. Of course, we know that for many people, especially well known activists such as Reverends Jesse Jackson and Al Sharpton, Dr. King's murder in April 1968 was a tragic setback in a struggle for African American liberation from unjust living conditions in the United States, but not the end of that crusade. For others whose lives are not chronicled by media outlets as luminously as Jackson and Sharpton's, their commitments to keeping "the dream" alive reveals the delicate relationship between Dr. King the icon, and Dr. King, the man--an apostle in a larger campaign for justice.
Visitors to the Lorraine Motel will recognize, Jacqueline Smith, a woman who has pursued her own unique battle to keep "the dream" alive. Ms. Smith, the last resident of the Loraine Motel was evicted in March 1988, two months after the motel was closed in advance of renovations necessary for its transformation into The Civil Rights Museum. For over twenty years, Ms. Smith has been struggling to galvanize forces to support her movement contesting the decision to turn the Lorraine Motel into a museum. As Ms. Smith declares on her website, her "personal dream has always been to convert the Lorraine Motel into sheltered housing for the poor and displaced, a community center or facilities for the needy," a conviction she believes is in keeping with Dr. King's own dream. Her website features photographs and other artifacts from two decades steadfastly dedicated to pursuing his dream. Mementos on Ms. Smith's site range from a photograph taken with U2 lead singer and international activist, Bono, as well as this quote attributed to Mahatma Gandhi's grandson, Arun Gandhi, "By erecting such lifeless and senseless monuments to dynamic men like Dr. King and Gandhi, we are not perpetuating their memories, but insulting their intelligence."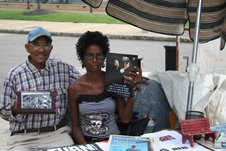 Ms. Smith's site presents a clear portrait of herself and as Arun Gandhi's quote illustrates, the "senseless" misrepresentation of Dr. King's legacy that threatens to rob it of its dynamism. Carefully constructed, meticulously catalogued with photographs and other pertinent items, Ms. Smith's site represents a living testimony to her struggle, one that will undoubtedly serve as a goldmine for a researcher one day. Paraphrasing a former student familiar with Ms. Smith's case, "regardless of whether you agree with her, you have to admire her dedication."
Visiting the Lorraine Motel and meeting Ms. Smith in person this summer provided a singular opportunity to witness how one person was living out her commitment to fulfilling Dr. King's dream. After meeting Ms. Smith and visiting her website, I remembered a picture of Dr. King that hung on a wall in my family's Jamaica Queens apartment from the time I brought it home in about the fifth or sixth grade until my second year in graduate school if my memory serves me well. Printed on a thin sheet of paper similar to what can be found at a fast food restaurant, the image was a right-facing headshot of Dr. King, and running along the right margin was an excerpt from his "I Have a Dream" speech. When it first arrived at our house in the mid 80s the contrast between the brown inks used to color in Dr. King's face and the text and the ivory background was noticeable. By the time my mother took down our kitchens impoverished equivalent to a stain glass mural in 2000, the entire thing was yellow. Roughly fourteen years of smoke emitting from mom cooking boulette, griyot, marinad, and sundry other Haitian dishes conspired to give that picture its color.
We never bothered to frame it; instead deciding to simply let it reside on our kitchen wall fastened by the same four thumbtacks that my dad used when he put it up, and which we put right back in place each time our apartment received a fresh coat of paint.
I do not recall any conversations between them regarding this image that rested on our wall like the silhouette of a dear relative. For fourteen years it rested on the wall, soaking in everything we ate, drank, dad's barrage of cigarettes, and likely, everything we said.
Somewhere in between the scents ingested by that portrait, Ms. Smith's conviction, and the ceremonies taking place at civic organizations across the country today stands the true spirit Dr. King's "dream." Whether you observe the holiday at a church, your kitchen or the Lorraine Motel, remember the hearth that Dr. King sought to ignite lay not inside a building but within our hearts.

Popular in the Community