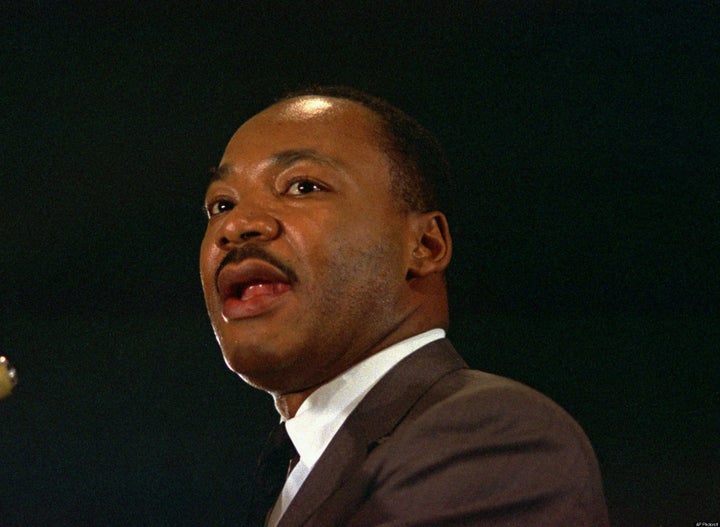 "One man come in the name of love; one man come and go." --U2
Whenever people come together in Chicago to commemorate the birth and legacy of Dr. Martin Luther King, Jr. as they did today, there invariably is the reflection on Dr. King's Chicago campaign in 1966--when he hit the brick wall of resistance by a powerful mayor and a white-hot community in what King would dub the most segregated city in the North.
What is missed in such remembrances--even as people recognize that King's Chicago impact did not end in 1966--is that the story did not really begin there either. It is in reflecting on that starting point that we truly can appreciate the take-away value of today's commemoration.
On April 13, 1956, Dr. King delivered a keynote address at Rockefeller Chapel on the University of Chicago campus in Hyde Park. The Montgomery Bus Boycott was in the fifth month of what would become a successful year-long campaign. King had been invited by the Unitarian Church of Chicago, located in Hyde Park, to talk about hope and change and progress--themes that arguably were as important on Chicago's South Side back then as they were in the nation's Deep South.
While the national gaze was directed toward Montgomery and a mass movement taking its first steps, Chicago was undergoing its own difficult transition. At this point, Hyde Park was Ground Zero.
Only seven years before, the Supreme Court had struck down the restrictive covenants that had prevented many African Americans from buying homes in Hyde Park, and a number of other communities in Chicago and in other cities. Community leaders hoped to manage Hyde Park's transition and avoid the kind of re-segregation experienced in nearby Woodlawn and the racial strife that had engulfed other places like Cicero and the Trumbull Park Homes, where riots greeted new African American residents.
Historian and author Timuel Black remembers all that. In fact, at 92, he's got a long memory of significant points in Chicago's transformation and the movement that led to it. Black helped set in motion the process that brought King to Chicago--that first time, some 55 years ago.
A doctoral candidate in sociology and anthropology at the University of Chicago, Black had been so impressed with King's presence on television that he traveled all the way to Montgomery to hear him speak at the tiny Dexter Avenue Baptist Church.
"I just wanted to be down there," recalls Black, an Alabama native who stood outside the overcrowded church that day listening to King on the loudspeakers that had been set up. He returned to Chicago with a new determination--to have King visit his city, to inspire it.
Black talked with other members of the Unitarian Church who were moved not only by King's efforts, but also by the realization that so many other churches were denying the 27-year-old minister the opportunity to speak at that time. It was decided that King would visit Chicago and speak at Rockefeller Chapel--the only nearby venue large enough to hold the huge crowd everyone expected.
Others recall that moment, too. In his book, In Between: Memoir of an Integration Baby, Mark Morrison-Reed, a Unitarian Universalist minister, writes about the hush that fell on some two thousand attendees in Rockefeller Chapel as Dr. King took the podium. He recalls the reverence King was paid as he spoke of the experience of the struggle for social justice in Montgomery; of using non-violence as a weapon in the fight against violent oppression; and of using the pulpit and the intellect in deconstructing the religious and cultural justifications for the continued oppression of African Americans.
On that day in that place, King shared a vision of a better way. As much as anything else, he spoke of unity, Black recalls, unity in a community that was struggling against itself to overcome the limitations of its own segregated past--to move forward in embracing the kind of change that would bear fruit for years to come.
"He became the articulator of what I had felt," notes Black, who had seen the aftermath of the worst of Nazi atrocities when he helped liberate Buchenwald while serving in the Army during World War II. "I believed that what I saw in Germany could happen anywhere. And I didn't want to see it happen anywhere, " Black notes. "And he eloquently articulated my feelings. And so I immediately became active in his part of the movement."
Others did, too. During that long-ago visit, Dr. King raised money for the Montgomery struggle from North Shore donors. And members of the Unitarian Church of Chicago traveled to Montgomery to take part in the effort there.
Whether you run, walk or crawl, Morrison-Reed recalls King saying back at Rockefeller Chapel, "the most important thing is that you must keep moving."
Hyde Park with its tradition of religious, philanthropic, intellectual and independent political leadership, already was on the road to solving its own problems in adjusting to change. But Black believes that journey was aided by Dr. King's visit. With Dr. King's speech, Black asserts, a seed was planted in a community he sees as a "nurturing ground" for the kind of activism that eventually would lead to the formation of a model of residential diversity and the home of Harold Washington, the first African American mayor of Chicago, Carol Moseley Braun, the first African American U.S. Senator and, of course, Barack Obama, the first African American President of the United States.
"King created a feeling of unity," recalls Black. "He stood for unification, he stood for ideas of social justice, peace on earth, goodwill toward all people," he says of the man he once called "Doc," the man who once called him "Brother Black".
That enduring message of unity--of unity as the foundation for progress--is one that is so vital in this contemporary moment. "That one has to believe that change can, will come and work to make that happen," Black offers. "And change is a good thing and a necessary thing."
Calling all HuffPost superfans!
Sign up for membership to become a founding member and help shape HuffPost's next chapter