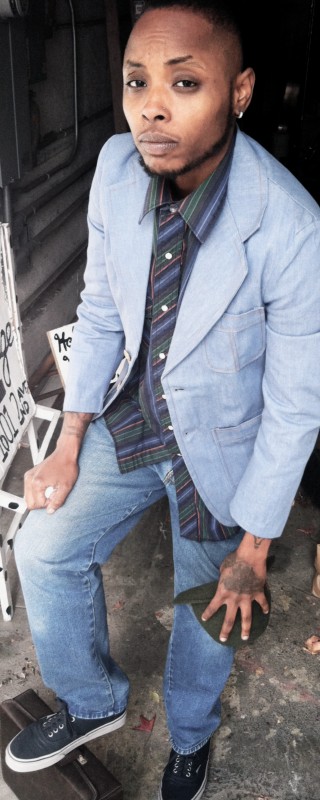 Dr. Kortney Ryan Ziegler is a writer, filmmaker, producer, artist and activist fighting for social justice in the trans community. In 2013 he was nominated for a GLAAD Media Award for Outstanding Blog; he was the first African-American trans man to be nominated for a GLAAD Media Award. He is the founder of Who We Know, a paid fellowship focused on creating products and developing initiatives that economically empower the transgender community of color.
Dr. Ziegler is being honored with the Authentic Life Award by the Transgender Law Center, the largest transgender advocacy organization in the U.S., at their 2013 Spark! event on Thursday, Oct. 3, 2013, at the Sir Francis Drake Hotel's Empire Ballroom in San Francisco.
My interview with Dr. Ziegler discusses race, gender, the fight for equality and the empowerment of the transgender community.
Toni Newman: What is your background?
Dr. Kortney Ryan Ziegler: I was born and raised in Compton, Calif., and I now live in Oakland, Calif. I am a writer, producer, filmmaker, entrepreneur and use tools and social media for social justice.
Newman: What is your educational background?
Ziegler: I completed a Ph.D. in African-American studies from Northwestern University, and I was the first graduate to complete this program, as well as the first African American. I have a master's in African-American studies, and a master's in ethnic studies, and a B.A. in film and digital media.
Newman: Why do you think education is so important to people of color, especially trans people of color?
Ziegler: Education is a way of social and cultural capital. Most people I meet are surprised that I have a Ph.D., and education gives me validity. I believe holding institutional degrees are a way to be very mobile socially, and seen as a way of being legitimate.
Newman: What is the purpose of your writings?
Ziegler: To express the humanity of people of color. I believe black trans people are so marginalized. I write to be visible as someone, as an intellectual, and show our humanity as people, to show what my experiences are as a black man and how my journey has changed in the last five years. I believe hearing other people's triumphs and struggles makes us more wholesome people. I also write to get things out of me and express my thoughts and feelings. I wrote a lot about my mother and her struggles with mental illness, and about my self-esteem when I don't feel so hot. I show people my soul with my writings and full expressions of myself.
Newman: What is your most cherished work?
Newman: Why do you think most trans people of color live below the poverty level?
Ziegler: We must figure out ways to redistribute money back to our community and empower one another and support one another. We must support others' ideals and say, "I love you, and I believe in you, and let's do this." I almost lost my home and car myself, so we should reach out for help and not be ashamed to ask for help if we need it.
Dr. Ziegler gave the keynote address at the Trans March 2013 in San Francisco, and it was truly moving. You can read it here.
Calling all HuffPost superfans!
Sign up for membership to become a founding member and help shape HuffPost's next chapter