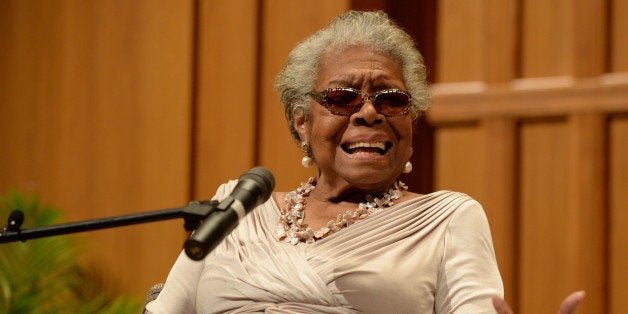 Editor's Note: Maya Angelou passed away on May 28, 2014. The following is an interview conducted with the poet in 2012.
It was the fall of 1981, and I had just arrived on the campus of Wake Forest University in Winston-Salem, N.C., as a freshman. I was excited but very nervous, because this was the first time in my life that I would be living far away from my family. I saw very few minority students on campus, and I was feeling very overwhelmed. The first year was hard and challenged me a great deal. But it was also in 1981 that Dr. Maya Angelou was appointed the first Reynolds Professor of American Studies at Wake Forest University. I had not been aware of her works, but I attended an event featuring Dr. Angelou and listened to her speak. She had such a commanding presence and authority over her words that I found very stimulating. This was the first time I actually heard her poem "Still I Rise." It resonated with me, and who knew that for the next 30 years those words would be pure inspiration to me? It was during this time that I acquainted myself with all of Dr. Angelou's works and read her life story. She had overcome many obstacles and hardships in her life, and I had no idea that I would have to do the very same thing for the next two decades.
According to her website:
The list of her published verse, non-fiction, and fiction now includes more than 30 bestselling titles.

A trailblazer in film and television, Dr. Angelou wrote the screenplay and composed the score for the 1972 film Georgia, Georgia. Her script, the first by an African American woman ever to be filmed, was nominated for a Pulitzer Prize.

She continues to appear on television and in films including the landmark television adaptation of Alex Haley's Roots (1977) and John Singleton's Poetic Justice (1993). In 1996, she directed her first feature film, Down in the Delta. In 2008, she composed poetry for and narrated the award-winning documentary The Black Candle, directed by M.K. Asante.

Dr. Angelou has served on two presidential committees, was awarded the Presidential Medal of Arts in 2000, the Lincoln Medal in 2008, and has received 3 Grammy Awards. President Clinton requested that she compose a poem to read at his inauguration in 1993. Dr. Angelou's reading of her poem "On the Pulse of the Morning" was broadcast live around the world.

Dr. Angelou has received over 30 honorary degrees.
Dr. Maya Angelou Community High School just opened this week in Los Angeles, and Dr. Angelou has just been inducted into the Wake Forest University Hall of Fame for Writers. Additionally, in 2010 President Obama awarded her the Presidential Medal of Freedom, the highest civilian honor. She is definitely a global renaissance woman and a phenomenal woman with an amazing talent.
She has fought the fight for equal rights and freedom for all, regardless of race, gender, and sexuality. I read her poem "Still I Rise," and I thought she was speaking to my broken spirit and downtrodden soul while I transformed all alone and unloved and almost forgotten. That poem kept my spirit alive when all around me seemed dark and cold. Every person, regardless of gender, needs love and support and encouragement. Through her works, she provided that word of encouragement to me when I needed it the very most. Dr. Angelou's words are powerful and liberating and bring hope when there is no hope.
I was so honored to be given the opportunity to interview one of my idols and a remarkable woman in African-American history. I had four questions for Dr. Angelou:
You have been a Reynolds Professor, the first, at Wake Forest University since 1981. Wake Forest University is my alma mater, and it's where I originally met you and became acquainted with your wonderful works over 30 years ago. What has it been like for the last three decades being Reynolds Professor at Wake Forest University?
Your poem "Still I Rise," published in 1978 by Random House Publishing, was a source of inspiration to me when I was homeless, forgotten, unloved, and unwanted by all those close to me. What inspired you to write your wonderful poem?
Your life has been about equal rights and justice for all, regardless of race, sex, or gender. Why is it so difficult in 2012, with the first African-American president, for us to embrace and truly love one another?
What words of encouragement can you give to that special young African-American child who feels different, unique, and out of the norm of society?
Listen to my live interview with Dr. Maya Angelou and her amazing responses to these questions below:
Dr. Angelou spoke words of encouragement to all youth, especially African-American youth feeling unwanted and unloved for being different: Your difference makes you special and we are all God's children. The words from "Still I Rise" say it best:
You may shoot me with your words,
You may cut me with your eyes,
You may kill me with your hatefulness,
But still, like air, I'll rise.
I would like to thank Ms. Casey and Ms. Clay of Dr. Angelou's staff for helping make this interview possible. I also would like to thank Ms. Angela Glover, J.D., Director of Development in Office of University Advancement at Wake Forest University, for reaching out to me on behalf of the university and showing love and kind words of encouragement.
To get more information on the renowned Dr. Maya Angelou and her beautiful works, go to her website.
Popular in the Community