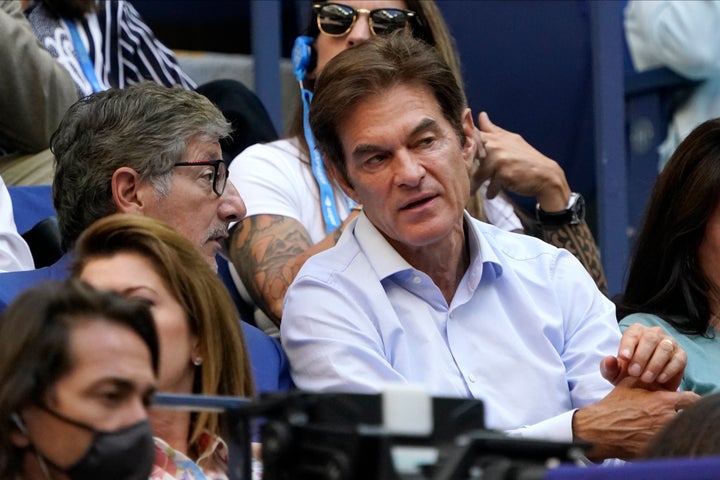 TV doctor Mehmet Oz formally announced his campaign for Senate in Pennsylvania on Tuesday, resetting the GOP field in a critical race with a focus on the coronavirus pandemic.
"We have not managed our crises as effectively as past generations," Oz wrote in a Washington Examiner op-ed. "During the pandemic, I learned that when you mix politics and medicine, you get politics instead of solutions. That's why I am running for the U.S. Senate: to help fix the problems and to help us heal."
Oz didn't specify in his column that he was running for the Republican nomination, but after the piece was published, he released a video that identified him as "Dr. Oz, Republican for U.S. Senate."
His announcement was originally teased for Fox News host Sean Hannity's program Tuesday evening. Hannity hinted that Oz would appear on the show with a "huge announcement" related to the midterms.
Oz, 61, will seek the GOP nomination in a key 2022 contest after the party's early front-runner, former Army Ranger Sean Parnell, suspended his campaign last week amid domestic abuse allegations.
Known in entertainment as Dr. Oz, the Ohio-born cardiothoracic surgeon rose to national fame as a guest on Oprah Winfrey's talk show before landing his own program, "The Dr. Oz Show."
The celebrity surgeon framed his candidacy around the pandemic and what he characterized as failed government action.
"The government mandated policies that caused unnecessary suffering," he wrote in the Examiner. "The public was patronized and misled instead of empowered. We were told to lock down quietly and let those in charge take care of the rest. When we tested positive for the virus, we were also told to wait at home until our lips turned blue and we got sick enough to warrant hospitalization."
"To be clear, this is not a typical medical protocol," he went on. "Elites with yards told those without yards to stay inside, where the virus was more likely to spread. And the arrogant, closed-minded people in charge closed our parks, shuttered our schools, shut down our businesses, and took away our freedom."
Oz, a political newcomer, will enter the race with immediate name recognition and a vast personal fortune, but with ample negative fodder for his opponents. A New Jersey resident, he has scant ties to Pennsylvania and doesn't appear to have lived in the state since attending the University of Pennsylvania, though he began voting there this year via absentee ballot using a relative's address, according to The Associated Press.
His political beliefs are also murky. Federal Election Commission records show he has contributed to candidates from both parties, including Democrats John Kerry, a former presidential candidate who is now President Joe Biden's climate envoy, and Sen. Sherrod Brown (D-Ohio).
Oz also served as a health adviser to former President Donald Trump, potentially teeing him up for an endorsement now that Trump's earlier pick, Parnell, is no longer running.
Parnell's candidacy imploded during a child custody hearing in which his estranged wife accused him of physical and verbal abuse. His campaign's suspension clears the way for a second Trump endorsement, but it's unclear what weight that might carry at this stage of the race.
The contest to replace retiring GOP Sen. Pat Toomey in Pennsylvania ― a state that Trump and Biden each narrowly won in 2016 and 2020, respectively ― could determine control of the evenly split Senate in 2022.
The Republican side features real estate developer Jeff Bartos and former U.S. Ambassador to Denmark Carla Sands, while Democrats have Lt. Gov. John Fetterman and Rep. Conor Lamb.
Support HuffPost
The Stakes Have Never Been Higher
Popular in the Community