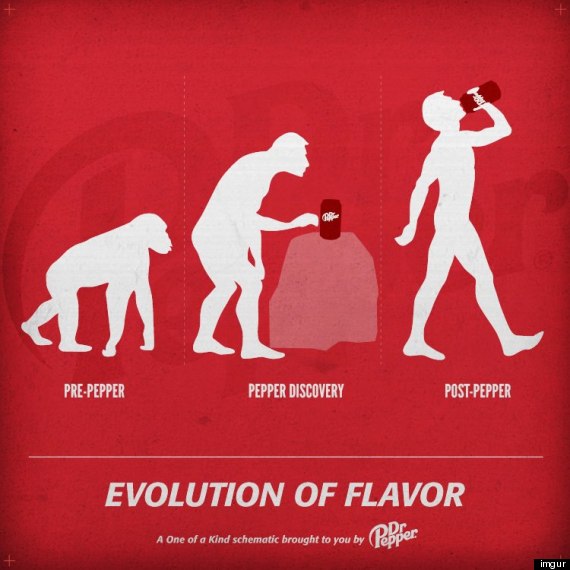 Controversy has erupted over the latest Dr. Pepper ad dubbed "The Evolution of Flavor," with a small, but vocal minority of commenters on Facebook posting complaints about the ad's evolution motif.
"I love Dr. Pepper but hate this photo," wrote Kara Duran, "Forget evolution... Jesus all the way!"
"Well, there goes my support for this company," Jolynn Danae Pilapil wrote.
Others took no issue with the ad, but reaffirmed their beliefs that evolution is "a false theory." Word of the complaints hit the Reddit, and an image of the ad was posted to the sub-section of the social news site devoted to the discussion of atheism. It rose to the site's front page within three hours.
At time of writing, the ad on Dr. Pepper's Facebook page had received more than 140,000 "likes," more than 900 comments, and had been shared more than 900 times.
However, it's worth noting that the majority of discussion in the Facebook comments did not appear to center on evolution. Many commenters reacted positively to the ad, calling it humorous or stating their love of Dr. Pepper, while others simply made fun of it. Some criticized the drink (and sugary soft drinks in general) for contributing to the spread of diabetes.
But this is not the first Dr. Pepper ad to spark controversy.
Last year, Dr. Pepper drew criticism for its campaign for Dr. Pepper Ten, a low-calorie soft drink that was so aggressively marketed toward men, that some people thought it was sexist toward women.
Before You Go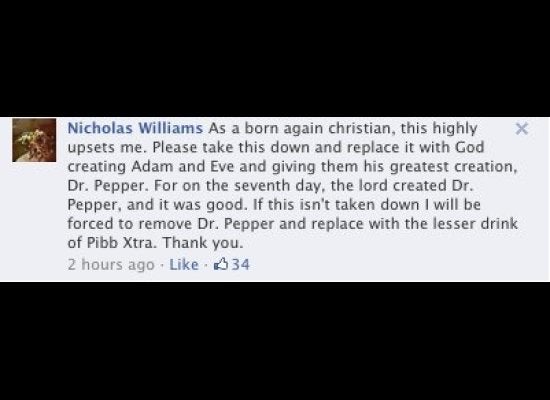 Facebook Users Respond To Dr. Pepper 'Evolution' Ad
Popular in the Community