When Claire Daniels joked about wanting a Dr Pepper fountain on Twitter, she never expected her dream might become a reality.
Back in December, the Kansas State communications major expressed her dismay at how much she was spending drinking her favorite soft drink.
The tweet caught the eyes of Dr Pepper's marketing team, who decided it would be fun to actually surprise Daniels with the soda fountain of her dreams, according to the Kansas State Collegian.
"We were really inspired by her love of the brand and wanted to have a fun twist on what exactly that means for her," Dr Pepper associate brand manager Lynsey Loomer told the paper.
Loomer said she and her team figured Daniels just wanted a restaurant-type soda fountain, but decided it would be more fun to make a giant fountain, like the kind usually placed outdoors.
Daniels admits she had no particular fountain in mind.
"I honestly don't know what I was picturing," Daniels told the paper. "It was just kind of like a joke-y kind of tweet."
Dr Pepper officials surprised Daniels at her home in Manhattan, Kansas on Thursday.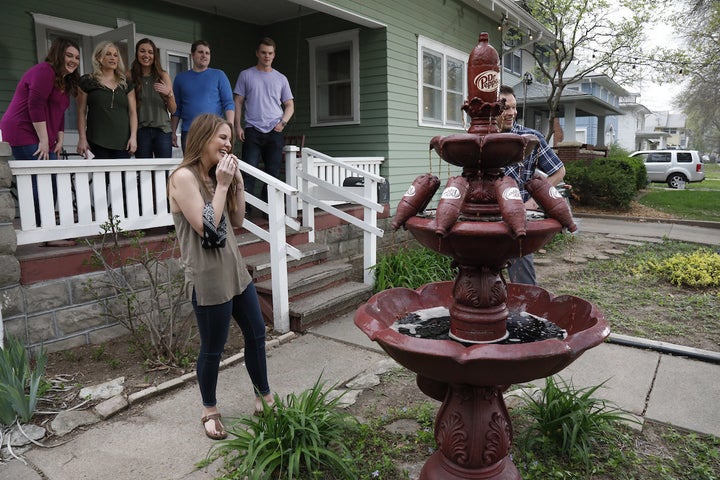 The rust-colored fountain holds around five gallons of Dr Pepper. But other than a ceremonial sip on Thursday night, the company is strongly discouraging her from drinking out of it for safety reasons, like if a bird poops in it.
However, Dr Pepper made up for that minor inconvenience by giving her 1,200 cans of the sugary soda.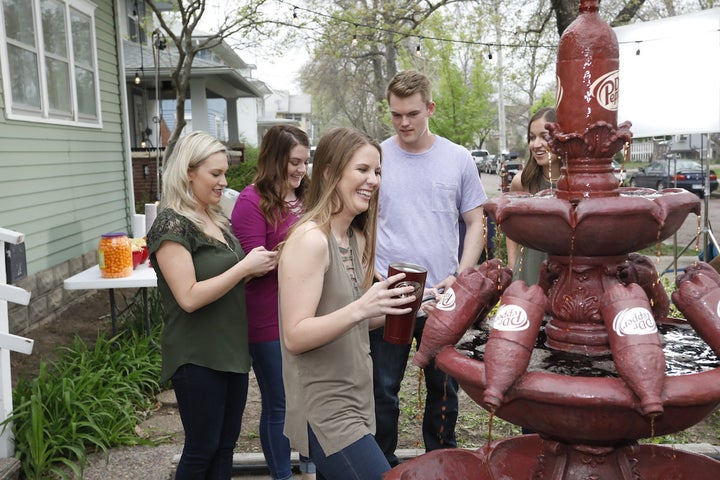 Daniels is still in shock over the giant soda fountain.
"It's really crazy," she told the paper. "I am still kind of in awe ... It was just kind of a joke tweet, but here we are. I think it's awesome. I'm really excited. It's kind of crazy to think one tweet could make this happen."
The fountain remains in front of her college house, but a Dr Pepper spokeswoman told HuffPost the company promises to move it to wherever she wants next.