After 17 years on television, Dr. Phil McGraw, host and executive producer of TV's number one syndicated talk show, Dr. Phil, was inducted into the Broadcasting & Cable Hall of Fame, the highest award of its kind bestowed upon luminaries in the industry. Joined by his wife of 39 years, Robin, and their sons, Jay and Jordan, Dr. Phil accepted the honor at the Broadcasting and Cable Hall of Fame's 25th anniversary celebration in New York City last week.
Watch the video above as Dr. Phil, whose show was recently renewed until 2020, accepts the prestigious award and is praised by his colleagues, including Oprah Winfrey.
"As someone who never dreamed of even being on television or in the broadcasting business in any fashion whatsoever, being inducted into the Broadcasting & Cable Hall of Fame is almost unfathomable," says Dr. Phil, who calls himself "an ole country boy."
"We started with a mission: We wanted to deal with silent epidemics, we wanted to give a voice to those people who don't have one, we wanted to change the narrative in America about mental health and mental illness," he explains. "And I think we've done that, at least in a small way." 
Dr. Phil adds, "I seem to have a knack for getting into situations where others do all the work – yet I get all the credit. I have the best team in television." In fact, he points out that he's had the same Executive Producer, Carla Pennington, since the show launched in 2002, and the same seven cameramen that he started with on the first day of taping.
Pennington remarks, "He says, 'I always get all the credit, but it's really all the producers that do all the work,', which is kind of a lie, because he's a very hardworking man. In fact, he's the hardest working talent I've ever worked for ... He's also brilliant."
Oprah Winfrey, who helped launched the show after Dr. Phil made weekly appearances on The Oprah Winfrey Show, said, "I knew from my encounter with him that he'd be really good on television, and it turned out to be better than I thought. Not just good television, great television."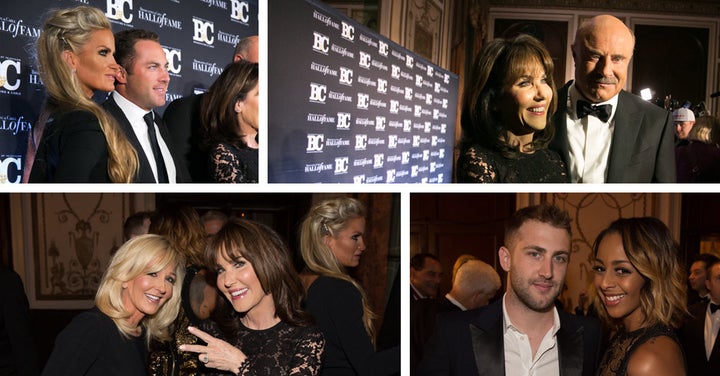 Dr. Phil, 65, says the most important people to thank are his family: Robin, Jay and Jordan.
Robin, who's been at every one of Dr. Phil's nearly 2,500 show tapings and has become an integral part of the show, says, "I am so proud of Phillip. Him being inducted into the Broadcasting & Cable Hall of Fame -- I can barely speak without crying. It's like I get total body chills just thinking about where we are, why we're here."
Their elder son, Jay, who also works in the TV industry, proudly says, "Our dad is amazing. He works so hard to do what he does, and tonight is one of those nights where you see that everybody else agrees."
Jordan, their younger son, who is the lead vocalist and guitarist in the band Hundred Handed, adds, "He loves what he does, which is my favorite part about watching him grow through his TV career. It doesn't get any better than this."
PHOTO GALLERY
Amazing Emmys Moments
Calling all HuffPost superfans!
Sign up for membership to become a founding member and help shape HuffPost's next chapter