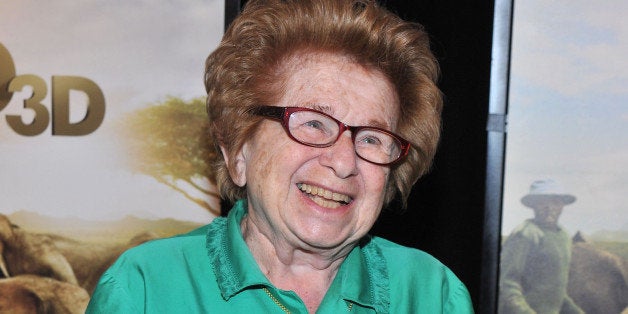 If you're wondering how to keep your sex life exciting after decades with the same partner, then you've already taken the first step in the right direction. At least, that's what Dr. Ruth Westheimer told Huff/Post50 on Monday as she launched LaundryForeplay.com with Clorox.
The famed sex therapist, 86, said that long-term couples often take their relationships for granted, so it's important to show you care by mixing things up. She suggested that the post-50 set start by changing the timing of intercourse -- primarily by focusing on morning sex.
"Men and women at a certain age should not engage in sex in the evening, when they are tired, but in the mornings, when they feel fresh," Dr. Ruth said.
According to Dr. Ruth, the mornings are when testosterone levels in men are high, which is great for sex drive. The first few hours of the day may also be a good time for couples to try more adventurous positions, since energy levels are higher. (But don't take it too far: "You have to know that an older man cannot hang from a chandelier," she warned.)
This is certainly something to keep in mind as Valentine's Day looms. Instead of putting all your efforts into planning a romantic evening, Dr. Ruth suggested starting off the day on an, um, climactic note.
"First have a light breakfast and then go back into bed," she said. "Then try a position that you haven't tried before, but only if both agree to do it."
Some other ways to make your Valentine's Day special, per Dr. Ruth's instructions, include using lubricant for post-menopausal women and trying a "female superior" sex position (aka woman on top) to maximize pleasure, since both erections and orgasms aren't as strong after a certain age.
As for romantic gifts, she had one very practical suggestion: "Instead of buying sexy underwear, buy warm underwear because now it's cold, so it shows that you care."
And who knows? Buying bulky undergarments might have their own benefits in the libido department -- it if means foregoing the hand-washing of sexy delicates and doing more laundry.
"If you have a washing machine in your apartment, do that together and see if the vibrations of the laundry machine and dryer can do something for your sexual arousal," Dr. Ruth said.
Well, there you have it: Proof that early birds who do their chores can lead pretty titillating lives, even after years of monogamy.
Watch Dr. Ruth elaborating on the topic on HuffPost Live:
REAL LIFE. REAL NEWS. REAL VOICES.
Help us tell more of the stories that matter from voices that too often remain unheard.