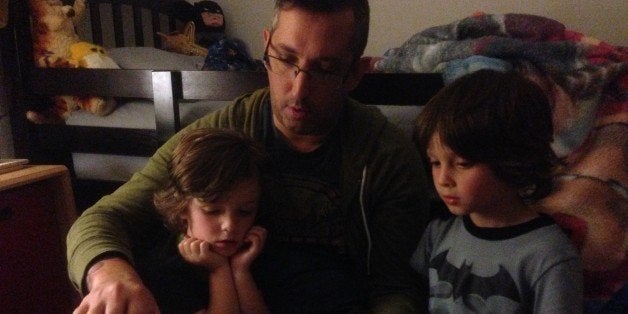 and then came through the door
playing games on the floor.
He watched them race cars
and build with their blocks,
which was how every night
the poor daddy took stock
and all that their laughter
his heart felt two things—
and the urge to just sing.
might sometimes turn mean,
with scoundrels and rascals
But it also could be nifty,
Though, the dad smiled to know
his boys each had a brother.
shook the day from his back
from the box by the track.
Then, he stopped them and said,
"Listen close, my young lads,
and I'll tell you a thing
that makes me happy and sad.
For you'll take the same joy
you'll make the world better
Then, he tousled their hair
But, before he walked out
We'll share with all folks
"And we'll always have of love
'cause you've showed us how
It knows nothing of limits,
goes on through the years,
Dad hugged them and said,
"I love you more every second."
The boys said, "Us, too."
And it was true, the dad reckoned.
They hugged him right back
and squeezed him so tight
and his tie not so tight.