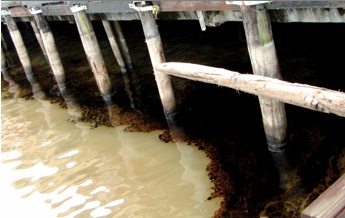 Three years ago, John McCain cancelled a Louisiana campaign appearance on an oil rig with Bobby Jindal after a tanker split in two and oil began to float down the Mississippi River. I had been invited to cover the election for Jay Rosen and Marc Cooper's Off The Bus offshoot of the Huffington Post, and the story Oil of Delay: McCain Cancels Louisiana Trip After Barge Spill seemed a natural. Especially once McCain gave weather as a reason for his rig cancellation and it was not raining oil.
The article on McCain's cancellation coincidence ran here, but I didn't see it in many other national outlets. I know that oil fumes filled the air that morning because the smell woke me up. Oil in the Gulf of Mexico is all too familiar 200 million Deepwater Horizon gallons later, and chances are aside from dedicated bloggers around the country you won't read much mainstream media BP Oil Spill coverage until the April disaster anniversary. But you can read it here in posts from writers including Rocky Kistner of the NRDC, his coverage never stopped.
Environmentalists tell me about pitching oil spill articles to media outlets for the last 10 months and running into "problems from legal." Problems from legal can mean anything from an advertiser objection to complete lack of interest. What it means at heart is that many issues won't see the light of day until one year later, then five years after that if we go by the Katrina clock. It's the media disaster calendar for an overloaded world.
That's what drew me to start writing for the Huffington Post five years ago after the New Orleans levee failure, the freedom to speak truth to power when the truth was not publishable elsewhere. And the powerful started reading the post. After the AOL merger, the Huffington Post now reaches 117 million readers a month.
For my day job, I write for HelloMetro and am lucky enough to do what I love. For my sideline, I blog for the Huffington Post, and am lucky enough to love what I do. There are few other readerships as engaged and as engaging.
Popular in the Community